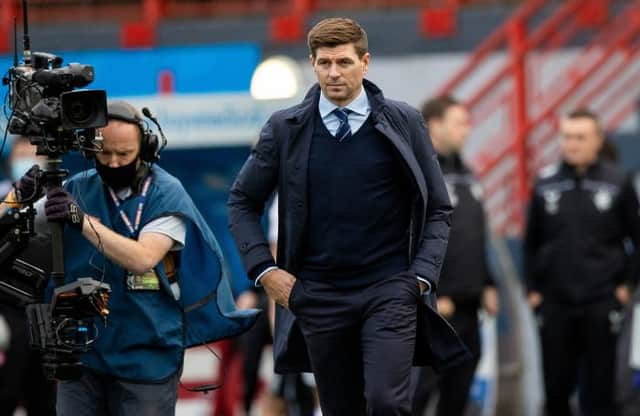 Steven Gerrard (Photo by Craig Williamson / SNS Group)
However the Ibrox boss must now wait until Monday to answer the charge of breaching rule 72 of the SFA regulations which prohibits commenting on referees' competence or bias.
Gerrard made reference to a tackle by United's Ryan Edwards on Rangers' striker Morelos which left the Colombian with a gaping wound in his upper leg. When asked about the incident in last months' 4-0 win, and said: "I don't want to make headlines and say a kid should have got this or that.
"But what I would say is that I'd be very interested to see what the decision would have been from the officials had the shoe been on the other foot and Alfredo had made that tackle."
Dundee United's Ryan Edwards catches Rangers' Alfredo Morelos during a Scottish Premiership match at Ibrox (Photo by Alan Harvey / SNS Group)
The manager was then issued a notice of complaint, accused of breaking the SFA rule which states 'no recognised football team official shall in an interview, a 'blog' on the internet, on a social networking or micro-blogging site, or in any other manner calculated or likely to lead to publicity (i) criticise the Decision(s) and/or performance(s) of any or all match official(s) in such a way as to indicate bias or incompetence on the part of such match official; or (ii) make remarks about such match official(s) which impinge on his character."