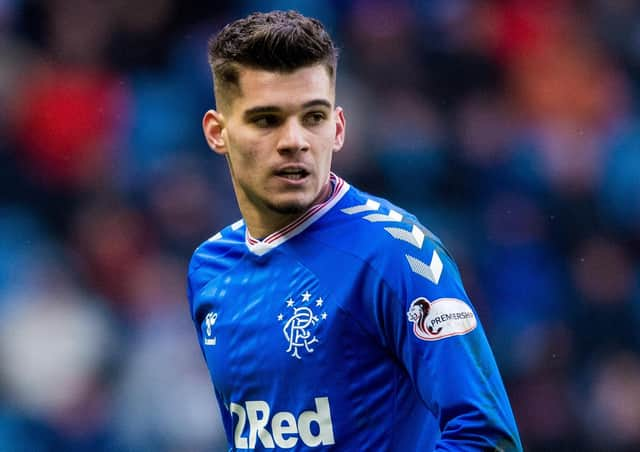 Ianis Hagi in action for Rangers. Picture: Ross Parker / SNS
Only 21 years old at present, Ianis Hagi believes it might be at least another decade before he reaches his peak. It's doubtful he will still be at Rangers then, but anything's possible.
Now that he has signed a new long-term contract with the Ibrox club, who splashed out a reported £3 million on the playmaker earlier this summer, Rangers fans will simply hope to enjoy him on the way up. Hagi has already provided more than enough evidence in his first dozen games for Rangers to suggest he's capable of walking in the footsteps of his famous father, Gheorghe.
Hagi scored the winner against Hibs in only his second Rangers appearance after signing on loan from Genk and then was the match-winner in a 3-2 victory over Braga that helped secure a 4-2 aggregate win over the talented Portuguese side in the Europa League.
The season was suspended just as he was anticipating his first Old Firm derby but now he is a permanent member of the squad, he knows it is only a matter of time until he gets the opportunity to taste this particular fixture – as well as sample many other experiences.
"I am still young and at the beginning of my career and I have a lot of things to learn," he said. "I still have some weaknesses I work on. I feel you become a major player or reach your peak at around 32 and until then I have a lot of hard work to do. I am focused on improving every single day."
The first clash with Celtic next season will be at Celtic Park, possibly behind closed doors. This was where the third league meeting between the clubs was meant to take place last season before it was called off fewer than 48 hours before kick-off.
"I really looked forward to playing that game but unfortunately it didn't happen," he said.
"Obviously, I was thinking about that and thinking about the moment when we will play Celtic. It is one of the greatest derbies in the world so who doesn't want to play in such a game? I'm looking forward, not just to that but I'm looking forward to playing for this club."
As for the recent debate about whether it would be prudent to delay the Old Firm clash for as long as possible in order to increase the chances of fans being allowed in to watch, Hagi hoped there would be supporters present – the more the better.
"Definitely I would go full house," he said. "Everybody wants to play with fans. That's the reason I play, I just play to bring joy to the fans.
"Obviously the adrenaline and the intensity of the game is different when you have fans in the stands. But, as a professional football player, you just have to adapt to different challenges and deliver every single time."
Players from all Scottish top-flight clubs are currently trying to ensure they are in top-class condition when the action starts again on the first weekend of August. Rangers have been back in training for ten days but manager Steven Gerrard, pictured, has already voiced his concern that the players are struggling to get up to speed because tackling is currently prohibited and they cannot yet work in groups.
"It is different than usual, we just have to work hard and to adapt to the new rules and be ready for when everything starts," said Hagi. "We'll see when the season starts but we have time to get fit and be in the right shape for the season. I am curious to see how people go because it is different from the normal situation."