Rangers finally wake up at Tannadice as fears of trouble in Dundee streets are not realised
All the pre-match internet chatter about what or what would not occur in the streets of Dundee prior to this fixture seemed to suck the life out of the game itself.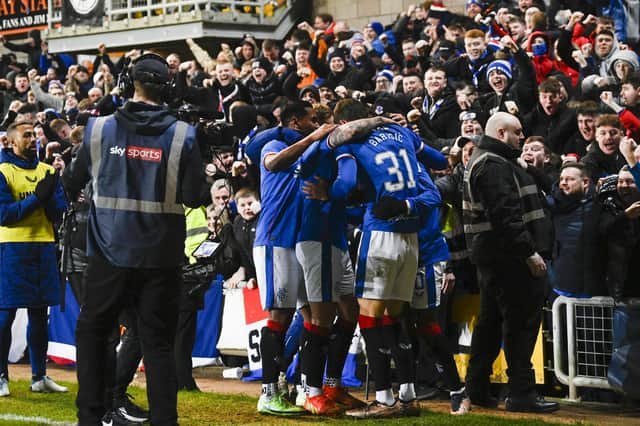 Even the home appeals for a penalty after the obligatory Connor Goldson handball – at a corner – appeared half-hearted although, to be fair to referee Steven McLean, it could only really be discerned from TV repeats. That doesn't excuse the VAR team, however.
It might have represented another let-off for Rangers, but they eventually shook themselves out of their very evident lethargy to collect the three points required to at least match what Celtic secured 24 hours earlier against Kilmarnock.
Fashion Sakala and Malik Tillman brought some much-needed creativity to the proceedings with two well-struck, quick-fire goals at the start of the second half.
That nine-point gap, which is becoming such a familiar measure between the top two sides, has been restored. Tillman will be key if Rangers are ever to start making inroads into it.
Manager Michael Beale has addressed his continued insistence on picking the playmaker, who, he said on the eve of this game, was "learning on the job".
Tillman is easy on the eye but also easy for fans to pick on. Even here flicks that failed to come off drew groans from the away fans. However, it was clear that he would likely play a significant part if anything good was going to come from the match for Rangers, and so it proved.
All those early misadventures were forgiven long before the end as he was hailed by the away supporters from the top tier of the Jerry Kerr stand. Tillman struck the decisive goal after 57 minutes with a shot through a ruck of bodies after Sakala's effort had been blocked by Mark Birighitti.
Why Beale is so willing to accommodate Tillman was once again underlined. At 20, he must be given the time and space to develop into the very special player he has the potential to be.
Sakala, meanwhile, does not have quite so much time on his side. However, still only 25, he's becoming an ever more important player to Rangers.
He, too, can often be the subject of complaints from supporters. His performance here, before he left the pitch wearing a mile-wide grin to be replaced by Scott Arfield with just under 20 minutes left, had contained just about everything, from falling over the ball to the moment of inspiration that set Rangers on their way ten minutes after the re-start. Ryan Jack nudged the ball into his path and Sakala did the rest, taking a touch before sweeping a shot beyond Birighitti from a tight angle on the left.
"He was the most frustrated man in the building (at half time)," said Beale later. "Maybe not the most frustrated – but he was certainly leading to a lot of frustration for a lot of people in the building in the first half.
"That's our Fashion!" he added. "He has to keep smiling and keep going because he gets ya – that goal today was exactly what I wanted. I asked him to come off that right side and run down the left side at times and disrupt. It is a heck of a finish. He sets it up for himself."
The panic in the streets of Dundee before kick-off gave way to somnolence in the stands as the two teams struggled to create a chance of real worth in the opening half.
There had been reports of planned violence by hooligan 'firms' from as far away as London. Mercifully, with mounted police conspicuously patrolling the streets, there seemed to be little evidence of such disruption. Unfortunately, it meant the spotlight fell on the game.
As far as the home fans were concerned, the tedium of the opening 45 minutes represented a job well done. Their side had certainly been no worse than Rangers and, in actual fact, had created probably the better chances in the opening half.
Steven Fletcher flicked one deflected shot just wide of the recalled Jon McLaughlin's far post. Liam Smith should have done better than curl an effort past after dispossessing Antonio Colak.
United were applauded off the pitch enthusiastically at half time. The Rangers fans, meanwhile, withheld their appreciation in a clear display of their unhappiness.
A lot of water has flowed under the bridge since Celtic hit nine here without reply back in August but in the tit-for-tat world of the Old Firm, there would have been a few in the away stands bemoaning their side's lack of productivity where it mattered by contrast.
Celtic had hit four by half time on that occasion. Rangers had not registered four shots on target. United, of course, are much improved and were bidding for a third successive top-flight win.
This hope evaporated in the space of two second half minutes shortly after half-time. The ease with which Rangers were allowed to score these two goals was especially frustrating for the hosts, with Scott McMann giving away possession with a sloppy pass into midfield for the second. Many home fans took going 2-0 down as the invitation to do something else with their Sunday evening. "Cheerio, cheerio," chorused the away fans.
Beale delivered an impassioned defence of Alfredo Morelos's output – and physical condition – on the eve of the match. He argued that his cardio numbers are better than they were a couple of years ago, when he was being linked with multi-million-pound moves to various clubs.
He might be departing imminently, but not for anything like that figure. And for nothing at all if he sticks around until the end of the season, which seems likely.
Beale still views him as an important player to have around. He was sent on after half time to replace the ineffective Colak, who the manager later revealed had picked up a knock. Morelos gave United something else to think about with his physicality. One audacious effort from 35 yards almost caught Birighitti out.