Rangers fans 'showing signs of heavy season' as Celtic form cited and response to eye-off-the-ball claims
Rangers manager Michael Beale has sought to shut down claims made in a banner unfurled by the Union Bears ultras at Ibrox on Saturday that the Govan club took their eye off the ball following their 2020-21 unbeaten title triumph.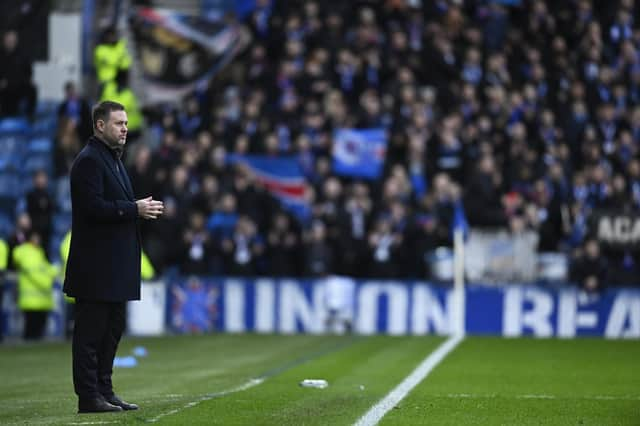 But the Englishman isn't of a mind to preach to the unconverted about the direction of Rangers that he is "100 per cent" convinced will be set on the desired path following a summer squad revamp, with the same banner declaring it was "time for change".
Beale is unlikely to be afforded understanding from his own faithful over how the past two seasons have panned out in giving Ange Postecoglou's Celtic their place, the Parkhead club having lost only once in the top flight since he extensively reconstructed his squad across his first two months. That has allowed Celtic to take a stranglehold on a Premiership they won last year thanks to establishing a nine-point lead before Beale – who had left with Steven Gerrard for Aston Villa in November 2021 – replaced Giovanni van Bronckhorst three-and-a-half months ago. Wednesday's assignment against Hibs at Easter Road marks his 100th day in charge. The only real besmirching game of the period that has brought 11 wins and a draw in the league - their second best such run in the top flight for 14 years - and three knock-out victories was the Viaplay Cup final loss to Celtic a week past Sunday.
"There was a change of manager, another manager came in, he won the Scottish Cup and got to a European final but fell away a little bit in the league," he said of events since the title success of two years ago. "Celtic's form has been very good. In most other years the points tally Rangers got might have won the league anyway. I wasn't here in that period but we were very dominant in the last 18 months before I left. Some things haven't worked out, but at the same time Celtic have gone on a really good run. And that's it. When it's a two-team battle like it has been then you only have to slip a little bit and that can be really important. We're moving in a good way. And ultimately that's my job to move us in a good way and keep doing that. I'm 16 games in, it's a small sample."
Asked if he understood the fans' perception that Rangers failed to build on their pre-eminence in the pandemic campaign, he said: "Yeah, because we didn't win. And if you do win then everything is different, isn't it? But we didn't win and we have to own that. We are the people in the privileged position of making those decisions. I wasn't then but I am now. If you take the job then part of it is you're going to be judged on a lot of things, constantly, 360, by the people who don't follow your club and certainly by the people who follow it.
"The fans have had a heavy season. And they're showing signs of that. But that's fine. They are the ones who pay their money and fill Ibrox every week. They fill every away stadium and all the European ones too so they're entitled to voice their opinion. [But] I back the people I work with and I believe in this club and the work we're going to go on. There's work to be done, but I 100 per cent believe in it."