Rangers fans appear oblivious to strength of Celtic as Michael Beale criticism goes over the top
The pile on Michael Beale has suffered from his own fanbase in the wake of Rangers' Viaplay Cup final loss to Celtic has been of such ferocity and viciousness to be truly startling.
The pile on Michael Beale has suffered from his own fanbase in the wake of Rangers' Viaplay Cup final loss to Celtic has been of such ferocity and viciousness to be truly startling.
More than that, by no stretch of the imagination could it be considered commensurate with whatever perceived misdeeds a wounded support have convinced themselves can be attributed to the Englishman. Instead, it feels that the 42-year-old is now a convenient emotional punchbag for an Ibrox faithful over their - not his - wilful misreading of the lie of the land in the Scottish game. A misreading that has extended to promoting the curious notion Sunday's Hampden final was theirs for the taking, and would have been theirs, if only he had started with unproven pair Nicolas Raskin and Todd Cantwell instead of injury-hampered duo John Lundstram and Malik Tillman. Talk about being unable to see the bigger picture - a landscape that it is not Beale who has recently sketched in.
In the wholly tribal environment of football Glasgow-style, it is standard for followers of the big two to close their minds to the possibility that their detested rivals might be a half-decent side…and, crucially, much more decent than them, with superior personnel as well as a more experienced and adept manager. Those calling Beale for everything have fallen into that trap. They elected to remain oblivious to the strength of Celtic in the domestic domain under Ange Postecoglou. Entirely overlooking that they are a team with just one defeat over their past 57 league games, and a mere two in their past 70 encounters on the home front. Such stunning sequences are exceedingly rare in the Scottish game, and so it is to Beale's great credit that the weekend was the first time his side had been diminished across the run.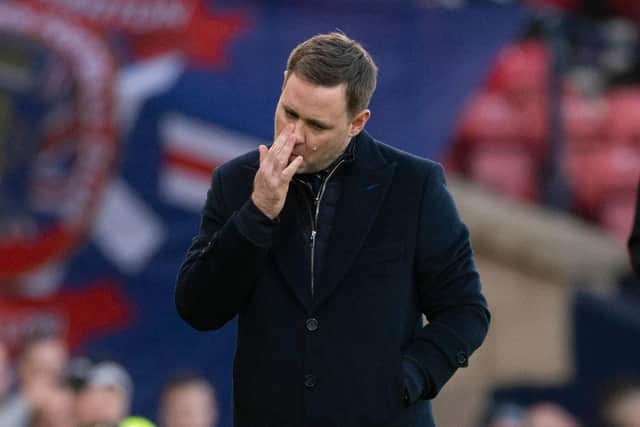 Indeed, rather than his endeavours as Ibrox manager being excoriated, they ought to be recognised as exceptional. It is hard to see how he could have been expected to achieve more in reviving Rangers across the short-term. Contrast his three months in charge with the final three months of Giovanni van Bronckhorst's reign. The latter witnessed a 4-0 mauling to Celtic, a record seven-goal concession at home in Europe, and rudderless displays that resulted in defeat away to St Johnstone and a loss at home to Livingston being avoided with an equaliser deep in added time.
Not a soul could have anticipated that a garrulous, engaging Beale – personality traits that would appear to have played badly among the Ibrox support – could draw enough from much the same squad to win 13 of his first 15 games in charge. Only Celtic have blotted that record and Postecoglou's men almost did not initially halt their rivals' winning run in the new year Premiership derby, requiring an 87th minute equaliser to eke out a 2-2 draw. Indeed, it seems to have escaped attention that in taking 31 points from a possible 33 in the league, Beale's Rangers have enjoyed a return across 11 such outings that the Ibrox club have bettered only once in the top flight - which came during their loss-free romp to the title in the extraordinary, fanless pandemic campaign of 2020-21 - over the past 14 years.
Beale has demonstrated he can craft a team to be competitive when it comes to matching-up to the results against the rest by a rampant Celtic. Usurping them is another matter, but more fool those Rangers fans blinded to this fact. A faction that should be cursing themselves, not the man facing major structural obstacles to succeeding.
Comments
 0 comments
Want to join the conversation? Please or to comment on this article.