Rangers double down on R word but club needs to mine deeper than English Championship to bridge Celtic gap
Deep inside Hampden, Michael Beale mentioned the R word. Again. Only this time he was harder, stronger. "The biggest rebuild this club has seen in a number of years." Yet talk of a rebuild at Rangers has been going on well before Sunday's defeat by Celtic.
Even when Rangers were winning under Beale, which was actually until quite recently, it was clear to see that the Englishman had maxed out the current group of players at Rangers.
The bounce Beale got from the team after he replaced Giovanni van Bronckhorst as manager was laudable in that they managed to win 18 out of 20 matches before three defeats in four matches, two against Celtic and one against Aberdeen. That bare stat on paper looks impressive, especially amid the backdrop of fan unrest as they called for the heads of sporting director Ross Wilson and managing director Stewart Robertson. On that front, they got their wish, both men either gone or departing. But what the fanbase does not have is a trophy, for the first time in two seasons, and they are no closer to Celtic. In fact, the gap is widening.
What is so maddening to all associated with Rangers is that in the past four matches against their Old Firm rivals – all under the stewardship of Beale – Celtic have far from outplayed them. Rangers have had their chances in that quartet of matches but all they have to show for them is a solitary point from the derby on January 2, when a late Kyogo Furuhashi equaliser rescued a point. Success is judged largely in these parts on silverware and results against Celtic. There is nothing but failure there, especially when you look at some of the errors that have gifted Celtic goals.
Under Van Bronckhorst, Rangers were dropping points to the rest of the league, so Beale has elevated them in making sure adverse results against the other ten teams are rare. Aberdeen's 2-0 win at Pittodrie two weekends ago was far from the norm in such matches. But there was never any further headspace for this ageing, diminishing group of players. In that winning run, only a handful of performances really stood out, both in Edinburgh against Hearts and Hibs. Most of the time it was about getting the job done. Beale first spoke of a rebuild not long after his December appointment. It is therefore no surprise that in the wake of losing to Celtic at Hampden, he doubled down.
Norwich City midfielder Kieran Dowell and goalkeeper Jack Butland, currently on loan from Man Utd from Stoke, are two names supposedly close to agreeing deals with Rangers. Summer signings Nicolas Raskin and Todd Cantwell played against Celtic and have largely been exonerated from stinging criticism from Rangers fans but in the cold light of day, neither did anything meaningful at Hampden. There are gems to be mined in the second tier of English football but Rangers will need to dig deeper if they are to make serious inroads into Celtic's gap over them.
Beale is currently fulfilling some of the sporting director duties while the search for Wilson's successor goes on. A replacement is needed swiftly after his exit to Nottingham Forest. Beale is first and foremost a coach, although how much time he will spend trying to coax more out of the likes Alfredo Morelos, Ryan Kent, Scott Arfield and Ryan Jack is debatable. Their contracts expire in the summer and are set to leave. The final five league matches are essentially dead rubbers, Rangers assured of second place but with no hope of stopping Celtic retaining their Premiership crown. However, Rangers just cannot allow the season to peter out on a negative note. It could set the tone for the summer and beyond.
Beale admitted the defeat at Hampden will sting for "a couple of days". It is unfortunate for him that Rangers have to play Celtic one more time this season, a week on Sunday when they visit Ibrox. Another defeat, in front of 50,000 Rangers fans, would not go down well at all and add pressure on a manager who is losing some of his early credit with the supporters. On the flip side, a victory would give a shot in the arm to those players likely to be at Rangers next season. Of that cohort, you are looking at James Tavernier, Connor Goldson, Ben Davies, Borna Barisic, John Lundstram, Raskin, Cantwell and Fashion Sakala. But that group has also shown in the past few months that it just cannot get Celtic's number and need major help in doing so. Celtic show no signs of slowing up, while this Rangers team put the brakes on some time ago.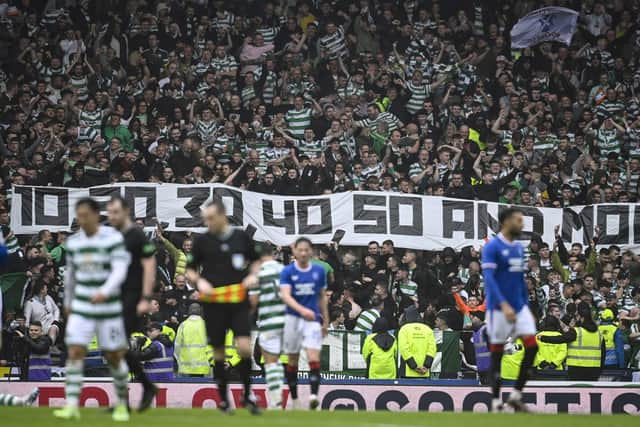 "I think the group has been capable of more," Beale said at Hampden, who feels disappointed and frustrated rather than angry with the performances against Celtic. "I think it's clear come the end of the season when it's written we haven't been able to produce. Coming back into the club I knew there was going to be change. We've been in need of the summer for a while to be honest but certainly after today, that will come. I think it's fair to say for the fans and the squad as well, we need some new faces and new energy. Some of the ideas and way we've played is good, we're able to win a lot of games. But on days like today, we're able to create big opportunities to give ourselves a better future, this season we haven't been able to take it. The people I feel for the most are the fans because they expect more from their team and I do as well. Moving forward we all have to improve."
That last sentence could not be more true. The depreciation of this squad since reaching the Europa League final just under 12 months ago has been quite striking. Back then, there was lots to look forward to. Beale and the senior hierarchy at Ibrox now have a job on their hands to restore such positive energy once again.