Rangers CEO James Bisgrove has say on Celtic threat to most successful club in world status
It is an unenviable high wire act that James Bizgrove must perform as he steps into the role of Rangers chief executive.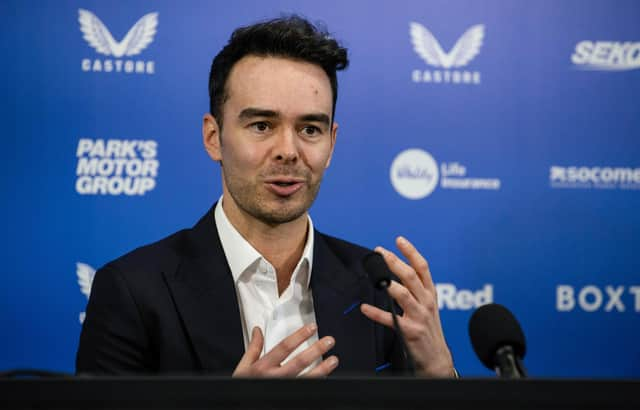 The affable Englishman must exude confidence over a comprehensive restructuring on and off the pitch – of which his elevation following three years as commercial director is a central plank – without over-promising. A delicate balance the 38-year-old succeeded in striking when facing the Scottish media for the first time since it was announced three weeks ago he would be replacing Stewart Robertson.
Yet, the fact remains Bisgrove has his work seriously cut out. In taking up his new position as Celtic look on course for a domestic treble to take their trophy haul to 17 out of the past 21 contested, the timing is testing. The Ibrox institution, and their legions, treasure oh-so-dearly their status as the world's most successful football club. Yet, the wall in his club's training centre that proclaims this fact will require redecoration if Celtic do not slip up in the Scottish Cup final against Inverness and happen to go on to win next season's League Cup. On his watch. Bisgrove was quick to stress that Rangers have traditionally been Scotland's dominant force across their 150 years. However, in this millennium that balance has firmly shifted as Celtic have moved to within of their ancient adversaries' 117 major trophy haul, a product of the Parkhead side snaring 38 such honours compared to their rivals' 19 in this century.
Bisgrove, patently both in charge of his brief and unfazed by the demands placed on him by his new position, handled with aplomb this thorny topic. "I think it is another driving force behind our ambition to be successful, to ensure that we are winning trophies and ultimately the dominant club," he said. "We are not saying that lightly, we know it is not going to be easy because we have got really strong competition, but we believe in what we are doing, we believe in the manager and we believe in the plan that is going to underpin that."
Bisgrove also refuses to be daunted by the inescapable disadvantages faced as he seeks to propel the club towards achieving that aim courtesy of furnishing Michael Beale with the necessary transfer kitty for an extensive squad rebuild. The difficulty is that with greater revenue from a larger stadium, more lucrative sponsorship deals and a sizeable sum in the bank, Celtic have revenue streams Rangers cannot match. Even as he has played his part in the Ibrox club crafting a sustainable model for their operations. "I have been at the club for three years and fresh in my mind is 55, winning the Scottish Cup and getting to a European final," Bisgrove said. "So that taste of success that we have had will only spur us on to continue to make sure this club is successful and winning trophies. That is what the supporters expect and that has been part of our history and part of our heritage.
"Is there pressure and expectation? Yes, absolutely, but that is what Rangers is all about. Anyone that is in a leadership position at Rangers feels it. The players, when they put on the shirt, and anyone that is in the boardroom, anyone that is here, understands. What we are trying to build are individuals that will thrive on that because that isn't for everyone.[Nothing] will cloud our judgement in terms of taking really considered decisions. I think we recognise, and have said, that it is a transformative period. We are quite clear on the priorities and where we want to focus.
"In the next two or three months you'll see that focus on player recruitment, you'll see that on recruitment off the park – in terms of the leadership positions – and you'll see that in the manner we run the club, in terms of being financially sustainable and making sure we have those resources to back the team but also invest in the infrastructure. I think for us it all goes back to the strategy. That wasn't written a week ago. As I came into the job it has been there and we have evolved it. John [Park, head of recruitment], Michael and I are really clear in our communication and that allows us to be agile. And allows us to take decisions in an effective way."
Comments
 0 comments
Want to join the conversation? Please or to comment on this article.