Rangers-Celtic reaction: Beale will mount title challenge; Pope pilloried; Barbour's bizarre Sky take
It felt as if a collective weight was lifted off Rangers as a club courtesy of Michael Beale's men conjuring up a zestful 3-0 slapdown of their Celtic rivals.
It certainly provided respite for the Ibrox manager, and food for thought, as we pick out three extras from the last derby between Celtic and Rangers this season.
Beale will mount title challenge
Just as too much shouldn't be read into what was effectively a meaningless game, so there were still deductions to be drawn from Michael Beale's first derby win in his fifth time helming Rangers in the fixture. It patently was a sore one for Ange Postecoglou to see his Celtic side so well beaten in a domestic outing – the 3-0 his first such loss by a three-goal margin. The fact is that in four visits to Ibrox since his arrival in Scotland during the summer of 2021, the now two-in-a-row champions boast one win there. And that 2-1 success in April 2022 had to be earned with the only concerted rearguard action Celtic have been forced into in their own scene under him.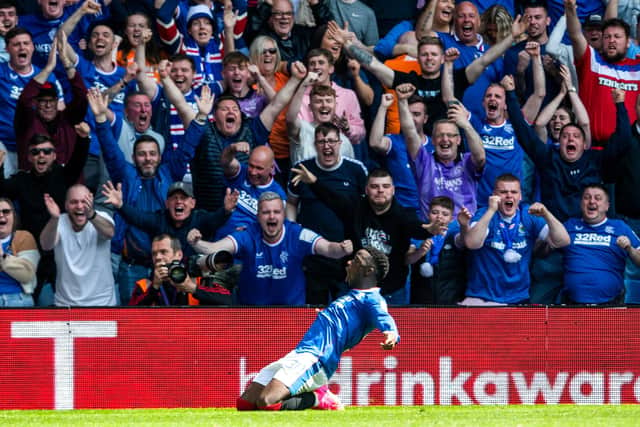 At the weekend Postecoglou's side lost a game they could afford to lose, and did so with a starting XI that was shorn of key performers in Kyogo Furuhashi, Cameron Carter-Vickers, Daizen Maeda, Greg Taylor and Alistair Johnston. Yet, all these featured as Celtic were within a few minutes of losing a game that had the potential to alter significantly the season back in their new year excursion to Govan … only to snatch a 2-2 draw with a scrabbled equaliser. The fact is that Rangers can prove more than a match for their ancient adversaries on their own patch. That should provide the basis for them being able to keep pace with Postecoglou's men in the championship next season. There is now a 20 league game sample to compare Beale's Rangers with Celtic. In that period, the Englishman's team have now dropped one more point than Postecoglou's men. The result of his record in cinch Premiership derbies now reading one won, drawn one, lost one.
The Ibrox side looked fresh with different personnel having appeared stale under a more familiar faces at various junctures this season. An influx of summer arrivals isn't likely to do them much harm on that front. Next season, Celtic and Rangers are going to be so much better than the rest of the top flight they will beat the vast majority of opponents the vast majority of weeks. In that event, separating them would then come down to what they do against each other with Rangers have provided signs they can trouble Celtic. Set against that, with defeats in the two cup competitions in the form of the reverses in the League Cup final and Scottish Cup semi-final, and only one victory over their rivals in six meetings, what there isn't yet evidence for is that they can overhaul a Postecoglou side that appears on their way to the treble.
It has to be asked what, deep in the psyche of certain sections of the Rangers support, causes them to be so drawn to religious bigotry, to anti-Catholic expression in the most triumphant moments. Their charming No Pope of Rome ditty hadn't been heard as they set about slaying their rivals. Until Fashion Sakala made it 3-0 in the 70th minute to ensure Celtic would be vanquished for the first time in almost 13 months. That provided the cue for it to ring right around a stadium in rapture.
Barbour's bizarre Sky take
Sky Sport's Eilidh Barbour is one of our game's smoothest and most impressive presenters. However, she could only elicit one of those 'did I really just hear that right?' moments on Saturday. The only possible reaction when she signed off the broadcaster's coverage of Rangers win on Saturday with a bizarre claim. "The title may well be heading to Celtic Park, but the bragging rights between these two will remain here at Ibrox after Michael Beale gets his first win over Celtic," she said. The concept of a bragging position seems to be more than a little skew-whiff here. Would any Rangers supporter brag to a Celtic rival when that person is likely to see their team land a treble in a matter of weeks?
Comments
 0 comments
Want to join the conversation? Please or to comment on this article.