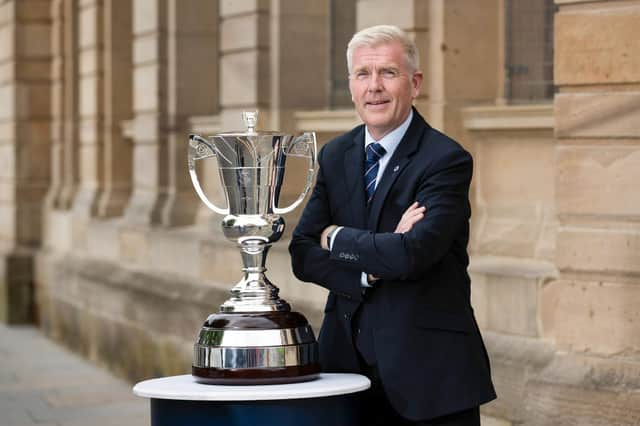 "It's now become second nature to say things like, 'have you got football training?' whereas before you wouldn't have spoken that way. Well, I certainly wouldn't have," Thomson conceded.
For now, Athena will be oblivious to the role her story played in shaping Thomson's. The death of Thomson's sister-in-law, Jill Thomson, when still in her 30s and with three young girls, moulded his decisions to move into the women's game. Thomson will bow out after Sunday afternoon's Scottish Cup final against Celtic but his legacy is not just in the first SWPL title that he delivered to Rangers last season, the club's foray into the Champions League or the first professional contracts that the club handed out to female players that he will reflect on but rather being part of a sporting cultural shift.
"I lost my sister-in-law about four or five years ago and my brother was left with three girls," said Thomson. "Taking them to hockey, being involved with them and seeing his lifestyle had a major play in it [taking the women's job at Rangers] as well because they're sporty."Young Athena is besotted with football, besotted by these girls that I'm coaching that are now her heroes. Jill was really young. She was in her late thirties when she died. It was horrendous. She had a brain tumour.
"It was strange how it happened, that [getting the Rangers manager's job] was at the tail end of her illness and I was just getting involved with women's football. Maybe it's just my mind, I don't know … 100 per cent she would be proud. My brother is an ex-police officer, retired now, and he is bringing up these three girls."
Notable, too, for Thomson has been the acceptance and encouragement of the women's team around Auchenhowie. "When that 'one club' mantra came in, it was really evident that nobody really saw what was happening way, way back at the start when the integration was there," he said. "Simple things like walking down a corridor and James Tavernier saying to Kathy Hill, 'great result at the weekend.'"
Meanwhile, Celtic manager Fran Alonso has welcomed the use of VAR at Sunday afternoon's game, the first time the technology has been used a women's Scottish domestic game, with the Spaniard suggesting that had it been in play across his side's last two league games against Rangers they would have been champions.
"There was a clear penalty against Caitlin Hayes in the box in the 1-1 draw [against Rangers]. VAR would have got it," said Alonso. "Then obviously a clear goal when nothing was wrong for an apparent free kick [when Rangers won 1-0 at the start of this month]. With VAR that was a goal that would have stood – and maybe we would be talking now about us trying to get the double.
"For me VAR is important. It is a help to the referee. Referees like coaches and players make mistakes. We are human. Somebody with a computer who can have a look at it – you can still get it wrong because it's run by humans – but I think it is extra super for the referee."