Rangers boss Michael Beale responds to Nnamdi Ofoborh's claims of 'mistreatment' over heart issue
Michael Beale has stressed that Rangers have done everything they can to support Nnamdi Ofoborh after the midfielder posted a cryptic message referring to "mistreatment" over his heart issue.
Ofoborh has not played a single game for the Ibrox club since since signing from Bournemouth in the summer of 2021 after routine medical tests flagged a heart problem, which he has been receiving treatment for ever since. The 23-year-old uploaded a picture of himself sitting on a hospital bed via Instagram at the weekend alongside the message: "Two years, two operations, hundreds of appointments. Silent on the situation so I look like the bad guy, all of the mistreatment of the last two years will come out."
Rangers manager Beale was quizzed on the Englishman's comments during his pre-match media briefing ahead of the trip to face Motherwell at Fir Park on Saturday and revealed the player is now seeing a third specialist in a bid to get to the bottom of the issue.
"It's a really personal matter that one. I was here in and around the scouting of signing Nnamdi and he was a player we were quite excited about. He then went to Wycombe and had the problem after having the medical with Rangers. The problem appeared after that. Since he's come to Rangers it's been difficult. He's never been able to train or play with the group. He's been aawy and seen the best cardiologists we could find. He's seen two and we're now supporting him to see a third as well. It's fair to say that those opinions have not always been perfect.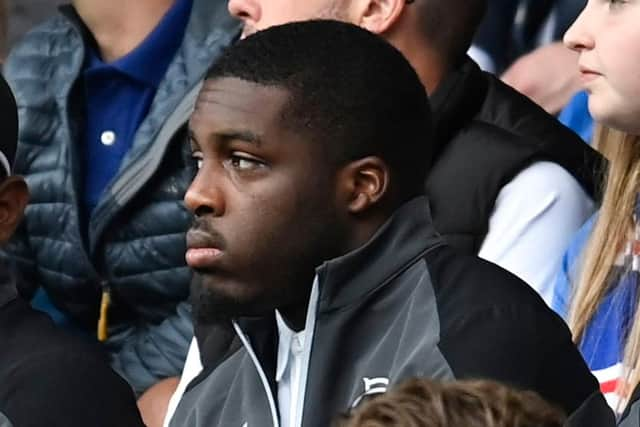 "He's managed to get back into light training, but our advice from the specialists is, just light training at this moment in time, that me, you, anybody could do. And nothing more than that. Nnamdi is a boy I'm close to and I really feel for his situation. He's a young man that's had his whole life turned upside down in the last two years and he's finding it really difficult. The club has been fantastic in it's support for him over the whole two years. It's just a really difficult situation. I'm certainly not an expert on it. I'm just trying to support a young boy through what is a really difficult period for him."
Pressed on whether Ofoborh's social media comments were directed at the club, Beale added: "I haven't spoken to him about that since the weekend. When Nnamdi is here and able to work, he works, but there's periods where he's away form here doing his gym programme as well. You can imagine moving up to Glasgow and not having a daily programme of playing football he's not been able to breathe as a footballer. We don't ask him to come in here every day if he's not working. He's away now seeing a specialist. He's seen the best people possible - the specialist that worked with Daley Blind and Christian Eriksen as well so everything I feel we could have done as a football club we've done. It's just really frustrating for Nnamdi that he can't do as much as he'd like but that's us acting on the advice we've been given and sometimes that difficult. I don't see how he can be commenting on the club."
Comments
 0 comments
Want to join the conversation? Please or to comment on this article.