Rangers' Borna Barisic speaks on VAR, turning 30 and gives sheepish response on clash with Celtic captain
Rangers full-back Borna Barisic has refused to join the VAR-bashing fraternity in Scottish football.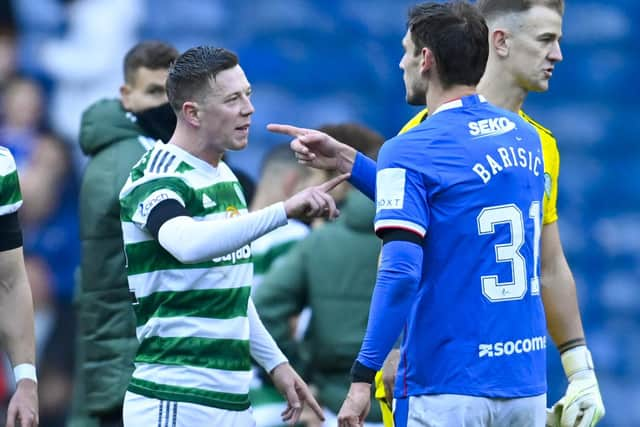 However, though throwing his weight behind a system that has caused no end of consternation since introduced in these parts just under three months ago, the Croatian chooses to sidestep whether the correct call was made over the Connor Goldson handball incident in last Monday's 2-2 derby draw.
Celtic manager Ange Postecoglou provided a waspish response over the failure to award a spot-kick in the encounter when a Carl Starfelt shot was blocked by the upright arms of the Rangers defender in stating "even before … VAR, it's always been a penalty … there were only two saves in the game; one by Joe [Hart] and one by Connor."
Barisic accepts that there seems to be dubiety over what now constitutes a handball offence in the box, but believes that, overall, the influence of the VAR has been beneficial. "I think it's good," he said. "With VAR you can see sometimes it is or it's not [right in the decisions it looks at]. Sometimes the game is stopped for a bit longer. But I like this technology. I think it's improved football. [With the Connor moment] I don't know if these rules are changing every one or two months – whether it is or isn't handball. But it's on the referee. I think they know their job. They should know that and give us the right decision."
Barisic was involved in another flashpoint in the Ibrox dust-up when involved in an angry and up-close exchange with Celtic captain Callum McGregor at full-time. The mild-manner 30-year-old seemed to be left sheepish over the altercation. "You know how it is in Old Firms. There is always, I have to say, a little bit too much fire in the players," he said. "But it's good now."
Barisic enters this new year feeling good about the fulfilment provided by the last one. The World Cup was "perfect" even if he would have liked more than his 120 minute solitary appearance. He also achieved his "dream" to play in the Champions League. "Even though it wasn't the best for us I can say that I played," he said of the bruising group campaign that proved the poorest by any team in the competition. Yet, the player feels there are always more ambitions to achieve, especially when he considers, in recently turning 30, he has so many years ahead of him. A product of the diligent health regime he has followed throughout his professional life.
"I cannot believe that I turned 30. Honestly I don't feel this. I feel like I'm only 25 in my body and by mentality," he said, with 37-year-old international team-mate and biology-defying Luka Modric offering "motivation" to see this stage of his life as mid-career. "Before when I heard that someone was 30 I thought they'd be finishing in another few years. But I don't feel like that. I take a lot of care over my body every day. That's not just happening this year, it's been like that for the past seven or eight or years. I think when you come to 30 sometimes it's too late [to change] but I've always taken care of my body. I look at every detail so I believe that I'm only 25."
Comments
 0 comments
Want to join the conversation? Please or to comment on this article.