Rangers, biggest acts of sportsmanship since ex-Celtic forward, Old Firm final question, what could have been
Sportsmanship or gamesmanship? Standards or sticking the fingers up? Winning fair or just winning? Sport or entertainment? Questions which were wrestled with after Rangers edged past Partick Thistle in the fifth round of the Scottish Cup.
Going into the match at Ibrox, it appeared it would be a breeze for the Scottish Premiership side. They had not lost under Michael Beale and performances were beginning to match results. Thistle on the other hand had lost to two of the Championship's bottom three sides, at home, in recent weeks. A breeze it was not. It was engrossing and entertaining, tense and tight. A proper cup tie. It will be forever remembered for a mad three minutes when Rangers scored controversially after Malik Tillman pinched the ball of Kevin Holt, who was making a pig's ear of kicking it back to the home side, before he ran through on goal and slid the ball into the net. After plenty of pushing and pointing, it was decided that the visitors would be allowed to score unopposed, Scott Tiffoney running through to equalise.
Beale spoke "high standards", it being the "right thing to do" and of protecting a talent like Tillman who had been unaware Thistle were set to give possession back after the ball had been kicked out with the American having been trodden on. It was one of the biggest acts of sportsmanship in British football since Paolo di Canio caught a cross late in a game between West Ham and Everton when the Toffees' keeper was out of his box injured. The former Celtic forward could have scored the winner.
'If I'm being honest'
"Malik Tillman is a fantastic young player and I don't want that hanging around his head," Beale said. "He has never cheated anyone in his life and as a football club we have high standards. We don't want to win like that. We don't want to earn anything we aren't due as a club or what we have earned on the park."
You have to hand it to the Rangers manager. Not only for all the right things he said afterwards but the courage of his actions at a time when there was still plenty of jeopardy with the tie in the balance and the home support letting their feelings known in vociferous fashion. First it was a song about Tillman and then it was boos and expletive-filled fury.
It was a decision which has seen Beale lauded, rightly so, as he was by Ian McCall. The now ex-Thistle boss let out a mixture of a snort and laugh when asked if all managers would be so accommodating. "I think I'd have done it if I'm being honest," he said.
The Old Firm final question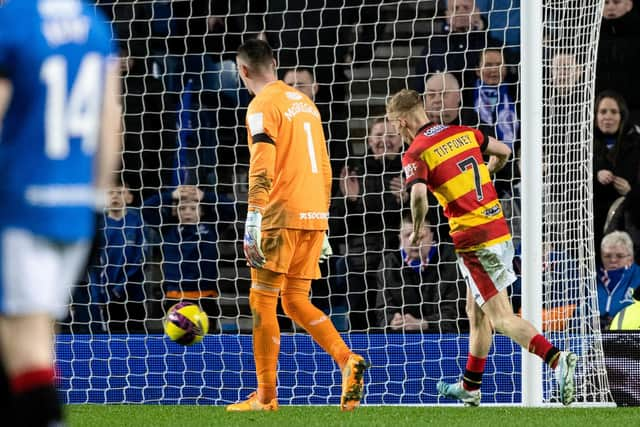 Let's face it, such an allowance, such sportsmanship isn't and wouldn't be consistent. All ifs, buts and maybes but fast forward a couple of weeks and a similar incident occurs in the Viaplay Cup final between Celtic and Rangers. There would be some very awkward glances and conversations being had. Both Beale and Celtic manager Ange Postecoglou appear to be very decent human beings. Yet, you add the rivalry, 50,000 fans and what's at stake into the equation and it can alter views and put a lot of pressure on decisions.
You go back to 2019 when Motherwell failed to return the ball to Celtic and scored. "It wasn't a good act at all," said then Hoops boss Brendan Rodgers. You could understand why Motherwell chose the route of gamesmanship and didn't allow Celtic to score, as the underdogs. It gave them a better chance of getting a result. The reason so many of the Rangers support wanted the game to continue as well. The discourse in the aftermath was certainly interesting. There was the view that Thistle were niggly and physical and didn't deserve the ball back. Others debated the balance of those "standards" Beale talked about and the "no one likes us, we don't care" mantra.
It all, ultimately, comes down to your world view on football, no doubt shaped by biases. Sportsmanship and all that comes with it, holding yourself to standards, winning the 'right way. Or gamesmanship where the 'the rules of fair play do not apply in love and war' and all that jazz. Is there a correct answer? No.
The biggest disappointment, from this writer's point of view, is the drama which could have been presented to those in the stadium and those watching at home if McGregor had stopped Tiffoney. Imagine the nervous look across to Beale from the goalkeeper's team-mates. What would have happened next? Now, that, that would have been dramatic and fascinating and one of the finest moments in sports entertainment. Alas, we were left with the "right thing" and a fine act of sportsmanship.
Comments
 0 comments
Want to join the conversation? Please or to comment on this article.