Rangers barb fired at departing Alfredo Morelos as Aberdeen lament Duk misses and ask: 'Where was VAR'
Rangers manager Michael Beale has confirmed Alfredo Morelos is leaving Ibrox after the striker made an underwhelming cameo off the bench in the 1-0 victory over Aberdeen.
Morelos replaced Rabbi Matondo moments after Todd Cantwell had given Rangers the lead in a tight clash against Aberdeen, for whom Luis 'Duk' Lopes missed two glaring first-half opportunities.
"I think you saw a difference when Alfredo came on in terms of energy but not a positive difference as well," said Beale. "We will need a focal point for the team because Antonio (Colak) is not fit at the moment. Alfredo is obviously going to be moving on. Fashion (Sakala) and Rabi gave us a different front line and it was also nice to see Ianis Hagi get some minutes."
Although Beale appeared to be critical of Morelos, who has scored 124 goals since joining in 2017, he did later seem to reference him when asked about the positive influence of match winner Cantwell and fellow recent signing Nico Raskin. "It is my opinion that history, in a few years' time, will look back on one or two players more fondly than they do today because they will see the goals they scored or the games they played in and the moments they had," he said.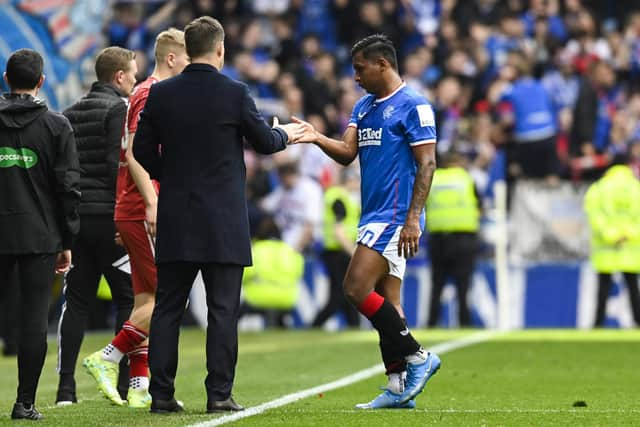 "I think what has happened with those two (Cantwell and Raskin) is that the fans wanted to see one or two fresh faces and they have come in with a natural infectious energy and I think that is nice. Attitude and energy is the best friend or the worst enemy of every football player. Ultimately if you have success that attitude and energy has got to grow and you can't change. Those players have started at Rangers well but they have achieved nothing at Rangers yet.
"Everything is in front of them and next season I expect them, after a pre-season, to go on and kick on another 10 or 15 per cent. It is OK winning man of the match and playing well at this stage of the season but we know at this club you have got to do it on the big day."
The inference was unmissable. They must do it against Celtic, whose second successive Premiership title was secured with a win against Hearts as Rangers' game was ongoing. "We have got four games (left), we want to end strongly and we will have a nice summer and come back stronger for sure," stressed Beale.
Aberdeen manager Barry Robson lamented Duk's two missed opportunities in the first half and questioned a Connor Goldson tug on the same player on the edge of the box. Referee John Beaton and nearside assistant referee David McGeachie allowed play to continue.
"You need to take them (Duk's chances) wherever you are, not just coming here," said Robson. "But it's probably more important to take them here. You have those two unbelievable chances in the first half – they don't come much better than one-on-one chances. And then obviously in the first half is it a penalty or a free kick outside as well, I don't know? It was one or the other. Where was VAR, anyone see it? Where was it? I don't know. Was it in the building today? I am being serious."