Rangers backroom staff rally around 'emotional' Michael Beale - 'he will 100 per cent get through this'
An "emotional" Michael Beale won't be chewed up by the hand-to-mouth footballing existence he has found himself in at Rangers, his assistant Neil Banfield has insisted.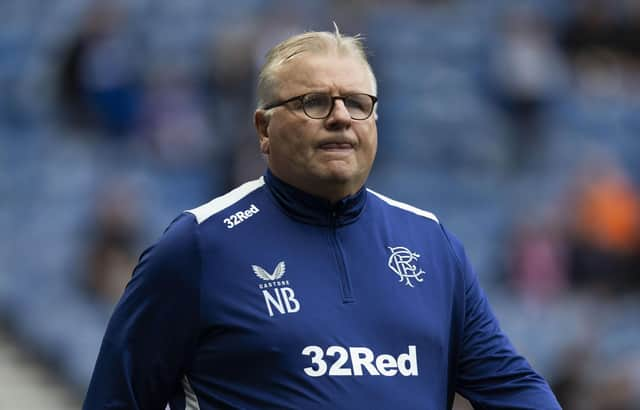 The potential for one bad result to topple the Ibrox manager - defeat in the Viaplay Cup hosting of Livingston unthinkable on that score - seemed to weigh on him at the weekend. Beale cut a disconsolate figure following the desultory display that scraped his team a 1-0 home win against Motherwell with jeers from the Rangers faithful greeting the full-time whistle. Banfield admitted that the club's coaching team had to rally round the 43-year-old after his bleak assessment of the performance, but the former Arsenal first-team coach doesn't even have the slightest doubt Beale will extricate himself from his current predicament.
"Part of being a staff is looking after the manager and I think all the staff see he can be very emotional after games and it's our job to make sure the manager is okay," said the 61-year-old. "Obviously he was frustrated and got a little bit emotional with it but the next day we came in and reviewed the game, analysed and reflected, and began to prepare for the next game. He is well aware [criticism] is part of being Rangers manager - it comes with the territory."
Asked if he was confident Beale would "get through" a perilous period, Banfield said: "One hundred percent. If you speak to him in there, without a doubt he can get through this. He has a good staff who will support him and who speak with him. He is strong for it and is so driven to be succcessful for Rangers.
"[Every game being called must win] is a pressure if you're not ready for it. [But] you know what's coming. He's a young manager in terms of games, but he has been involved in football a long, long time and has been in situations like this before.. You prepare for them. They might not happen, but you prepare for them. We are ready, so it's not a shock to us. Michael has this vision of how we want to play and how the club wants to move forward. Whatever we are doing at the moment, we are still winning."
Comments
 0 comments
Want to join the conversation? Please or to comment on this article.