Ondrej Kudela given ban as Uefa open proceedings against Czech defender and Rangers ace Glen Kamara
Slavia Prague defender Ondrej Kudela has been handed a provisional one-game ban as Uefa confirm they have opened disciplinary proceedings against the player and Rangers star Glen Kamara.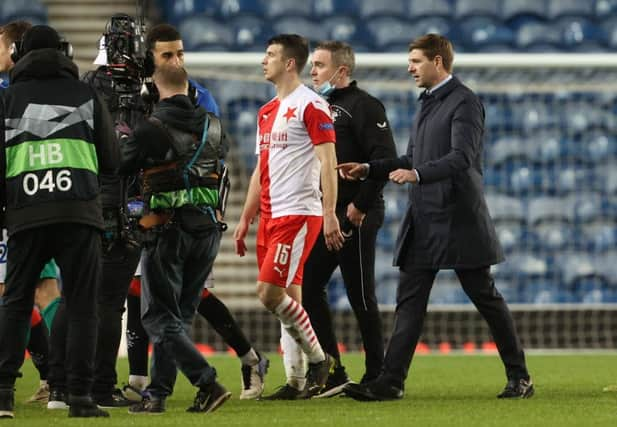 The Finnish player was visibly irate after Kudela whispered in his ear towards the end of the Europa League round of 16 second leg tie at Ibrox.
It was alleged the Czech international called the Rangers midfielder a "f****** monkey".
Slavia and the player have continuously and vehemently denied any racist abuse took place and accused Kamara of assaulting Kudela.
Kudela is set to miss Slavia's next European tie against Arsenal having been "provisionally" suspended. He has not yet been found guilty of any misdemeanour, however.
It was revealed today the player won't travel to the UK for Thursday's tie at the Emirates due to injury and illness having missed the club's game at the weekend after sustaining a nasal injury on international break. Kudela was caught by an elbow from Gareth Bale.
"He has a cold, virosis and fever, and after a blow to the nose he also has inflammation," Slavia's assistant coach Zdenek Houstecky told the club's website.
Uefa's disciplinary proceedings against Kudela take into account a "potential violation" of Article 14(1) which reads:
"Any person under the scope of Article 3 who insults the human dignity of a person or group of persons on whatever grounds, including skin colour, race, religion, ethnic origin, gender or sexual orientation, incurs a suspension lasting at least ten matches or a specified period of time, or any other appropriate sanction."
Or Article 15(1)(a)(iv) which states: "insulting players or others present at the match".
In addition, proceedings have been opened against Kamara for potentially violating Article 15(1)(g) which relates to "serious assault" and could bring a five-game suspension.
UEFA's Control, Ethics and Disciplinary said: "Following an investigation conducted by a UEFA Ethics and Disciplinary Inspector regarding the incidents that occurred during the 2020/21 UEFA Europa League Round of 16 second leg match between Rangers FC and SK Slavia Praha on 18 March 2021, proceedings have been opened against Mr. Ondřej Kúdela in order for the UEFA Control, Ethics and Disciplinary Body (CEDB) to assess a potential violation of Article 14(1) or Article 15(1)(a)(iv) of the UEFA Disciplinary Regulations (DR) and against Mr. Glen Kamara in order for the CEDB to assess a potential violation of Article 15(1)(g) DR.
"In accordance with Article 49 DR, the CEDB today decided to provisionally suspend Mr. Ondřej Kúdela for the next (1) UEFA club competition match for which he would otherwise be eligible for the prima facie violation of Article 15(1)(a)(iv) DR, without prejudice to any ruling that the CEDB may subsequently make on the alleged violation of Article 14(1) DR.
"Further information about this case will be made available once the UEFA Control, Ethics and Disciplinary Body has taken a decision in due course."