Old Firm red cards: Rangers and Celtic on long run - and the reasons why are laid out
The Old Firm fixture was once the byword for on-and-off pitch strife, red cards and general disorder.
So much so that the Scottish Government ordered a summit in 2011 to investigate the upturn in rancour after Ally McCoist clashed with Neil Lennon on the sidelines after three Rangers players were sent off in a fiery Scottish Cup replay at Celtic Park.
Graham Roberts' appearance on the pitch to conduct the half-time draw during last weekend's clash between Rangers and Dundee United was a reminder of an earlier Old Firm shame game. A 2-2 draw at Ibrox in 1987 saw three players ordered off, including Ibrox goalkeeper Chris Woods. Roberts took over in goal and conducted the home fans as they sang a sectarian song. He was among four players later charged by police with "conduct likely to provoke a breach of the peace".
Although away fans have been barred from attending the last two league meetings of the current campaign due to what has been termed "security and safety issues", the fixture is in a relative period of calm. On the pitch at least. Eight games have now passed since a red card was shown.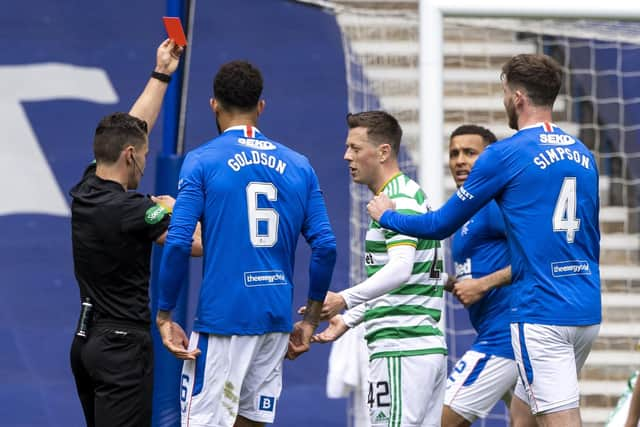 The unlikely figure of Celtic skipper Callum McGregor was the most recent transgressor after picking up two quick bookings at Ibrox in April 2021. The last time such a run of games finished with the full complement of players was between 2003 and 2004. It seems a remarkable statistic in the era of fussy refereeing and Alfredo Morelos.
The introduction of VAR has been cited as one reason for the welcome development but the sequence of games pre-dates its implementation. Rangers skipper James Tavernier is often in the thick of things and yet has been booked only six times in 29 Old Firm appearances to date and has received no red cards.
He has suggested that the hard men of yesteryear are an endangered species now cameras track every corner of the pitch. The onus is on players to be cannier.
"You can get seen and caught with a lot more," said Tavernier. "I think I watched highlights of an Arsenal and Manchester United game with (Patrick) Vieira and Nicky Butt kicking lumps out of each other. You just can't do that today. There are a lot of technical players now, the game is moving, it's evolving."
He was careful to add that this doesn't mean derbies such as the Old Firm clash have become diminished. "No matter what though, it's a feisty game," he said. "There are going to be challenges, but I think those days when you see people flying two feet through the air are maybe gone."
"The way the game is evolving, you don't really get too many players that just kick lumps out of each other anymore. It's almost like a dying breed. People get sent off for many things, but hopefully there are no red cards tomorrow."
Of course, it's almost guaranteed there will be at least one now, especially given what's at stake. Rangers need a win to stop the rest of the league season being a procession as Celtic home in on the title. And it's not as if the fixture has become completely bloodless. There were ten yellow cards in the recent League Cup final meeting.
The odds on a red card in this afternoon's match were, at the time of writing, 5/2 with William Hill.