Michael Beale talks Rangers transfers: Squad and Malik Tillman hint, Ryan Kent latest, discussions ongoing
Michael Beale has estimated his workload has increased by "10 per cent" now that sporting director Ross Wilson has left Ibrox, although other members of staff are helping fill the gap at an important stage of the recruitment process ahead of next season.
Rangers will hope to replace Wilson, who has departed for Nottingham Forest, sooner rather than later. But Beale is already active in identifying targets as he seeks to bolster his side's title hopes ahead of the new campaign. The manager spent the early part of this week in Italy. He met some contacts and took in some games. "It wasn't a holiday," he advised on Friday. He also suggested there might not be as much transfer activity as fans expected – and, indeed, had hoped.
Beale claimed in an interview with Sky Sports that all those bar Allan McGregor and Alfredo Morelos who featured in last weekend's 5-2 win over St Mirren will be at Rangers again next season. This would appear to include Malik Tillman, who is currently on loan from Bayern Munich. Nevertheless, there will clearly be departures other than McGregor and Morelos, with the former expected to retire. And Beale has already started the process of replacing those expected to move on.
Ryan Kent is out of contract at the end of the season and there is little indication that he is minded to sign a new deal – or that the club are pressing him to do so. "There is no news on Ryan's future," said Beale. "And when there is I am sure it will be announced officially. It is not a matter of persuading. It is about making sure we are on the same page, so it is not a matter of persuading."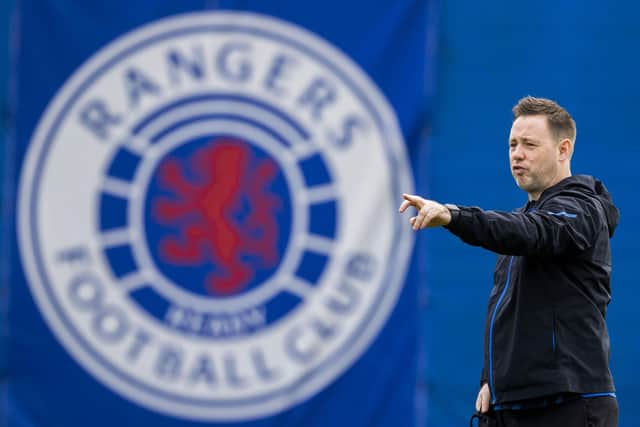 Beale knows reinvigoration is required at Ibrox. He is alert to the fans' disappointment after a season spent chasing Celtic. On top of this was claiming the unwanted title of worst-ever Champions League team. "I've been looking at players every single day since I came in in November," he said. "It's what I love to do. I like looking at new players, I am excited for the changes. We are getting closer to that and I have been heavily involved. Ross had his list, I had mine and we would combine it all. I dealt more with the player and with Ross not here I have someone else doing the negotiation part. I go on the road and meet the players as I have always done. I'm maybe more ten per cent busy but we have a really good staff here.
"I am really comfortable with where we are going," he added. "The window shuts on September 1 so it is a long window. It is clear we want most of our work done early. When we have done that in the past it has always led to a strong pre-season and strong season. The early part of the season is European qualification in terms of Champions League which is really, really important. There will be some new faces on the first day of pre-season and that is almost your first stage of recruitment and then there is the second phase of player recruitments which happens between July and September. All of those plans are in place and talks are ongoing."