Michael Beale pores over Rangers' errors - 'two or three players have switched off, they know'
Michael Beale lamented Rangers' errors in the 1-0 Scottish Cup semi-final defeat against Celtic that ended their hopes of silverware this season.
The holders exited the tournament at the last-four stage due to Jota's first-half goal that was borne out of Rangers duo Nicolas Raskin and Borna Barisic switching off when they thought referee Don Robertson was going to blow up for a foul. Forward Fashion Sakala also missed a near-open goal and Beale believed the mistakes summed up Rangers' season.
"I'm bitterly disappointed," the Ibrox manager said. "Fine margins will generally decide big matches and I think we've made an error again in a moment and conceded a goal. The game has been very harsh on us. I thought in the second half we took the game to Celtic, we had big moments that we haven't executed. In big games you can't have that much of the play and make a mistake and get away with it.
"We always felt we could carry a threat. In the second half we made a lot of good running and had chances but we're missing big chances, similar to the cup final here. You want opportunities in their end, you want possession of the ball, you want to be able to take the game to them - all of that happened. But if you get an opportunity and don't take it and then make an error, you fall short against a good team. We had our moments, like in previous games against Celtic, but we've fallen short.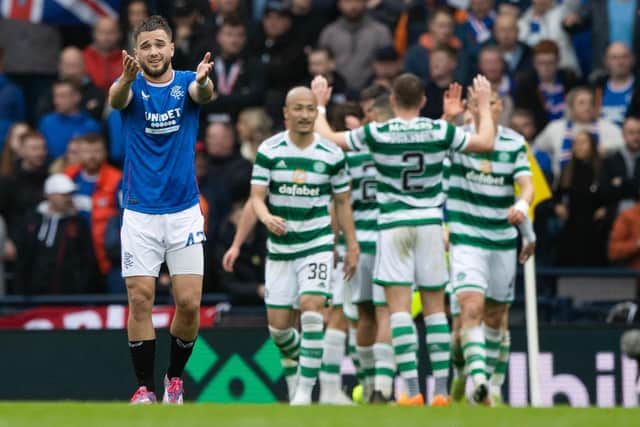 Beale believes Rangers have continually suffered from making errors at key stages this season. "It's happened in a lot of big games for the club," the Englishman continued. "No-one is meaning to make mistakes but in the big moments, we have done." When asked why mistakes are happening, Beale said: "I don't know. We throw the big words out - mentality and character. Two or three players have switched off. They know. They are kicking themselves. It's a big moment in their careers, it's a costly moment for all of us as a club. No-one went out there to switch off but they did. They score, fair play to them. They're alive in that moment and we're not."
Rangers now have five Premiership games to play out before the season comes to a close. Celtic require one more win to retain their title and Beale admits Ibrox will be "an interesting place" when Aberdeen visit next Sunday. "Some are fighting for their futures, obviously," Beale added on the motivation for his team. "We have to play the games in front of us. It's a big weight and responsibility wearing the shirt. It's a huge privilege as well. Next week Ibrox will be an interesting place, but the fans will be there because that's what they do. They'll expect their team to win.
"This one will sting for a couple of days but the problems are not today, are they? The problems are throughout the season. It's been a disappointing season from the moment we beat PSV. This season promised a lot more than what it has given. It's the first season in a couple of years when we haven't won a trophy. We haven't had a big finale to the season and that's bitterly disappointing. Me as the manager and everyone associated with the club, all we can do is move forward and do better. We need to do better."