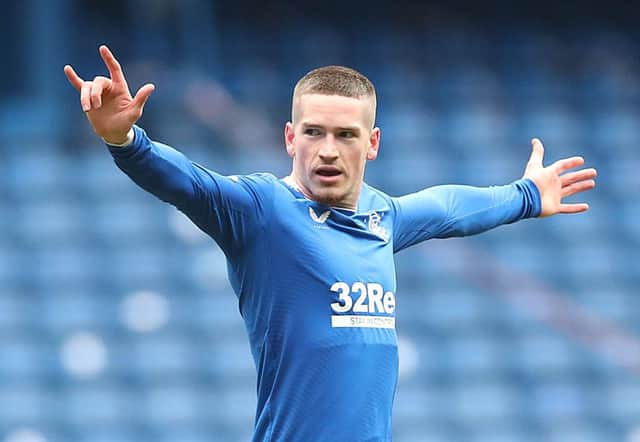 Ryan Kent of Rangers. (Photo by Ian MacNicol/Getty Images)
The winger has been in impressive form this campaign, scoring 11 goals and assisting 13 more as the Gers marched their way to a historic title win under manager Steven Gerrard.
Durham is of the belief that the 24-year-old is good enough to force his way into most Premier League sides as well, and has gone as far as to argue that his achievements at Ibrox this term have merited recognition south of the border.
Speaking on talkSPORT, the outspoken host said: "The three in front of them [defensive midfielders] are Grealish – it was a toss up between Grealish and Sterling – Mason Mount, and here's my left-field pick that you're going to absolutely ruin me for…
"He's not even playing in the Premier League. I've gone Ryan Kent at Rangers.
"I have to take my hat off to what Rangers have done this season. I think he'd get in a lot of Premier League sides.
"I thought to myself, 'You have to have admiration for what's happened there'.
"I think he's been one of the best players I've seen this season. Why wouldn't I put him in there?"
Former England cricketer Darren Gough was less receptive to the idea, however.
He responded: "You've lost the plot.
"He's not playing in the Premier League."