Journey's end at last for Rangers - recalling May 6, 2011 when club was sold for £1
Rangers supporters have called it 'The Journey'. For them, the destination was finally reached this season with the capture of their club's coveted 55th Scottish league title under Steven Gerrard.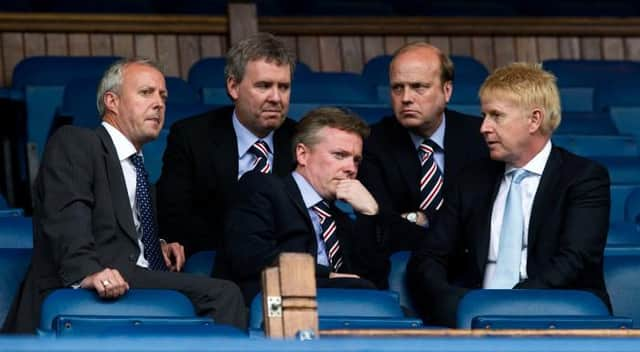 It was exactly 10 years ago, on May 6, 2011, that the seismic event took place which would spark a decade of chaos, despair and ultimately joyful redemption for followers of the Ibrox side.
It's the anniversary of a portentous moment which will forever live in infamy in Rangers' history. On that Friday evening in Sir David Murray's Edinburgh office, when Craig Whyte flicked a pound coin across the table to complete his acquisition of the club, a chain of events was sparked which would shake the foundations of a British sporting institution.
The nominal sum paid by the then 40-year-old Whyte, a previously unheralded venture capitalist, secured Murray's 85.3 percent stake in Rangers as well as taking on the club's debt of around £18 million to the Lloyds Banking Group amid the ongoing dispute with HM Revenue and Customs over the club's use of Employee Benefit Trusts.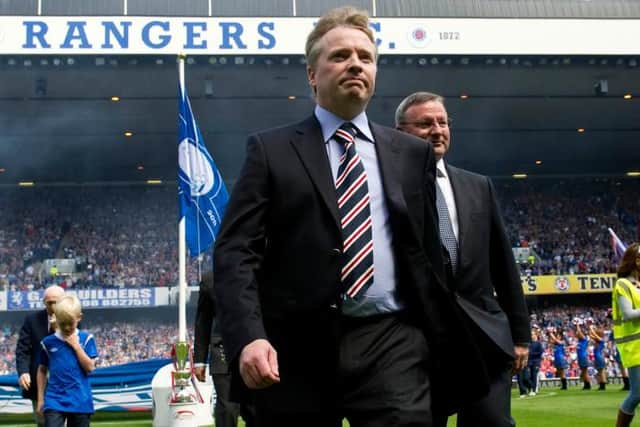 Murray, who bought Rangers from Nevada-based Scottish businessman Lawrence Marlborough for £6million in 1988, had announced he was stepping down as chairman in August 2009. In March 2010, he confirmed he was considering the sale of his controlling shareholding while stressing it would only go to someone with Rangers' best interests at heart.
In November that year, Monaco-based Whyte emerged as the leading bidder for Murray's shares. A month later, a deal was agreed in principle between Whyte and Murray International Holdings but not everyone involved greeted the development with enthusiasm.
Doubts expressed
Although it would be much later that the full extent of Whyte's chequered business past would be revealed, including his disqualification as a company director for seven years, alarm bells started to ring for members of the Rangers' board when they met him in March 2011 to hear his plans for the club.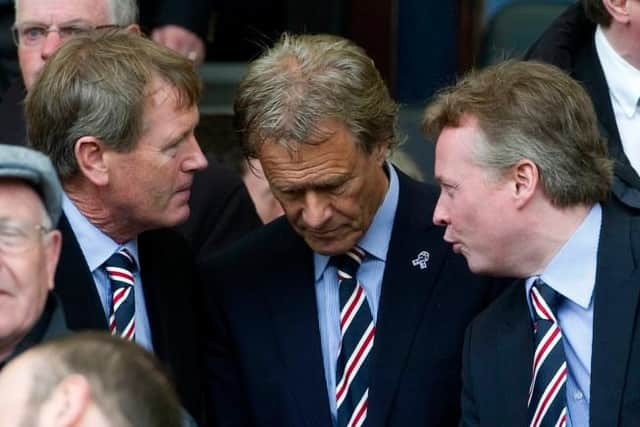 An independent board committee (IBC) had been set up to scrutinise Whyte's bid. It was made up of Alastair Johnston, who had succeeded Murray as chairman in 2009, chief executive Martin Bain, former chairman John McClelland, former captain and manager John Greig and financial director Donald McIntyre.
On April 19, 2011 they publicly declared their doubts while Whyte and his camp were trying to close the deal.
"For some time, the board has had major concerns about its engagement in the process," said Johnston.
"After nearly six months of negotiation, we have only very recently had the opportunity to meet Craig Whyte and his team.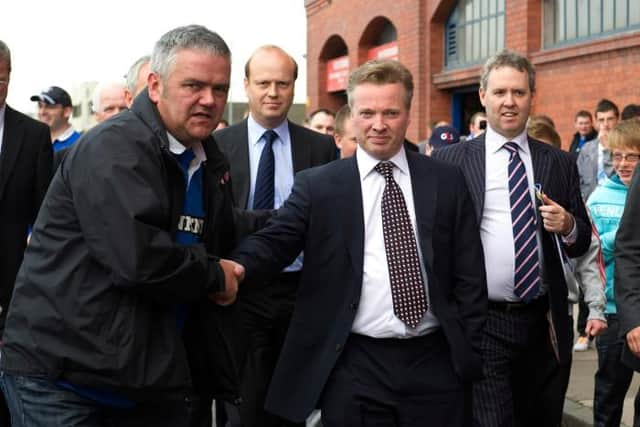 "Moreover, it is only in the last few days that we have started to receive the draft agreements outlining the transaction, although we are still awaiting a detailed working capital statement demonstrating that there is sufficient funding in place to meet the pressing needs of the club.
"Based on the documents we have only been able to review within the last week, we are disappointed that they ultimately did not reflect the investment in the club that we were led to believe for the last few months would be a commitment in the purchase agreement.
"Given the requirement to repay the bank in full under the proposed transaction, there appears to be only a relatively modest amount of money available that would positively impact the club's operations, especially as it relates to an urgent requirement to replenish and upgrade the playing squad.
"Whilst the proposed transaction has addressed the interests of Lloyds Bank, the Murray Group and Craig Whyte, our perspective is solely directed towards the future of Rangers Football Club."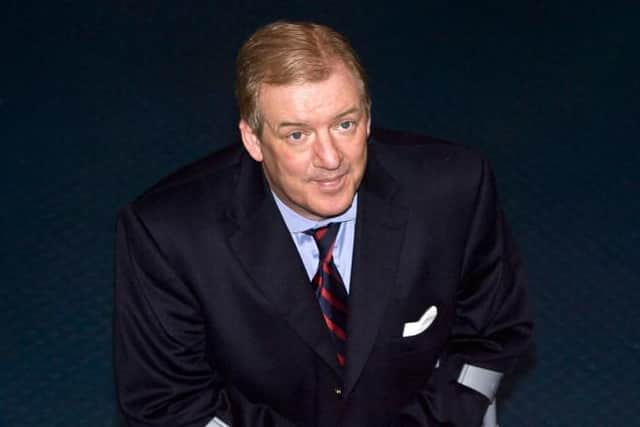 A done deal
Their protests were to no avail. When the Takeover Panel approved Whyte's offer document on May 6, the deal was fatefully concluded at Murray's offices later that day.
The IBC remained unconvinced and released a statement that evening reiterating its anxiety over the wherewithal of Whyte and his Wavetower company to meet Rangers' financial needs.
"Although the IBC has no power to block the transaction, following its inquiries, the IBC and Wavetower have differing views on the future revenue generation and cash requirements of the club and the IBC is concerned about a lack of clarity on how future cash requirements would be met, particularly any liability arising from the outstanding HMRC case," it read.
"The IBC has insisted that the acquirer (Whyte) issues a document to all shareholders setting out the full terms of the transaction, comprehensive details on the acquirer and the sources of its funding and giving firm commitments to agreed future investment in the club."
Initially welcomed as a saviour by a sizeable section of the Rangers support, Whyte's arrival came as the Premier League title was being clinched in Walter Smith's final season as manager. But the mood of jubilation Whyte was able to bask in, even appearing front and centre of the flag-unfurling ceremony in July at the start of the 2011-12 campaign, would quickly dissipate.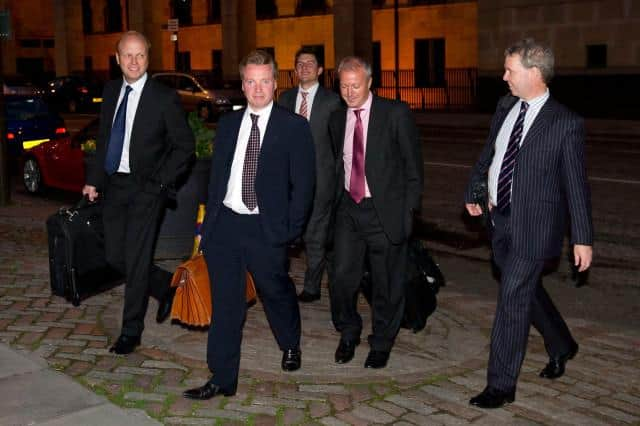 It emerged that Whyte had sold future season ticket income to Ticketus, a London investment firm, for around £24 million to finance his takeover. Previously pledged levels of spending on new manager Ally McCoist's squad failed to materialise.
Financial collapse
The tipping point arrived on February 14, 2012 when Rangers went into administration, HMRC having lodged a petition over Whyte's failure to pay around £9 million in VAT and PAYE since his takeover. Heading off HMRC's bid to appoint their own administrators, Whyte named London firm Duff and Phelps as administrators.
So began the extraordinary saga which saw BDO appointed as liquidators in June 2012 – a process ongoing to this day – while the business and assets of Rangers were acquired by a consortium led by Charles Green. 'The Journey' for Rangers fans – or the 'Banter Years' from the perspective of rival supporters – would begin in the fourth tier of Scottish football amid rancour and controversy.
Amid a procession of dubious characters making their way up and down Ibrox Stadium's famous marble staircase in and out of the boardroom, Rangers' recovery was a painful process for the punters whose loyalty in filling the stands never wavered.
Credibility was gradually restored after former director Dave King's successful boardroom coup in March 2015, culminating in the return to the summit of Scottish football this season under Gerrard's progressive leadership which has renewed their status on and off the pitch.
While Rangers fans can hold their heads up high once more, they will not easily either forgive or forget those involved in the cataclysmic financial collapse of their club.
Whyte, despite being found not guilty in the High Court two years ago of taking over Rangers by fraudulent means, will always be persona non grata with the Ibrox support.
Murray's remorse
But his involvement also tarnished Murray's reputation in their eyes, regardless of the huge success previously enjoyed during his ownership. Speaking in March 2012, Murray readily recognised his legacy at Rangers had been damaged.
"Of course it has," he said. "It's 22, 23 years, and I think the first 15 or 16 were fantastic.
"Then we went into a tight period financially when I put a lot of money into the club.
"I have genuinely put just short of £100m into Rangers in my tenure.
"We all enjoyed a lot of success together. Now all of a sudden it's all my fault.
"I accept at the end of the day I was the captain of the ship, and I take my share of criticism."
Murray expressed remorse over the decision to sell to Whyte but insisted he had no way of knowing how catastrophic it would prove to be for Rangers.
"I was primarily duped," said Murray. "My advisers were duped, the bank was duped, the shareholders were duped. We've all been duped.
"Because he met the criteria that were in his offer document. He's quite affable and plausible. I always remember someone said, 'Does it pass the sniff test?'
"He was Scottish, he wasn't a foreigner, he was supposedly a Rangers supporter, he had the money.
"There is a Stock Exchange offer document there. If you can't believe that, what can you do?
"Craig Whyte made a statement that the club was never in a better financial state when he took it over.
"This is a guy saying he's going to spend money on players, on health and safety, do the ground up. That is a legal offer document. You would expect that to be honoured.
"We did check, to the best of our ability. After someone has been disqualified (as a company director) for seven years, it's not that easy to check.
"And it is also down to the individual, is it not, to make us aware of that?
"I'm not defending me - because I've made a huge mistake here.
"And I deeply regret, I deeply regret, selling the club to Craig Whyte now. Deeply.
"And if the information had been available to me at the time I wouldn't have done it. I did it in good faith.
"Again, I can only apologise how this has turned out. And if I could turn the clock back, of course I would. There's not much more I can say than that."
A message from the Editor:
Thank you for reading this article. We're more reliant on your support than ever as the shift in consumer habits brought about by coronavirus impacts our advertisers.
If you haven't already, please consider supporting our trusted, fact-checked journalism by taking out a digital subscription.
Comments
 0 comments
Want to join the conversation? Please or to comment on this article.