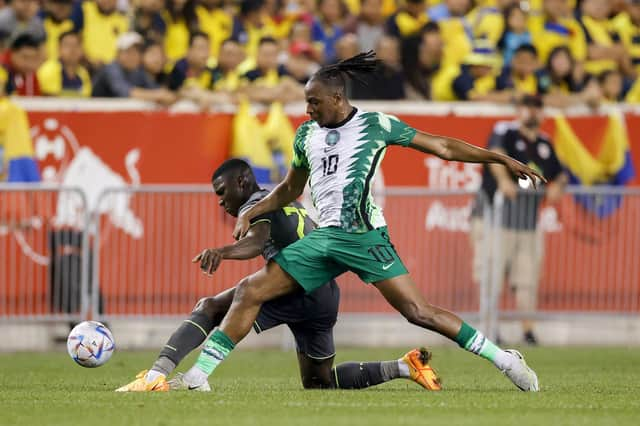 The 25-year-old has posted impressive figures once again for club and country, which has led to the now-normal speculation about his future at Ibrox.
With only one year left on his current Rangers contract, English clubs are circling. Aston Villa, managed by his former boss Steven Gerrard, have been linked with him for the best part of 12 months. So have fellow English Premier League outfit Crystal Palace, who have an Aribo-sized vacancy in their midfield now that Callum Gallagher has returned to his parent club Chelsea following a successful season-long loan.
Aribo is trying to blank out the noise. In a wide-ranging interview, he addressed the speculation about his future at Rangers.
"With all that stuff I don't really read into it and I just focus on my football," the former Charlton Athletic player said, "because you can't have distractions as it won't allow you to play the best and be the best that you want to be.
"Which is obviously what I want to be every time I play. I just want to be focused and ready to go."
Aribo's versatility is one of his strong points. Naturally a midfielder, he can play wide and at times led the forward line for Rangers. In doing so, he scored the opening goal in last month's Europa League final. Not many people have that on their CV. Aribo is a manager's dream, happy to play anywhere.
"Playing in different positions has helped me realise what I'm capable of doing and also given me an opportunity to keep growing," Aribo continued.
"As a young footballer craving a chance to play, you'd grab the chance to even play in goal. But here I am being asked to play for my club in different roles on the pitch, I was happy to do it."
Aribo has grown into one of the hottest properties in Scottish football, but he is a quiet man off the pitch. He admits to being shy and having major doubts about his own abilities in the past, but credits Gerrard and current Rangers manager Giovanni van Bronckhorst for giving him belief.
"Funnily enough I was always this shy player with doubts in my own ability," Aribo admitted.
"I must say I am no longer the player I was after going through that phase (of self-doubt).
"I am grateful to the manager for the trust, my team-mates for believing in me and supporting me.
"I have the right people around me to give me that confidence to say, 'Yes, you're the man that's going to take on the game and change the game'.
"Some people like to take centre stage in everything they do in life, but I prefer to stay in the background and let others talk about my performance on the pitch.
"I honestly didn't know I have played more games this season than any other player out there. I feel very happy to hear that."
He will not get much time to rest, with Rangers back to pre-season training imminently. Aribo got his hands on the Scottish Cup last term and wants more silverware.
"Before I came to Scotland I didn't realise how big and special the club is or imagine having the most passionate fans around us. They're the best fans," Aribo added in an interview with BBC Sport Africa.
"I am happy to be writing a good story with the club and we go again next season with the hope of winning silverware."