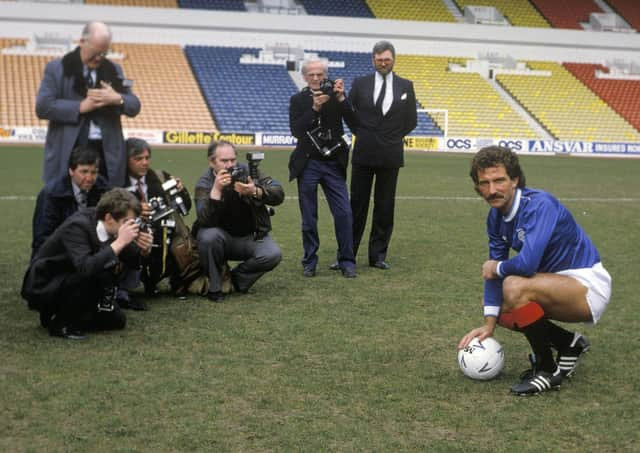 Rangers unveil Graeme Souness as their new player/manager in 1986.
The former Scotland captain has confirmed his interest in taking up "an advisory role" at the club where he was player-manager for five tumultuous and successful years from 1986 to 1991.
While his time on the field and in the dug-out at Ibrox is seared into the history of both Rangers and Scottish football as a whole, what is less widely remembered is that Souness also served as a director of the club.
In November 1988, David Murray was the man who attracted all the headlines when he acquired almost 70 per cent of the shares in Rangers and took ownership of the club from the John Lawrence Group.
As part of the deal, Souness secured 10 per cent of those shares and was appointed to the board.
He was not the first Rangers player or manager to become a director. Notable figures down the years, from Alan Morton and Bill Struth through to Willie Waddell had moved into boardroom positions in the later stages of their time at the club.
But Souness was certainly unique in becoming a player, manager and director of Rangers all at the same time.
When Murray's takeover was announced, the then 35-year-old Souness declared that his own personal commitment to the deal underlined what he then regarded as a long-term involvement at Rangers.
"Some people have seen me as a soccer mercenary and many thought that Ibrox was just a stepping stone to something else," he told club newspaper Rangers News. "That has never
been the case and hopefully I've proved that beyond all doubt now.
"Ever since I met David Murray, I have admired him for abilities and his qualities as a winner and an achiever.
"He is a great friend and now we are in business together. I think it is going to be a tremendous challenge for both of us.
"Rangers are the biggest club in Britain as far as I'm concerned and I can go no higher in my career.
"I am proud to be manager of Rangers and being a director is an even greater privilege."
But while Murray and Souness enjoyed an initially fruitful relationship in establishing Rangers' dominance of Scottish football at the time, the status of being a director was not enough to prevent his departure to Liverpool in May 1991.
Souness would later recall becoming worn down by constant battles with Scottish football officialdom, something which was unlikely to diminish given his combative nature as manager of Rangers.
The return to Anfield, where he had enjoyed his greatest days as a player, proved impossible to turn down but was ultimately a disappointment for Souness.
Now established as an exceptional TV pundit for Sky Sports, Souness has never hidden his enduring affection for Rangers. He was previously linked with a return to the club as part of businessman Brian Kennedy's unsuccessful bid to take control in the aftermath of its financial collapse in 2012.
Now 66, Souness has gone public
with a fresh desire to become involved at Ibrox once more.
"I'd like to be invited back to Rangers in some capacity but it would only be if the people in charge thought I could help," he said at the weekend.
"One day I'd like to go and be on the board in an advisory role. I'm still very active in what I do. I don't want to be presumptuous or get ahead of myself – but that could be one for the future."
There's little doubt the presence of Souness would be an asset from Steven Gerrard's perspective, giving the 39-year-old Rangers manager invaluable experience to tap into as he attempts to restore the Ibrox club to a position of authority and success on the pitch.
The decision on whether Souness will be asked back now rests with Douglas Park, named interim chairman of Rangers after King brought forward his exit from the board.
At the top of Park's in-tray, however, is overseeing the plans for fresh funding of Rangers which the club insisted in a statement are "well advanced", appearing to contradict King's earlier assertion that they had been placed "on hold" due to the ongoing coronavirus pandemic.
A key figure in efforts to stabilise and strengthen the financial position at Rangers, which has depended on soft loans from directors since King took control of the club in 2015, will be the new deputy chairman John Bennett. The 56-year-old, a portfolio manager and director of investment at global asset management firm Janus Henderson, first joined the board under King five years ago and continues to personally invest in the club.
Rangers also remain committed to another share issue in which Stuart Gibson, the Paisley-born and now Japan-based property funding businessman, has been linked with a £20 million investment.
It remains to be seen when Rangers will return to action. When they do so, their supporters will be casting interested looks not only at the pitch, but also at whoever takes a seat in the directors' box.