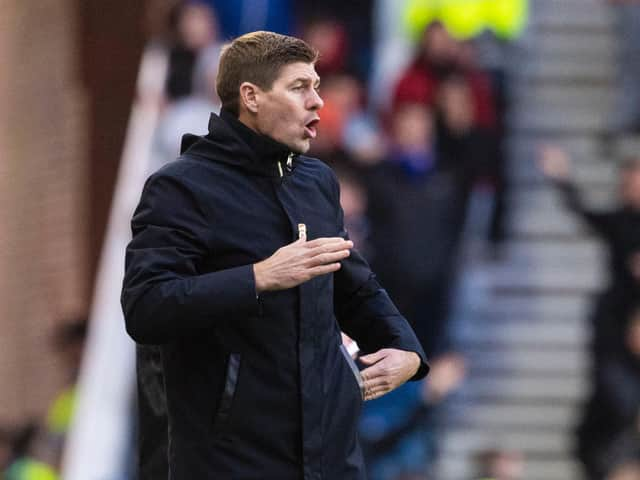 Steven Gerrard has shot down speculation on his future. Picture: SNS
Steven Gerrard has sent Rangers supporters a defiant message: "I am all in".
There has been suggestions that the Liverpool legend could leave Ibrox this summer, with the club's former striker Kris Boyd querying where the manager's future lies.
Gerrard has sought to shoot down any speculation about him leaving Rangers.
"If people think I am going to leave Rangers in the near future because it is my decision, and I don't want to be there, then that opinion is wrong," he told The Times.
"In terms of me being proud and happy to be the manager, and wanting to move the club forward and improve it, then I am all in. It was always going to be a job where I had to learn on the go. Now, I never for one moment thought I was going to get everything right and everything was going to be positive."
Gerrard's focus is on helping the club get back to a level and on a footing he feels it belongs.
It is a project which will take him but he understands that Rangers have to be back winning trophies.
"I knew the team and squad situation when I took over," he said. "I knew the pressure and the demands of the fans.
"I knew walking into the job what I was taking on but if you are asking me the question, 'Am I a better manager for the two-year experience and are Rangers in a better position now to what they were?' then my answer is yes.
"We are trying to move and upset something that has been successful for a long time. I think you have to realise, and appreciate, where Rangers were. It takes time to get it back to when they were successful and had incredible managers like Graeme Souness and Walter Smith.
"It was always going to take time to get back. I see a lot of progress. I see us getting better but I appreciate that at Rangers eventually you have to win. You can't be nearly."
To do that, the club are continuing to assess the playing squad and possible targets to help them reach that next level.
"I wouldn't be in a position to give names, but what I can say to the Rangers fans is we haven't stopped since we've gone into the pandemic," he told talkSPORT.
"We've been as busy as ever watching players in different positions, turning longlists into shortlists."