How Rangers' John Lundstram was left holding the baby to cope with 'anger' of Celtic defeat
It is inescapable that John Lundstram has been targeted by a sizeable section of Rangers support as one they want thrown out with the bathwater in the wash-up from the club's drowning by Celtic in the Viaplay Cup final.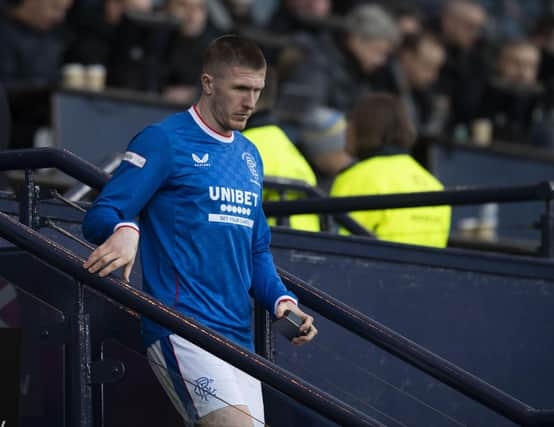 Mercifully, the likeable Liverpudlian had his baby to provide a distraction from his dejection last Sunday evening. The midfielder accepts he was off the pace at Hampden and didn't need reruns of the showpiece on his return home to be reminded. Instead, he needed familial love to escape and pick himself up to ready himself to refocus only a year on from being acclaimed as heroic for his bite and bustle as the club reached the Europa League final and scalped Celtic in the Scottish Cup en route to claiming the trophy.
"I didn't watch it again," said the 29-year-old of the 2-1 defeat. "I just wanted to try to get my mind off it for a couple of hours with my little baby. She is six months. I have my hands full but I couldn't ask for anything better. I am a lucky man. Listen, it's tough. It's really tough. When you know you haven't performed and the team hasn't performed, it's not easy. There's going to be anger and there's anger with yourself as well. I just tried to take my mind off with the family, really.
"[In terms of the anger from the fans] I don't read too much to be honest. If you read too much, you can put a negative on yourself. But of course you have to listen to it at times because it can drive you on in good times and sometimes you might need a kick up the backside in bad times. But if you read too much into negativity it can only go one way. At the same time, you need to know it's there to try and get yourself back on track.
'I've had some massive highs at the club. Of course it's part and parcel of playing for Rangers, you're in contention for every cup we play in. That's the type of club we're at. When you win cups it's a massive high and when you lose those cups it's massive, massive lows. It's part and parcel of being a Rangers player."
Comments
 0 comments
Want to join the conversation? Please or to comment on this article.