'Hide and seek champion' Michael Beale gives insight into his life away from Rangers
Michael Beale has urged footballers and football managers to appreciate how fortunate they are as he reflected on his first 75 days in charge at Ibrox.
The Rangers manager has enjoyed an unbeaten first 12 matches since taking over on November 28 last year. He hopes this weekend's Scottish Cup fifth round tie against Partick Thistle won't be an unlucky 13th outing as he prepares to welcome Firhill opposite number Ian McCall back to Ibrox. Whatever the outcome, Beale knows there are more important things happening in the world, including the unimaginable strife in Turkey.
Young full back Ridvan Yilmaz is on the way back after injury and Beale has been conscious of the 21-year-old's state of mind following the major earthquake in his homeland that has left over 22,000 dead, mostly around the Turkish border with Syria. As would be expected, the manager has reached out to Yilmaz in what has already been a personally trying season. "You send your condolences as we've all seen the really sad news and the bits on TV," said Beale. "It's tragic. I had a little conversation with Ridvan on it, not a big one. He's out training and is close to a return and that's what he's focused on."
As for Beale, he has stressed that he is grateful for what he has, which is a job he coveted enough to walk out on Queens Park Rangers after just a few months. The manager is enjoying what little life he has away from football too. "I live in a really nice part of the country," he said. "I'm a bit of a hide and seek champion as you wouldn't be able to find me outside of my job! I like that because it enables me to go to the countryside and spend time with my family. It's great having young children. They tend to take your mind away from things a little bit.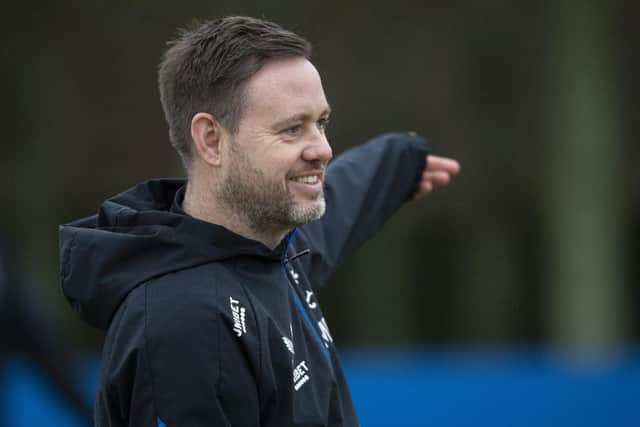 "But the rest of it – I love being here. I'm a football obsessive. I like being in the club It's what drives me. I don't see what I do as work. I think if you can do that in life then you are very lucky. I think anyone who's a football player or manager needs to remind themselves of that when we are moaning about travelling, staying in nice hotels and playing football matches which are fantastic events. A lot of people would love to be in our position. That's never lost on me."
Meanwhile, Beale is looking forward to catching up again with former Rangers winger McCall this weekend. "I know Cally really well," he said. "He is a guy I have known since I first came up to Glasgow. He has become a bit of a friend in that time as well. He sent me a lovely letter when I got my job at QPR, which was lovely of him to do and a nice gesture that managers do for each other.
"I thought he showed a touch of class. He is someone that we have loaned players to before and loaned players to this year, someone I know outside of football and I wish him well. They (Thistle) are bringing 2,500 fans as well, which shows the support they have got."