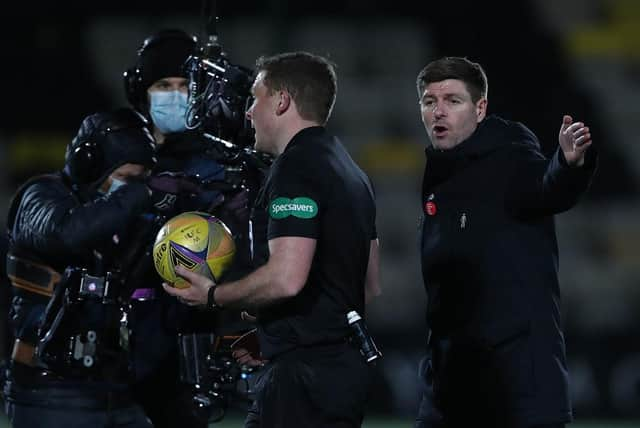 The Gers moved to within touching distance of the Scottish Premiership trophy on Wednesday evening with a 1-0 win over Livingston, and could lift the league title this weekend if they beat St. Mirren and if bitter rivals Celtic drop points against Dundee United on Sunday.
But despite his success in Glasgow, Jordan has argued that handing the 40-year-old an extension to his current contract makes little sense.
Gerrard's deal at Ibrox is set expire in 2024, and the former Crystal Palace chairman said: "Is it not fair to say, whether Rangers like it or not, that it will be universally accepted that perhaps Rangers will be a stepping stone for Steven Gerrard?
"Jurgen Klopp leaves Liverpool next month and Steven Gerrard's offered the job, he's going to turn round and say no? He'll be out the door quicker than a quick thing from Quickland. He'd be going to Liverpool.
"When Rangers gave him a contract until 2024, please don't tell me that the expectation of that was that they were going keep finishing second. Steven Gerrard has done the job that Rangers brought him in to do, and they've given him the tools to do it.
"He's had the added benefit, with due respect, to see a marked decline in Celtic. He's capitalised on that.
"He's been given time, and I think only in Scottish football could he have been given that time. He's kept up and kept progressing, but he's been afforded two-and-a-half years to do that.
"What would be the point of tying Steven Gerrard down to a longer contract? You've already got him for three years. You don't know what those three years are going to look like, if you go up to five or six years all you're going to do is increase the liability if he fails for what you've got to pay him.
"Basically, a new contract is going to mean longer contract terms, more money at the front end.
"They've won a league at a canter, which by the way is a very poor league consisting of very poor sides, and their main rival has dropped down by best part of 30-40% of their performances levels.
"What his achievements have been in Europe, he has to be commended for that. You have to accept that when he has pitted his wits against bigger clubs from bigger leagues, he has done very well, and that's where I think Gerrard gets the majority of the credit."
The Gers boss berated referee John Beaton at half-time after the official booked Alfredo Morelos for simulation during the first-half of the clash, and was subsequently sent to the stands.
Rangers are currently 18 points clear at the top of the Scottish Premiership table.