Douglas Park: Everything Rangers fans need to know about the new chairman
Bus supremo was named interim chairman at Ibrox on Friday night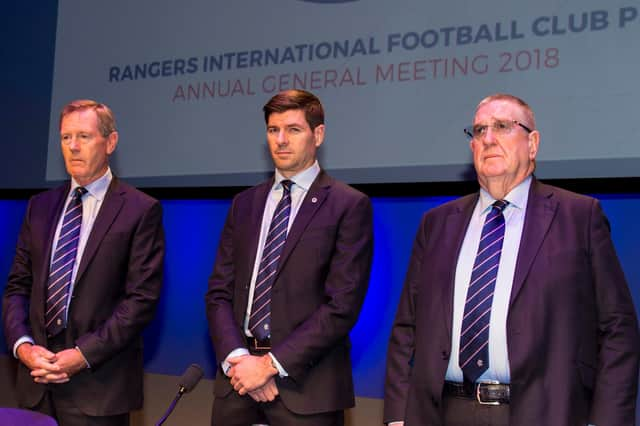 Following Dave King's departure from Rangers, the club moved to install the South African-based businessman's deputy, Douglas Park, as new interim chairman. But who is the man who has taken the reins at Ibrox?
Walter Smith's Rangers bid
Park's first real involvement with Rangers was undoubtedly former manager Walter Smith's intervention after Charles Green's £5.5 million takeover deal in June 2012. While the Yorkshireman claimed to have a 20-strong consortium under the Sevco umbrella, Smith came forward with the backing of Park and Clyde Blowers entrepreneur Jim McColl.
Green pushed ahead with his plans for the club, saying in July 2012: "I don't believe that anyone should own this club entirely or to be able to control it.
"I have said a number of times, if anyone wants to be part of what we are doing at Rangers, bring a cheque and join the team.
"That's what we said to Jim McColl, Douglas Park and Walter and also to Dave King. This is a big club and there is room for other investors."
One-third of the Three Bears
Park was one of three individuals who joined forces to create the Three Bears consortium, along with George Letham and George Taylor. The trio came to prominence in late 2014 when they bought a major stake in the Ibrox club, purchasing the 16 per cent stake owned by the Isle of Man-based Laxey Partners investment group for around £2.7 million.
That transaction meant the group then controlled close to 20 per cent of the club. They had previously offered a sum of £6.5 million to underwrite a share issue – in exchange for two seats on the Ibrox board – but were knocked back in favour of a deal with Newcastle United owner and Sports Direct supremo Mike Ashley. The Three Bears eventually ousted Ashley's regime in March 2015.
Previous Rangers involvement
Park joined the Ibrox board in March 2015 but stepped down barely five months later after deciding he could not devote the time needed to adequately fulfil his duties owing to the amount of time he spent in Spain. He was replaced by his son Graeme on the football and PLC boards.
However, he made a return to Ibrox in April 2018 when, at Dave King's request, he joined the club as deputy chairman. The Lanarkshire businessman was by then based in Scotland and agreed to take on the role so that King had a Scottish-based No.2 to assist him "in the ongoing implementation of the club's business strategy".
Most football fans in Scotland will have seen a Park's of Hamilton coach at some point on their travels from ground to ground. The 21-year-old Douglas Park founded the company in 1971 with just three coaches. Today, Park's Motor Group is one of the largest privately-owned motor groups in Scotland and owns several car dealerships nationwide as well as operating the Glasgow-Dundee, Glasgow-Aberdeen and Edinburgh-Inverness routes on behalf of Scottish Citylink. The group also operates routes under contract to National Express from London-Plymouth, London-Manchester and London-Aberdeen among others.
Park was at one point Hearts' second-largest shareholder after being persuaded to join the board during a chance meeting with former Tynecastle chief Wallace Mercer during the 1982 World Cup. Park initially bought 15 per cent of the club for £75,000 before uppng his stake to just shy of £100,000 to become the club's second-largest shareholder.
He quit the club in late 1988. Former Hearts vice-chairman Pilmar Smith told the Daily Record in 2015: "Douglas was an absolutely super director at Hearts. He was very hands-on, in the commercial department in particular, and did a lot of great work at Tynecastle.
"He and Wallace got to know each other at that World Cup in Spain and I was third-biggest shareholder at Hearts behind them but Douglas was always a Rangers supporter.
"I've always wondered why Rangers didn't get him on board sooner because anything he's involved with will always be for the good."
One notorious incident from his time in Gorgie resulted in Park copping a £1,000 fine from the Scottish League – after locking a referee inside his dressing room at Tynecastle.
The whistler in question was David Syme, and the flashpoint happened after a controversial 2-1 loss to Rangers in September 1988.
Park claimed he had locked the official and his linesmen in a bid to cool tensions at the stadium, but the League issued the punishment regardless.
Comments
 0 comments
Want to join the conversation? Please or to comment on this article.