Cyriel Dessers on hand to be dream maker as Rangers strive for sunlit uplands - but Malik Tillman presence a warning
Even the highly-pressurised assignment of shooting Rangers into the Champions League can represent a relief after days struggling with self-assembly furniture.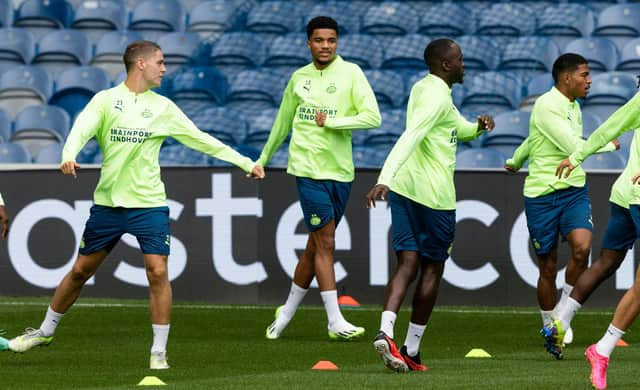 Cyriel Dessers could well hold the key to Rangers' group stage ambitions with goals likely to be required against high-scoring PSV Eindhoven. But it's an Allen key that was the issue yesterday as he offered an insight into his settling-in process in Glasgow.
The 28-year-old striker's excellent command of English allowed him to articulate the experience of modern-day footballers who, in this day and age, tend to move from club to club and county to country at the drop of a hat. This of course necessitates moving from house to house, hence his surprise reference to IKEA on the eve of the first leg of a critical Champions League play-off tie at Ibrox.
It was refreshing to hear such down-to-earth testimony. One might have assumed such well-paid sportspeople would simply pay someone else to do the dirty work. But Dessers is as industrious around the house as he is in and around a penalty box.
"You have to get a house, get a car and do the administration," he explained while outlining the additional life stresses of moving from Italy, where he played last season for Cremonese, to Scotland. "I have had to assemble IKEA furniture!
"So these are all the things people don't see on the pitch or on the television There is a lot going on in our lives when we move country."
Rangers need a handyman to repair their Champions League reputation after the traumatic experience of last season, when they fell to six successive group stage defeats and conceded 22 goals. Dessers could well play the Antonio Colak-role, with the now-departed striker having briefly shone when scoring two of Rangers' three goals in the two-legged tie against the same opponents at the same stage last season.
Dessers himself scored twice in his last outing against PSV in May last year while playing for Feyenoord. He is, however, still getting into his stride at Ibrox. A goal and an assist against Morton on Saturday has helped no end although he knows from personal experience that PSV are a few steps up in terms of quality.
They have maximum points from their opening two Eredivisie fixtures, have scored twelve goals in their first four competitive fixtures and arrive in Scotland with a squad comprising just five defenders. "That is enough. I only play with four," shrugged Peter Bosz last night. The PSV manager could turn to Malik Tillman, the on-loan Bayern Munich forward who has swapped Rangers for Dutch football but has yet to feature for his new club. What price him playing a significant part in one or both clashes?
Dessers might be happy to offer his views on modern furniture but where he stands on the issue of modernist poets is unknown. Nevertheless, he did have a novel take on one of TS Eliot's most famous lines as he contemplated the equivalent of two cup finals so early in the campaign.
April is the cruellest month is oft-quoted, sometimes by sports writers as the football season reaches a crescendo. The amiable Dessers has coined another variation as Rangers strive to avoid being consigned to the Champions League wasteland in late summer.
"August is the fundamental month," he said. "At other clubs, they can start the season in an easy way. But here, it's really important. Not only for us as players, but for the club, the fans and the city."
Such challenges helped persuade him to join Rangers after a peripatetic spell in his career, in Dutch, Belgian and Italian football. "There are some really big clubs even in the Premier League or Serie A who are not qualifying (for the Champions League) and now we are two games away," he said. "It is really close but it is still really far, if you know what I mean. But we will go for it. We want to do something really beautiful."
The pressure is on – and there's no room for error. Although, on this occasion, there is. As was the case against the same side at the same stage last season, Rangers do have a safety net in the form of a Europa League parachute.
But no one at Ibrox will be content with that given knowledge of what they might have had. Memories of the way they wrote themselves into the Champions League Hall of Infamy last season by producing the worst-ever set of results in group stage history cannot dim the lure of these sunlit uplands.
"I've sat beside Steven Gerrard when we had real do-or-die moments against Galatasaray, Legia Warsaw, Ufa for example where it was to get into Europe or not," said manager Michael Beale.
"So with this one, we know we're up to European football until Christmas. In our way is an excellent team but it's a fantastic opportunity for everybody. What we are trying to do at the minute is play the game that's in front of us. And also the competition that's in front of us."
With seeming reference to Celtic's defeat at Kilmarnock in the Viaplay Cup on Sunday, as well as his own side's loss at the same stadium a couple of weeks earlier, Beale noted the high expectations in Glasgow. It's a major reason why he "ran" back from Queens Park Rangers when given the opportunity to manage Rangers.
"The expectation is huge," he said. "You see the outcry after a defeat in this city, it is massive - even sometimes when you win!
"We knew we'd have to overcome two tough ties," he added. "We've done one and now we've got a big challenge over the next 10 days but everyone knows this is the competition the players want to play in. You want to pit yourself against the best and our fans want to see the big nights here in Europe."
Comments
 0 comments
Want to join the conversation? Please or to comment on this article.