Crown told to pay £600k to Rangers administrators over 'malicious' prosecution
Crown lawyers have been ordered to pay £600,000 to two Rangers FC administrators after admitting that large parts of prosecution against them was "malicious" and conducted without "probable cause".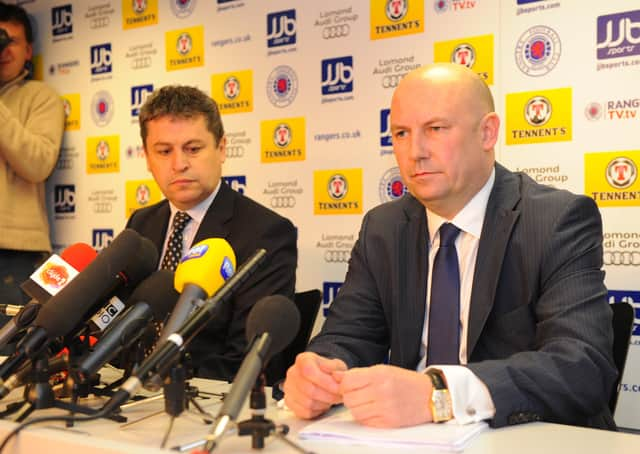 (Left to right) David Whitehouse and Paul Clark. Picture: Robert Perry
Judge Lord Tyre yesterday ordered Scottish prosecutors to make an interim payment of £350,000 to David Whitehouse and £250,000 to his colleague Paul Clark.
The orders came following a hearing at the Court of Session in Edinburgh.
Lawyers for the Lord Advocate had admitted that prosecutors acted unlawfully for a significant amount of time in the prosecution of the two men. They admitted the human rights of both Mr Whitehouse and Mr Clark, who were cleared of all wrongdoing, had been breached at times during the investigation.
Both Mr Whitehouse and Paul Clark are seeking a total of £20.8 million from the Crown Office and Police Scotland for alleged wrongful detention, arrest and prosecution.
The Lord Advocate had previously denied any wrongdoing. But yesterday, the Lord Advocate's lawyer Gerry Moynihan QC told Lord Tyre the prosecution beyond their initial court appearance was "malicious" and conducted without "probable cause".
The case is still continuing. But Mr Whitehouse and Mr Clark's lawyers say they haven't been provided with documentation which could help their case.
The court heard the businessmen's legal teams had been supplied with documents which show senior Crown Office lawyers speaking about the "need to nail the Duff & Phelps people" – both Mr Whitehouse and Mr Clark worked for Duff & Phelps.
However, Mr Clark's lawyer Iain Ferguson QC told the court that he knew that meetings were chaired by the-then Lord Advocate Frank Mulholland QC in which "strategic" decisions were taken about the case. Mr Mulholland is now a judge – Lord Mulholland. However, Mr Ferguson said that no minutes of these meetings appeared to exist.
Mr Ferguson condemned the Crown's conduct in the case. He told the court that his client had spent £1.03m in legal expenses. Earlier, Mr Whitehouse's lawyer Roddy Dunlop QC said his client had spent the "eye-watering" amount of £1.8m on lawyer's fees.
Speaking following the Crown admission, Mr Ferguson called on Lord Tyre to make an interim expenses award to the two men.
He said: "It is nothing short of a disgrace that the government has chosen to act in this fashion towards two private citizens.
"It is only through the determination of Mr Clark and Mr Whitehouse to clear their names that we have got to this point.
"The bottom line here is that less wealthy people could never have got to this point. In my submission some award has to be made in this case."
Mr Whitehouse, of Cheshire, has brought a damages claim against the Lord Advocate James Wolffe QC and Police Scotland for £10.5m.
Surrey-based Mr Clark is suing for £10.3m.
Mr Whitehouse and Mr Clark's actions have stemmed from their alleged treatment by the police and prosecution authorities.
The pair were arrested following events surrounding Rangers's financial position last decade.
The two men were appointed administrators of the club in February 2012. The club was liquidated in October 2012 and both Mr Whitehouse and Mr Clark left their positions.
Police then arrested Mr Whitehouse and charged him with offences relating to businessman Craig Whyte's takeover of Rangers in 2011.
Both men later saw the charges against them dropped.
Want to join the conversation? Please or to comment on this article.