'Cool it' urges SPFL chief Doncaster after Rangers bid is voted down
Inquiry resolution defeated by 27 votes to 13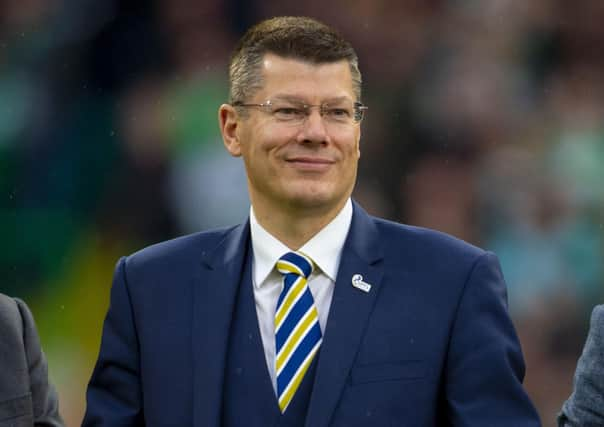 SPFL chief executive Neil Doncaster has called for reconciliation among the warring parties in Scottish football in the aftermath of the EGM which rejected an independent inquiry into the conduct of the league's board.
The resolution brought by Rangers, Hearts and Stranraer was defeated by 27 votes to 13, while two of the SPFL's 42 members clubs abstained.
While the Ibrox club claim it cannot be regarded as an "endorsement" of the SPFL executive's handling of the vote on their season-ending resolution last month, Doncaster hailed the outcome as a "resounding result".
The last few weeks have seen acrimony and numerous allegations on both sides of the argument. But Doncaster believes it is now possible to restore harmony amid the ongoing Covid-19 crisis and focus on Scottish football returning to action on the pitch at some point in July.
"I'm very pleased at today's outcome," Doncaster told The Scotsman.
"We are a democracy, we are a members' organisation. The board, going into the EGM, were very clear that as a members' organisation it is vitally important that we abide by what the members want. The members have given a very clear mandate. It is a resounding result which I think we all must use as the basis for reconciliation and saving the game.
"Ultimately, by working together, we give ourselves the best possible chance of enabling as many of our clubs as possible to emerge from this crisis in as good a shape as possible.
"I sincerely hope that everyone reflects on ways in which we can dial down the temperature and rebuild relationships to put ourselves in the best possible shape to get the game back up and running as soon as we can.
"I think it's absolutely possible to get that reconciliation, if there is a desire to do that. For our part, we will do what we can to rebuild relationships and to heal wounds.
"The members have given us a very clear steer that is what they would like, so it's incumbent upon all of us to do that.
"I feel very pleased for all the members of the board who have worked so hard on behalf of all 42 clubs without any recompense and who have taken a lot of flak in recent weeks.
"They have spent a huge amount of hours working hard for the membership. They stuck with it through thick and thin. Now I hope all of us can unite behind the common cause of getting games up and running as soon as possible.
"We still have the group stage of the Betfred Cup scheduled for mid-July. We have the new five-year deal with Premier Sports for the tournament which is due to commence then and the new five-year deal with Sky Sports for the 2020-21 SPFL league season, which is due to start in August.
"So our focus is absolutely on engaging with the government and working with them to try to return to playing within those timescales."
Having already called time on the 2019-20 Championship, League 1 and League 2 campaigns, deciding final placings on a points-per-game basis when football was suspended on 13 March, the SPFL board are now set to make the same decision with the Premiership.
That will mean Celtic are declared champions and Hearts are relegated, although Doncaster insists any call will only be made after further discussions with the top-flight clubs.
"The board have indicated that they will be consulting with the Premiership clubs who held their own meeting last week," he said. "We look forward to getting a clear steer from the Premiership clubs as soon as possible."
Comments
 0 comments
Want to join the conversation? Please or to comment on this article.