Connor Goldson admits Rangers 'back to square one' in battle with Celtic as defender opens up on Ibrox frustration
There is no question that Rangers defender Connor Goldson is one of the more candid players in Scottish football.
That, though, can result in the 30-year-old daring to express thoughts hardly likely to thrill his paymasters and paying public. Into this bracket can be placed the centre-back's frank ruminations on where he and his club now find themselves in the final months of his fifth season at Ibrox. A stint that has earned him only two major honours - a league winners' medal from the club's blinding top flight campaign of 2020-21 and a Scottish Cup badge claimed last season. The latter only days after he featured in the Europa League final penalty shoot-out loss to Eintracht Frankfurt.
Rangers' powerbrokers are sensitive to accusations that they did not build on the runaway title success under Steven Gerrard two years ago - achieved without a league loss and by a 25-point margin - and then subsequently failed to kick on from appearing to have rediscovered their mojo a year ago courtesy of their European exploits and cup success with Giovanni van Bronckhorst. Yet, that is how Goldson frames now finding themselves "back to square one". As he arrestingly puts it while straining to ensure his words are carefully chosen.
It betrays his exasperation over the careless ways on the pitch that allowed Celtic to establish a nine-point cinch Premiership lead. An advantage that effectively will become unassailable if Michael Beale's men cannot beat the champions in the east end of Glasgow on Saturday. The first of three confrontations between the pair expected over the next month - no date yet set for their post-split Ibrox fixture - that surely will reveal their respective levels. And determine the likely destination of the Scottish Cup, the ancient adversaries facing off in the semi-final of the competition on April 30 for a final date with either Inverness Caledonian Thistle or Falkirk.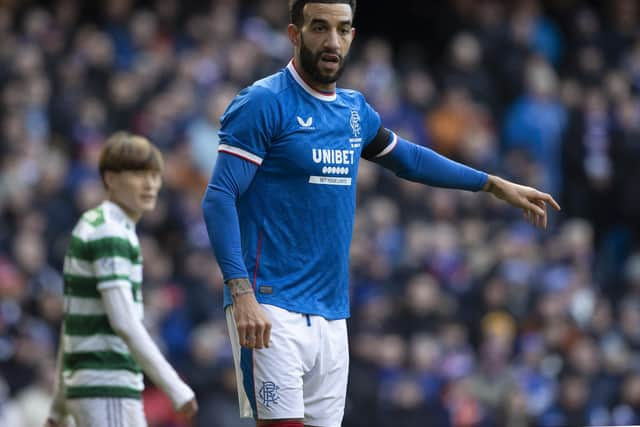 Since Beale's arrival last November, the Scottish heavyweights have matched each other result-for-result in the cinch Premiership with wins in all but one of their 15 games…the exception being when they fought out a 2-2 draw in Govan at new year. However, when it came to the decider of the Viaplay Cup final between them five weeks ago, Rangers were found wanting. It is an outcome that leaves Celtic expected to complete the treble this season. Should they do so, Alistair Johnston, only in the country since January, would become a more decorated player in the Scottish game than Goldson. It begs the question over whether the £4m signing from Brighton feels he has underachieved north of the border.
"Half yeah and half no," he said. "Someone spoke to me the other day about the amount I have won and whether if I were to play X amount of games after eight years did I think I would be classed as a legend or in the hall of fame, and I said I haven't won enough. I've talked about this many times with David Lavery the masseur. There are players who would have played here in the past who will have come for two years and won five trophies but not really played. I've played almost 260 games and I've won two trophies. But if I maybe had come at a different time it could have been completely different. I can't beat myself up over where we are as a football club and the journey we have been on because I'm proud of that journey. It's been amazing. But at the same time I want more medals.
"Without being disrespectful, I think back to where the club was and how far behind we were. We have come a hell of a long way. It's only in Scotland that when we come second or lose a cup final we forget how far we have come.
"I don't want to say this wrong because it will cause a bad headline but when we have won I think that we haven't pressed on, and that's everything as a club. As a club we could have done more and now we are back to square one and I get the whole frustration of the fans that we haven't kicked on after 55 and gone and won 56 and 57. After the Scottish Cup final last season we have to go and win it this year or maybe our season's going to be no trophies. We got to a European final last season and lost, and the season after we are not top of the league. There are so many ups and downs that have happened. I should have won more."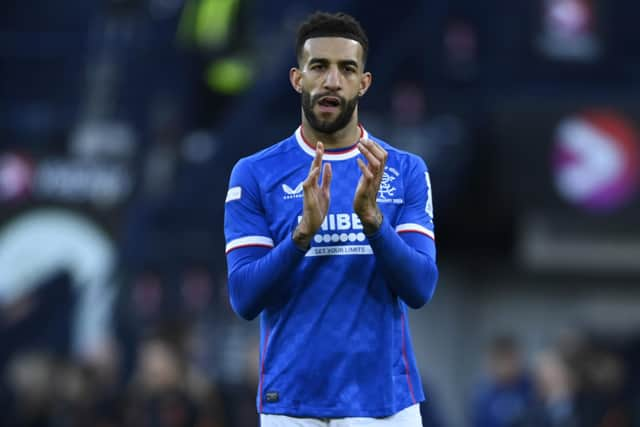 That is what Goldson signed up to do when he penned a new four-year deal last summer after months of speculation he would depart. All that has followed has "probably" made for his most agonising campaign. Not helped by his first extended period sidielined by injury. Seven points shipped across six games as he was missing for two months from mid-October with a hamstring strain. A slump that cost van Bronckhorst his job.
"Did I imagine this last year when I signed? No," he said. "But it's been hard in every way. We had a managerial change during the season which has been a few years on the bounce now. You want a little bit of consistency and the hope is we have that now. After the injury and us dropping a lot of points, when I came back we lost a cup final. So it's probably been the most frustrating one that I've had so far. But 100 per cent [I hope we are making progress]. We are trying to work every day to get better. There is a long way to go. We are winning a lot of games but some games we are scraping. But it's probably one of the best runs we've been on. It's a tough one. Maybe we are too hard on ourselves but we know the levels we have performed to over the years and we get back to that one week then the next we are a bit off it. It's frustrating for everyone."
Comments
 0 comments
Want to join the conversation? Please or to comment on this article.