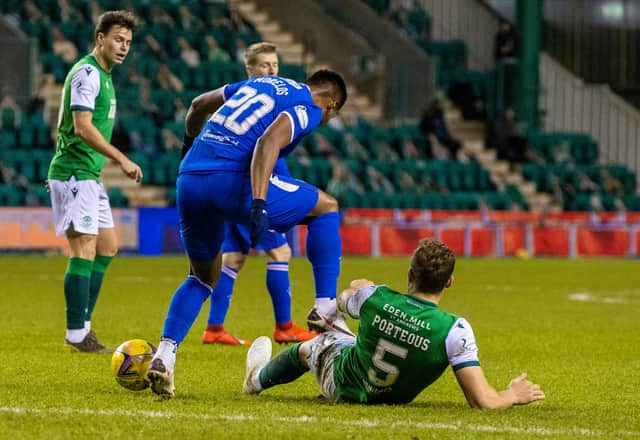 Alfredo Morelos seemed to stamp on Ryan Porteous. Picture: SNS
The Colombian appeared to stamp on the centre-back early in the first half at Easter Road.
@BigJack83: "That'll be the compliance officer coming out of hiding now to give Morelos a 3 game ban for stamping."
@Tonymcnally5: "Tell you what's Morelos is a very very lucky boy, he will never learn and that's why rangers have to cash in on him and invest in a striker they can trust as Gerrard has stated he has to trust his players Morelos is killing his chances."
@BattleFeverBear: "Clancy is going to be furious at halftime when he sees Morelos stamp. Cards marked for 2nd half."
@nathanj3001: "Absolutely nothing wrong with that Morelos incident. Not a yellow and not a red. Walker is gagging for a red."
@jonnyhusband1: "Switched on the Scottish footy for a minute. Morelos is a dirty so and so. Just stamped on a Hibs player. Blatant as you like. Should have been a straight red. He's worse than Suarez. And that's saying something."
@spl_talk: "Morelos lucky to get away with one on Ryan Porteous there, he knows exactly what he is doing. Should at least get a booking from Kevin Clancy."
@Oliver_Plimsole: "Morelos you'll never learn son. He goes off the team suffers."
@JamiePink91: "How Morelos has no been sent off there is unbelievable, right in front of the ref"
@Matthew_aliT: "Morelos is a total liability, no idea how he gets away with it. The referee is looking ffs"