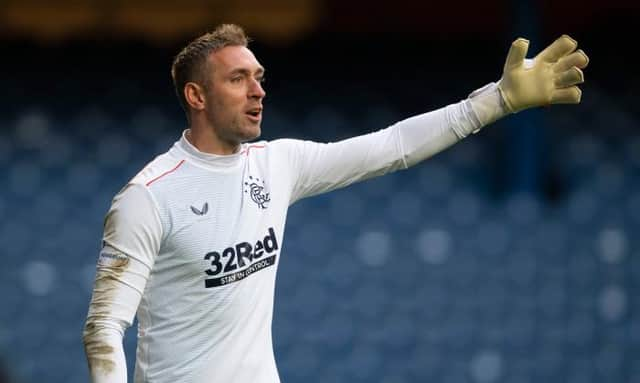 Allan McGregor is poised to make his 83rd European appearance for Rangers against Standard Liege on Thursday night, setting a new record for the Ibrox club. (Photo by Craig Foy / SNS Group)
McGregor, albeit over two spells at Rangers, is proving to have similar longevity at the highest level. Having made his European debut in a Uefa Cup tie against Molde back in September 2006, the now 38-year-old McGregor is poised to make his 83rd appearance in the Europa League Group D match against Standard Liege at Ibrox on Thursday.
It will see him surpass the club record he currently shares with his former team-mate and captain Barry Ferguson who played in 82 European ties from 1998 to 2008.
McGregor makes a key save for Rangers against Werder Bremen in 2008.
It's a significant landmark moment for McGregor – but one which he should regard as just another step in a career which should have plenty of mileage left yet, according to McCloy.
"Allan has been absolutely excellent since he came back to the club a couple of years ago," says McCloy. "He makes big saves at big moments in games and, if anything, he's got better with age.
"My advice to him would be to keep playing for as long as he can and I don't see any reason why he can't continue to perform for Rangers as he currently is for another two or three years yet."
Group stage football boosts McGregor's numbers
Peter McCloy makes a save for Rangers in 1973 as Celtic's Jimmy Johnstone (left) looks on.
While the timescales of their European careers are similar, comparisons between them have to be weighted by the radical changes to the structure of Uefa's competitions since McCloy put his gloves away for the last time. He made 43 European appearances for Rangers in the era of straight knockout football with no seeding in the draws.
"In my first season at Rangers, we got Bayern Munich in the first round of Europe," recalls McCloy. "We played well but lost 2-1 on aggregate to a top, top side. That's how it was then, there were no second chances or safety nets in Europe. It's great for the players now with the group stages, it gives them so many more opportunities to get European experience."
McGregor has set a consistently high standard in Europe for Rangers, keeping an outstanding tally of 37 clean sheets in his 82 matches so far. He was inspirational during their run to the Uefa Cup Final under Walter Smith in 2007-08, only to miss out on the final because of injury.
"He made some exceptional saves in that campaign," says McCloy. "There was one in the match away to Werder Bremen which was as good as you will see. That's how valuable a top quality goalkeeper like Allan can be in these European games. It can make all the difference between success and failure."
McCloy pictured in January this year.
From Beckenbauer to Altobelli
McCloy's European debut against the star-studded Bayern Munich side of the 1970s saw him beaten by the only goal of the game in Germany from the brilliant Franz Beckenbauer. The last goal he would concede in Europe came in a 3-1 win against Inter Milan at Ibrox in 1984 when the scorer was another World Cup winner, the prolific Italian striker Alessandro Altobelli.
The highlight, of course, was the Cup Winners' Cup triumph of 1972 which saw McCloy play in all nine matches of a memorable campaign which saw him keep crucial clean sheets in tight contests against Rennes, Torino and the epic semi-final, second leg victory against Bayern Munich at Ibrox.
"I was fortunate to compete against some of the best players in the world during my time with Rangers," adds the 74-year-old. "That Bayern team were right up there with any of them in that era. To beat them in that semi-final underlined just how much of an achievement it was to win a European trophy at that time. They provided the bulk of the West Germany side who won the European Championship in 1972 and the World Cup two years later.
McGregor will overtake Barry Ferguson with his next European appearance.
"They were probably the best I came up against, although the Ajax team we played in the first European Super Cup in 1973 were pretty exceptional. I always enjoyed testing myself against the best, even if it did mean you were a lot busier than goalkeepers would ideally like to be."
Munich swansong with Hearts
McCloy was 39 when he made the last of his 535 competitive first team appearances for Rangers – still more than any other goalkeeper in the club's history – in a 1-1 draw against Aberdeen at Pittodrie in April 1986. He joined the backroom staff the following season before leaving to become a freelance goalkeeping coach, a move which saw him receive a dramatic European call-up from Hearts at the age of 42 for their Uefa Cup quarter-final against Bayern Munich in 1989.
"My old Rangers team-mate Alex MacDonald was manager of Hearts at the time and I'd been working with the goalies for him," he recalls. "There were a few injury problems and they didn't have any back-up for Henry Smith, so he registered me for the tie against Bayern. The second leg was in Munich, so it was a bit strange that my last taste of European football was in the same place and against the same opponents as my first had been."
Backing Gerrard for glory
McCloy continues to follow Rangers' fortunes avidly and is missing his trips to Ibrox where he is a matchday host. He is optimistic he will see his old club rediscover the habit of winning major silverware this season.
"I've been really impressed with Steven Gerrard as manager and I'm pleased he has been given the time and backing to create the squad he now has," he adds. "They are looking good for success at home and in Europe this season."
A message from the Editor: Thank you for reading this article. We're more reliant on your support than ever as the shift in consumer habits brought about by coronavirus impacts our advertisers. If you haven't already, please consider supporting our trusted, fact-checked journalism by taking out a digital subscription.