Alfredo Morelos reverted to bad old Rangers ways but James Tavernier free-kick was a privilege to witness
When you're in form, you're in form. United were often solid and, in one passage of play in particular, they were even inspired.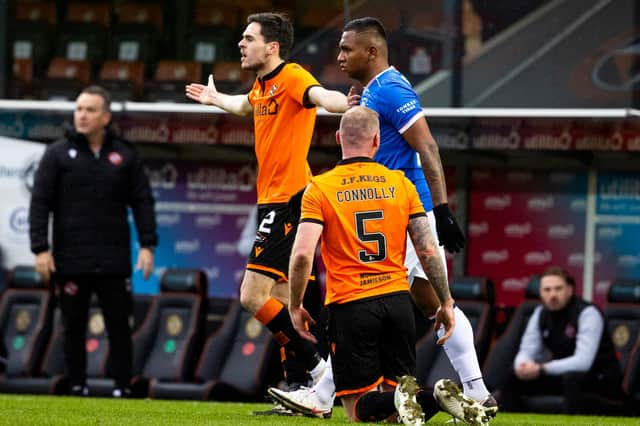 However, they were ultimately undone by a Rangers team who have forgotten how to lose, and, specifically, two players in skipper James Tavernier and Connor Goldson, who can do no wrong just now, unlike Alfredo Morelos.
Tavernier remains Rangers' leading man in every way, with Goldson a very effective sidekick. Tavernier scored one of the free-kicks of this or any season, one David Beckham, or yes, even Steven Gerrard would have been proud to claim, and then provided the assist for Goldson, his almost as impressive teammate, as Rangers re-took the lead.
It was Tavernier's 17th goal of the season, while his free-kick, for Goldson's deft header, was his 13th assist. He is doing what strikers are supposed to do, which is fortunate in the case of Rangers, who have Morelos continuing to misfire while also, on the evidence of yesterday, threatening to lapse into the bad old ways on the conduct front.
Steven Gerrard was somewhat narked afterwards to be asked about the incident when Morelos smashed a forearm into Mark Connolly early on. He understandably wanted to focus on more positive elements, such as Tavernier's near 30-yard free-kick strike, and the way in which Rangers repelled the hint of a United comeback when Liam Smith equalised from a tight angle after a cross from fellow full-back Jamie Robson.
Gerrard clearly felt that because Steven McLean reacted to the incident by only booking Morelos, it was not an issue. The referee had seen it, judged it a foul, and we all must move on. But it was a glimpse of the bad old Rangers, certainly the bad old Morelos, although maybe more of the bad old Morelos is what Gerrard needs, because the current version is not proving quite as effective in front of goal.
When he was not smashing into defenders, he was miskicking in front of goal. Frankly, it was a mystery why he got as long as nearly 75 minutes, particularly when he was only one more mistimed challenge away from the red card many felt he ought to have earned as early as the 12th minute.
Almost inevitably, after Gerrard mentioned the improvement in Rangers' disciplinary record on the eve of this fixture, there was a discipline issue to report. After Gerrard made reference to certain players "showing signs of development and learning", it unsurprisingly involved Morelos.
The fixture has been seldom seen over recent years. It was Rangers' first trip to Tannadice in nearly eight years. Nevertheless, ill-feeling dating back to around the time of Rangers' financial meltdown still exists between the clubs.
Whether this lingering rancour was attributable to Morelos choosing to challenge Connolly for a high ball he was never likely to win, who can say? It's sometimes difficult to fathom what goes on inside Morelos' head. The Colombian has not been sent off for nearly a year and, including the booking picked up against United, he has been yellow carded only five times this season. While the shutdown due to the pandemic must be factored in, that's still an impressive improvement considering he had picked up eight red cards in the previous season-and-a-half.
That figure should now stand at nine. An unquestionably better behaved Rangers should still have had their first red card of the season. The way in which Morelos extended his arm into Connolly's face when challenging for a header – he even looked to see where his opponent was - was verging on vicious. McLean booked him so it can't be looked at again. However, it's still a black mark against the player as well as a reminder to exhibit some caution before hailing any supposed transformation on his part.
Gerrard chose to keep the striker on when he could easily have decided there and then to switch him with Cedric Itten, a hero of the midweek Europa League win over Lech Poznan. Itten did make a cameo appearance towards the end.
United's style of play this season has attracted a lot of comment. They are doing what they have to in order to stay in the division, but it can be a sight for sore eyes. Which is why their equaliser, particularly the manner of it, was such a surprise.
With full-back crossing for full-back, it was briefly like watching Liverpool, when Andy Robertson, that scion of Tannadice, interacts with Trent Alexander-Arnold. Even Gerrard could perhaps appreciate the Anfield playbook element. There were, however, questions to be asked of the Rangers defence, specifically why Smith was allowed to run into the box and connect with Robson's brilliant cross. Squeezing the ball in off the far post still required a splendid finish.
Even allowing for the personal significance of his goal, Smith must bow to Tavernier in the memorable strike stakes. Gerrard later hailed the skipper's free-kick goal, adding that it didn't matter what league it was scored in, by whom or in what setting, it was unarguably "world-class". If it wasn't for the icy sleet, we might have been in the Maracana. This observation was later lent relevance when Tavernier revealed he had been inspired by rampaging Brazilian full-backs Marcelo and Dani Alves growing up.
Connolly clumsily fouled Kemar Roofe but then the defender was permitted to feel that it was far enough away from goal to be put in the 'good foul to give away' category.
After being asked by Borna Barisic, who was also standing over the ball, if he wanted to try his luck, Tavernier decided that he did, managing to get sufficient height and power from a short run-up to send the ball curling over the wall and into the top right-hand corner of Benjamin Siegrist's goal from a distance of almost 30 yards. World-class indeed as well as a privilege to see live, in current times especially.
A message from the Editor:
Thank you for reading this article. We're more reliant on your support than ever as the shift in consumer habits brought about by Coronavirus impacts our advertisers. If you haven't already, please consider supporting our trusted, fact-checked journalism by taking out a digital subscription.