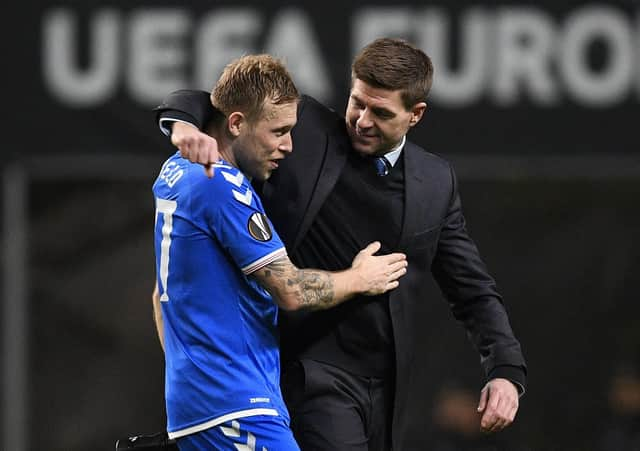 Steven Gerrard celebrates the win in Braga with Scott Arfield. Picture: Octavio Passos/Getty Images
Rangers' victory at Braga's unique quarry-based stadium was a tactical triumph for Steven Gerrard. It was also evidence of his ability to persuade players to go to the well for him as he once did to the benefit of a variety of managers, not all of whom he liked.
The Ibrox side expected to be under siege like in The Alamo. What they ultimately enjoyed was a Picnic at Hanging Rock.
Pep Guardiola's approach in Manchester City's win at Real Madrid in the Champions League on the same night has been hailed as a tactical masterstroke. Gerrard too deserves credit for perhaps the finest European performance of his fledgling management career after enduring recent criticism. His alterations were not as audacious as Guardiola's. There were no false nines. He did not leave out his best players though he did drop a significant one in Nikola Katic. And he had to make do without his principal striker, Alfredo Morelos.
We tend to forget Gerrard has not even turned 40 yet. He is bound to experience the kind of setbacks that have befallen him recently domestically. But no-one negotiates 16 games in Europe, including four qualifying rounds, without some know-how.
Rangers are now guaranteed 18 games in Europe – half a league season extra. The worry for Gerrard is this might take its toll in terms of other ambitions. It already has, in fact.
But this run is providing some compensation and highlighting Gerrard's development as a manager. As a master of the disguised pass as a player, perhaps we should not be surprised at Gerrard's attempt to throw people off the scent that Katic was being dropped for Wednesday's second leg. The lovebombing of the error-prone Croatian defender before the clash was suspiciously over the top. We know now he was trying to soften the blow for Katic, who he praised for never hiding even when he makes a mistake.
Speculation was rife that the Croatian might lose his place following the 2-2 draw with St Johnstone. Gerrard provided stiff backing for the player on the eve of the game in the knowledge he had already dropped him in favour of George Edmundson. Katic was said to have been an isolated figure as the players walked around the stadium on the eve of the game. Meanwhile, standing in a corridor inside the ground, Gerrard was using words like "immaculate" to describe the defender while hailing his professionalism.
His decision to replace Katic with an even younger and less experienced defender was a bold one but it was clearly vindicated. Edmundson stood strong throughout, though save for being called upon to head several crosses away, he and Connor Goldson did not endure the kind of sustained pressure expected.
Gerrard complimented his players for carrying out his instructions to a tee. He charged the defenders with ensuring they kept the right distances between them. Ryan Kent and Ianis Hagi were given the responsibility of tracking back. Interestingly, Rangers seemed to allow Braga to play in wide positions and use the width of the pitch. They almost invited their opponents to sling in crosses.
Goldson and Edmundson were far more comfortable with this sort of pressure as opposed to the fleet-footed moves through the middle that saw Braga profit in the first leg, and left Gerrard considering changes.
He resisted making headline-making alterations for the trip to Perth but found his patience exhausted by another 90 minutes where Rangers were undone by defensive sloppiness. He vowed to find solutions. He certainly succeeded in doing that.
Whether these running repairs prove quite so effective in the domestic environment remains to be seen. But Rangers fans are now within their rights to expect sustained improvement given they won't be meeting many sides with Braga's 
capabilities.