Aberdeen find unlikely ally in Rangers but do not want any sympathy in bid to change startling stat
Rangers manager Michael Beale could afford a wry smile to himself while contemplating the reason why Aberdeen will be extra determined to record a win over his side on Sunday.
The game has been given the Sky Sports Super Sunday treatment having been shifted to the 4.30pm slot often reserved for the English Premier League's match of the day. And while Aberdeen do not need any more motivation to overcome Rangers, three points will keep the Pittodrie side well set to finish third – and reclaim the title of third force in Scotland.
It was anointing Aberdeen as Scotland's "third force" prior to a Viaplay Cup semi-final in January that saw Beale receive significant heat from Hearts fans. He was even moved to apologise to then Tynecastle manager Robbie Neilson. Beale resisted recalling this, although the urge to do so might have been strong. He backed the Pittodrie club in another way after they registered their unhappiness following the decision by an independent panel to increase skipper Graeme Shinnie's suspension after what was termed a "frivolous" appeal.
It was a perhaps surprising show of support ahead of a match that has accumulated some renewed intrigue after the hosts' resurgence in form over recent weeks. Aberdeen's need for points is probably now greater than that of Rangers, who are marooned in second place 12 points adrift of leaders Celtic. But an upcoming Scottish Cup semi-final date with their Old Firm rivals on which the Ibrox side's entire season now hinges means the stakes are nevertheless high for the visitors too as they seek to maintain high spirits following last week's 5-2 win over St Mirren. Rangers are also aiming to preserve an unbeaten record at Pittodrie stretching back to 2016.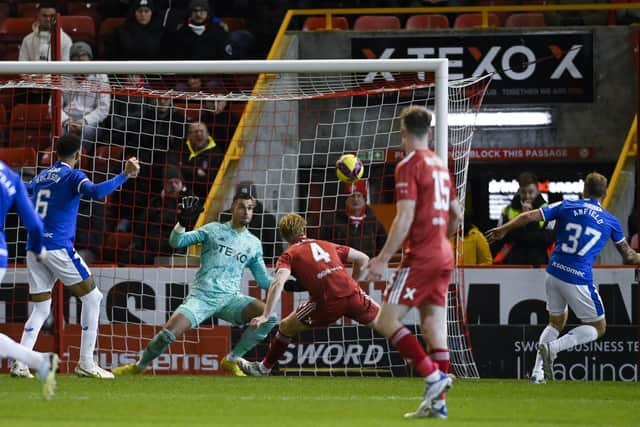 This record perhaps flies in the face of what Beale referred to as a "feisty" rivalry. So too does the manager's view about Shinnie. The Aberdeen skipper will miss Sunday's game and three more besides after his appeal against a red card last Friday night against Ross County saw him hit with a longer ban. An extra game was added to the three-match suspension he was due to serve. Beale said he still had not seen the challenge after spending much of last week in Rome on player scouting duties. However, he was surprised to hear about the ban extension. PFA Scotland have also been quick to back Aberdeen's complaints with regards to the appeals process. "The ban is the ban, you're allowed to ask the question," said Beale. "I don't think you should be penalised more for asking a question. That seems a little bit harsh to me. I wouldn't want that for one of my players."
Aberdeen will not want anyone at Rangers' sympathy. What they desire is the Ibrox side's scalp. Beale has lost just once against Aberdeen as first-team coach and now manager. James Maddison, then on loan from Norwich City, scored the winner the last time Aberdeen beat Rangers at Pittodrie in a 2-1 win in September 2016. Kilmarnock have beaten Rangers four times at Rugby Park in that same period, while the likes of Dundee United, St Mirren and Livingston have all celebrated at least one home victory over the Ibrox side. Of the current top-flight, only Hibs, Motherwell and Ross County have failed to register a home win against Rangers at home in that time frame. The majority of fans in a full house at Pittodrie will hope Aberdeen pick the perfect time to rectify this record.