Rangers and Celtic face 'competitive disadvantage' in Europe as Scottish football bosses hit out at 'political' decision to ban fans from stadiums
Pressure mounts on Scottish Government to lift restrictions on supporters attending games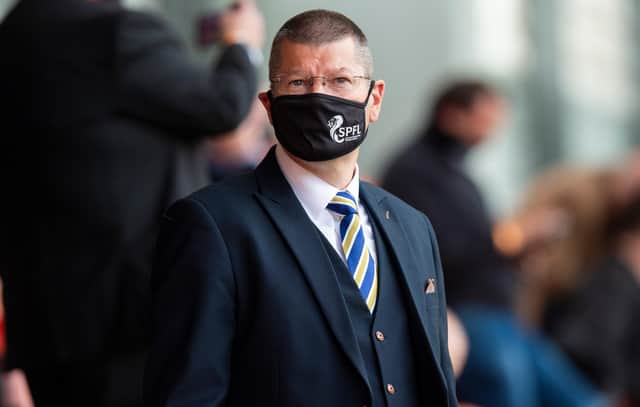 Two of Scottish football's top bosses have branded the Scottish Government decision not to allow football fans back into stadiums as 'political rather than clinical'.
Both SPFL chief executive Neil Doncaster and Scottish FA vice-president Mike Mulraney aired their views during an interview on BBC Sportsound as they raised concerns over the financial impact the ongoing ban on fans attending matches in Scotland is having on clubs north of the border.
Mulraney claimed that some SPFL clubs may not have been able to start the season without the recent £3m investment made by benefactor James Anderson, adding that those who budgeted for a return of fans in the current calendar year are facing an uncertain future.
Doncaster also suggested that Celtic and Rangers will be at a 'competitive disadvantage' in the Europa League following the UEFA announcement that clubs will be permitted to fill 30 per cent of their grounds for international and European fixtures, so long as it falls within the guidelines of the local authority.
Celtic and Rangers have both qualified for the group stages, however, unless the current restrictions in Scotland are relaxed, their home matches will be played in empty stadiums while their group rivals will likely have the backing of home support.
Doncaster said: "Celtic and Rangers will be playing against teams in Portugal, France, Poland, Belgium and there will be fans in those stadiums cheering on their clubs.
"Celtic and Rangers will clearly be at a big competitive disadvantage not being allowed to have fans in their stadium at present, and that can't be right.
"We've got to be doing whatever we can to support our teams in Europe and to support the Scotland team in what could be a historic few weeks, so we really need to do whatever we can to ensure we get fans back in as soon as possible."
SFA vice-president Mulraney, who is also Alloa chairman, added: "This is clearly a political choice and not a clinical one that we've had our fans restricted from accessing the game.
"The impact on Scottish football of having no fans is much greater than probably any other league in Europe.
"We understand the great difficulties that Nicola Sturgeon has got to weave her way through with ensuring the health of the nation, but right now the pain to football is significant.
"We have got to accept the current government position, but it's fair that we ask them to reconsider in line with what is happening In Europe, and the financial impact that is having on our clubs, which is massive.
"The bottom line is, do you think sitting one metre away from someone in a restaurant has got less risk than sitting two metres away from someone in a stadium with a mask on?
"All these decisions are very difficult ones for the Government to take, but different industries are all under different strain, and the football industry is under massive strain. We're open but we can't let the customers back in."
Doncaster added that he will meet with Scottish sports minister Joe Fitzpatrick on Monday to seek assurances over financial support for the Scottish game after the UK government announced a £20m bail-out for the National League in England.