Raith earn draw with Dundee after trying week: takeover bid, 'poo' first half, pass the parcel mishaps
This has been a challenging week for those of a Raith Rovers persuasion given the chatter of a takeover from a Hong Kong consortium, so it was a relief to have matters on the pitch to discuss as Dundee visited Stark's Park for some Friday-night football
Details of an attempted buy-out from Silverbear Capital Inc, who are being advised by former SFA chief Gordon Smith, went public earlier this week. Rovers owner John Sim is willing to sell the club but only to the right people and it appears the Asian-based party does not fit the ball. Smith said on Friday that Silverbear would take their money elsewhere and try to purchase another Scottish outfit should the talks continue to flounder. That is the most likely scenario, with Raith clearly unconvinced by their suitability.
Rovers should be pleased with a point after this 1-1 draw in the cinch Championship. They edged the first half after Aidan Connolly's opener but suffered badly in the second, put under siege by a much-improved Dundee team. Jordan McGhee equalised and the thousand-or-so visiting fans would have headed north lamenting the result given their superiority. Gary Bowyer's men are a point behind leaders Queen's Park, who visit Cove on Saturday. Raith remain sixth.
Dundee claimed – wrongly – that Connolly's 33rd-minute opener was offside after he turned home a Liam Dick cutback. They were lethargic and Bowyer responded at the break by making a triple change – forwards Cillian Sheridan, Alex Jakubiak and Luke McCowan appeared – and the formation was tweaked from a 3-5-2 to a 4-3-3. This allowed Dundee to take control of the match and exert their superiority.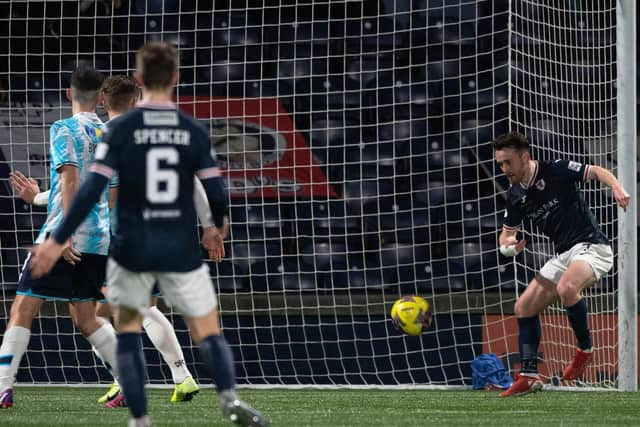 Jakubiak, McCowan and Max Anderson all missed presentable chances, but he equaliser was coming. Corner after corner, attack after attack. The clock struck 77 minutes and Cammy Kerr, playing his 250th match for Dundee, swung over a fine cross for McGhee to head home. A deserved leveller.
Buoyed by the breakthrough, Dundee pressed for the winner. Jakubiak was cynically fouled by Ryan Nolan as raced towards goal. McCowan's free-kick battered off the wall. Then, deep into stoppage time, Raith almost nicked it, Ryan Sweeney hacking the ball off the line in a breathless finale.
Bowyer hailed his team's response but left his players in no doubt what he thought of their first-half performance. "For want of a better word we were poo first half," he said. "If we were at a kids party playing pass the parcel there would have been a lot of kids crying because we couldn't pass it to each other. It doesn't matter what system you play, if you can't control it and pass to a team-mate then you will struggle.
"We made the triple substitution and it paid dividends for us. We have a wonderful opportunity at the start of the second half, we hit the post and had countless corners. We should do better with one or two chances but the spirit and fight deserves an enormous amount of credit."
The Raith camp was happy to take a point. "In the first half we were very dominant," said manager Ian Murray. "We played very well, but second half, we give credit to Dundee, because they have to change it. They've got good squad depth, good players and a draw as probably a fair result.
"We're not too disappointed. The players are slightly frustrated but I couldn't have asked for more from them. It's probably a game at the start of the season we would have lost. It's now five undefeated after a really tough spell with low numbers in the squad. We have two players who have just come back from cruciate ligaments. We're asking a goalkeeper who took an injection to play 90 minutes. They should be tremendously proud of themselves, as am I as their manager."