Queen's Park v Dundee: Two managers hours from home but 90 minutes from Premiership promotion
Despite their long and distinguished past, Dundee and Queen's Park have existed relatively untroubled by one another for the most part.
Both are venerable clubs, with a combined history totalling 236 years, and yet they hadn't even shared the same division since the late 1950s until their worlds collided this season.
The impact is set to be seismic tomorrow evening in a last day title-shootout that has BBC Scotland rubbing their hands with glee and Dundee issuing hopeful 'do not travel without tickets' appeals to their supporters, only around 1000 of whom will be permitted entry at Queen's Park temporary home of Ochilview.
Dundee were cheered on by around five times that number the last time they gained promotion in the central belt – against East Stirlingshire at Firs Park in 1981.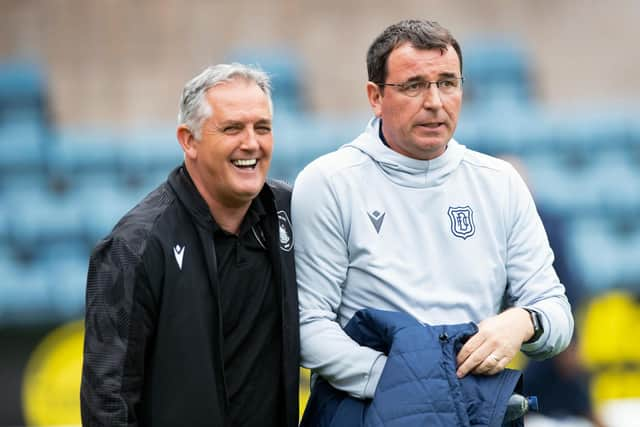 Safety issues are taken more seriously nowadays although part of the reason for Queen's Park's originally even lower allocation of tickets for away fans - Dundee were initially offered around 500 - is an understandable desire to retain as much home advantage as they can.
Who knows when they will next stand 90 minutes away from a return to the top flight? Queen's Park were last there in 1957-58, when they finished bottom with just nine points. What they require tomorrow night is a victory over Dundee, something they last achieved in February 1957 in their penultimate - to date - season in Scotland's top division. History is very much in the air.
A queue of Dundee supporters grew outside Dens Park throughout Sunday night going into Monday morning as fans, including those who had the bright idea to park up in a motorhome, sought to ensure they had the chance to witness a potential title success. There will be no need for a helicopter on this occasion.
The Championship trophy will already be in situ at Ochilview. Only the colours of the ribbons to be tied to the handles of the famous old trophy, first awarded to Rangers and Dumbarton in 1890-91, needs determined.
It's the same trophy that Bobby Cox is clutching in a photograph hanging in Dundee manager Gary Bowyer's office at the Dens Park club's new training complex at Dundee and Angus College's Gardyne campus in Broughty Ferry.
The club have done their best to brighten up a featureless reception area by hanging a display of programme covers from Dundee's Scottish title-winning season in 1961-62. But otherwise, it's hard to get a sense of the glory game – and an imminent, potentially epic encounter - amid glass walls and meeting rooms.
Bowyer was doing what he's always done this season - playing a straight bat. He has started referring to games as holes of golf. For example, the fourth last one, against Morton, was the 15th hole. Nothing has changed for Bowyer now he's reached the 18th. His future is up in the air, likewise so many of his out-of-contract players.
Did he catch a word with United States-based owner Tim Keyes after last Friday night's 0-0 draw with Cove Rangers? His presence had seemed notable. "No," said Bowyer.
The manager decided against having one last look at Queen's Park against Morton last weekend. Their defeat at Cappielow means Dundee's task tomorrow is, ostensibly at least, slightly easier. Currently two points clear of their hosts, they must simply avoid defeat.
"Fortunately for me I was able to get back down the road and spend some time with my family," said Bowyer. "I was really, really lucky that my granddaughter was round. So I spent time with Matilda, three-years-old, nearly four. I had great fun with her and then came in and saw the result. Like I said all along, for me we cannot control that game or have any effect on it. We just focus on what we can control.
"I think any manager will tell you you can't go and set up for a draw," he added. "You just have to go on the front foot and have a right good go, and that's what we have to do."
Bowyer's father, Ian, was at Dens Park for the Cove Rangers match for the first time since his son took charge. Bowyer Senior won two European Cups with Nottingham Forest under Brian Clough and then ended up on Jim McLean's coaching staff at Dundee United for a short spell in the early 1990s.
"He says the same thing: the next game, you have to concentrate and do your job," said Bowyer. "It is a bit boring and repetitive for you boys but that's the message you will get up and down the country asking managers."
The two on the sidelines at Ochilview tomorrow night have met elsewhere prior to this season. They were pitched together in an FA Cup fourth round tie six years ago when Bowyer was at Blackpool and Owen Coyle was Blackburn Rovers manager.
Coyle might still to be waiting get the better of Bowyer in Scotland after four meetings so far but he won that clash at Ewood Park 2-0.
"I would never have thought we would be going head-to-head for the Championship in Scotland years on," said Bowyer. "He (Coyle) lives just around the corner from Blackburn and I am not too far away from there, just 45 minutes away. And here we are meeting up here four and a half hours away."
Ochilview might seem an unlikely setting for a clash where top-flight ambitions are at stake. But the ground, the first to stage a floodlit game in Scotland when Stenhousemuir hosted Hibs in a friendly in 1951, will feel like the centre of the universe for two clubs with their sights set on the promised land.
Comments
 0 comments
Want to join the conversation? Please or to comment on this article.