Premiership split fixtures: Celtic-Rangers title intrigue, Europe battle set up nicely, relegation excitement but Sky fan criticism
"No league structure is perfect but over the past two decades the split has become an established and exciting element of the cinch Premiership." The SPFL's chief operating officer Calum Beattie perfectly summed up a curious element of the Scottish Premiership.
It still has its detractors. It can require fixture reversals as we have witnessed this season with some teams set to play others three times at home or away but it has meant for an even 19/19 split for all teams. In previous seasons there have been sides who have played more home games than away games or vice-versa and, of course, teams lower in the league finishing with more points than those above them. Acceptable pitfalls for the intrigue and drama which the split presents.
Look at the weekend. St Mirren recorded their record attendance since moving to the SMiSA Stadium as they earned a spot in the top six, albeit losing 2-0 to Kilmarnock. It was one of those afternoons where supporters were glancing at their score app as much as they were the football, checking on results elsewhere. What followed was a mixture of anticipation, tension and frustration as fans (im)patiently waited on the SPFL, following conversations with clubs, Police Scotland and Sky Sports, to release the final five rounds of fixtures. The split sets the Premiership up for a captivating final five matches with the title, European spots and relegation battle to be decided.
An Ibrox title win?
The title is the least interesting aspect of the three with Celtic 13 points ahead of Rangers. For the two sets of fans the next three weekends will be fascinating with two Old Firm clashes, first in the Scottish Cup semi-final then the fourth and final league meeting between the sides. Celtic are expected to wrap up the title in between when they travel to Tynecastle Park to play in front of the Sky cameras, while Rangers host Aberdeen. Yet, should Celtic fail to win but Rangers do it will present the opportunity to win the league at Ibrox without a visiting support. It would make for a potentially very awkward atmosphere. On the flipside, should Celtic defeat Hearts, will Rangers give them a guard of honour? There is more chance of an alien invasion.
European excitement
It is not a fixture that Hearts would have wanted to begin with, trailing Aberdeen by five points in the race for third place. The teams sitting third and fourth won't face each other until the third round in what is the most mouthwatering of top six fixtures, considering what is at stake, potential European group stage football, and that Hearts have blown a significant advantage since trouncing the Dons 5-0 in January. It has not gone unnoticed that it is a match which has not been selected for television coverage. Hearts have only one selection remaining from the four Sky are allowed to show at each ground which has been taken up by Celtic's potential title-winning trip to EH11. The club have two PPV games remaining and may see it as an opportunity to move the fixture to allow for extra cash to be generated.
It is likely the final game of the season, at home to Hibs, will also be on PPV with the 12.30pm kick-off. That could have plenty riding on it. Hearts may need to win to finish third. Hibs may need to win to finish above St Mirren and claim the possible final European spot. Or, it could be an encounter which determines which Edinburgh side finishes fourth. Now they are in the top six, their highest top-flight placing since the mid-1980s, St Mirren won't want to just make up the numbers. The trip to Hibs in the first round is huge following the defeat to Killie. They will also be hoping to take something off Rangers in Paisley on the final day having won points against all other teams in the Premiership this campaign.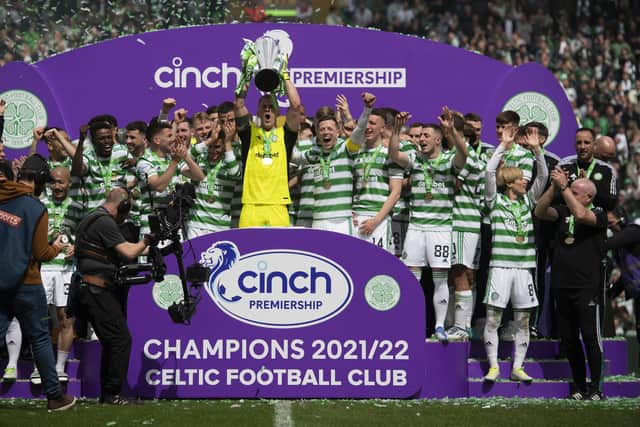 Battle for survival and Sky gripes
Now, the relegation battle. Four teams separated by six points. There are massive matches every round. The first of which could get off to a flyer if Dundee United, likely backed by a huge away following, were to win at St Johnstone and Ross County were to defeat Livingston. It would bring the four teams to within four points. The midweek round, the penultimate of the season, could be a defining one with United hosting Kilmarnock and St Johnstone at Ross County. Livingston and Motherwell, with little to play for, could be kingmakers, or rather jestermakers.
It is therefore a bone of contention amongst supporters that Sky Sports has not selected a single bottom six fixture for coverage. An option remains for the broadcaster to select a game on the final day of the season with the bottom six fixtures taking place on Sunday and the full allocation of 48 matches as part of the deal not yet taken up. One would assume that the broadcaster's decision makers are keeping their powder dry until the final weekend of the season, waiting to see how it unfolds. They have one selection left for both St Johnstone and Kilmarnock who host Livingston and Ross County respectively. Taking the temperature of fans on social media, there is plenty of anger and angst directed at both the SPFL and Sky Sports over the TV selections, both in terms of the ones being shown and those not shown. From 2024, as part of the new deal, Sky Sports will be obligated to show at least 42 matches and up to 60, with two optional ten game bundles, reportedly worth £4million each per season, taking the number of possible live offerings to 80. Sky will also be able to broadcast five games from each ground rather than the current four.
It should, however, not take away from what is set to be an exciting, nervous and entertaining end to the season. Long live the split.
Comments
 0 comments
Want to join the conversation? Please or to comment on this article.