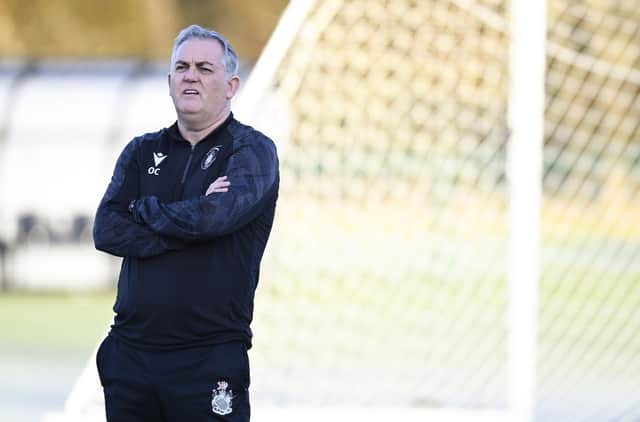 Here's what I'm saying: Oweny – this is what I call him, the most clunky and contrived add-the-y appellation there's ever been in Scottish football – Oweny, if you take Queen's Park into the top flight then it will be a phantasmagorical fairytale the likes of which there's never been. All the romance of Arbroath but seen through to consummation. If you like, with extra smokies. More Leicester City than the Foxes themselves. More – cue Claudio Ranieri – dilly ding, dilly dong.
He points out it's only January. Cautions that there's still a long way to go. Stresses that today, away to Dundee, the team just behind them in the league, will be tough. And that Friday against Ayr United, the team just behind Dundee, will be no less testing, never mind that in between there's a long trip to Inverness Caley Thistle in the Scottish Cup.
Possibly this will turn out to be the Spiders' most crucial sequence of games since 1893 – the cup semi-final win over Broxburn Shamrock then Celtic in the replayed final for what was their last triumph in the tournament. That was also the last time they could call themselves world champs.
Still, everyone else is allowed to be entranced by the story, aren't they? The amateurs, the academics, the club of Andy Robertson and, don't forget, Alex Ferguson when he'd still to sharpen his elbows. But with a strip design that hardly seemed to have changed since 1893, Queen's Park were the incy wincy anachronism scurrying around to little noticable effect in the vast, echoey Hampden bowl and, it seemed, destined never to properly catch up with the 20th century, never mind the 21st, and not really wanting to either.
But look at them now. Professional both on the park and off it, where there are men of ambition and vision like major backer Willie Haughey and sporting director Marijn Beuker. A woman, too, for barely a day goes by during Hibernian's current fecklessness where one of the faithful doesn't pine for the return of Leeann Dempster, Easter Road's old chief executive now fulfilling the same role in Mount Florida.
Then there's Oweny and, although choosing his words carefully, he's entranced, too. He says: "We have a very young team – Simon Murray and Lee Kilday are the elder statesmen, there are a couple of 25-year-olds but the rest are all 19 and 20 – and as I say to them on almost a weekly basis: 'This isn't about the here and now.' These aren't words you normally hear in football but the overarching aims are for longevity, for a certain style of play and for the club to become a good place for nurturing young talent.
"But of course there's the romance of Queen's Park. There's the history. And now there's excitement about what might be achieved this season. These are the reasons I'm here. Listen, you know me, I love football. Love watching good players. When I started out in the game managers would applaud good players in the opposition team. That disnae happen so much anymore! But if you love football you love the story of Queen's Park, the Corinthians, and how the English came up here with their big power and their kick-and-rush and the Spiders passed them off the park. That's how the club got their nickname, by spinning these fantastic passages of play. They invented the modern game."
It's a great tale for sure but so is Coyle's own. There's rollicking humour here but also more than decent success because he journeyed from Glasgow's Gorbals to mixing it with England's elite. As a player, a skinny striker worth a goal every two games, he returned to the various incarnations of Airdrie so many times that he probably should have been handed the keys to the quaint old Broomfield pavilion. A man of unswerving faith, he's preached his football philosophy to both Texans and Tamils.
"I've been blessed," he'll say many times today. He loves coaching but it's no substitute for still being out there, trying to score another goal. In his career he finished on 297 and not reaching 300 niggles even now. "If I'd never made it in football – if I was still working for Luddon Construction, 1497 Balmore Road, Glasgow, telephone 0141 945 2233 – then at the age of 56 I'd be paying my tenner every week to play five-a-sides with my pals." So when was the last time he put on the boots? "Last summer, funny story: Airdrie Legends – including some of the boys who played Sparta Prague in the Cup Winners' Cup – took on a team of local celebs at the Excelsior in aid of a fantastic organisation called Lanarkshire Suicide Awareness. I scored five and kid you not: each goal was better than the one before. The opposition had this MMA fighter – some unit – and the pair of us had a wee coming together in the middle of the park. He wanted to fight me and I laughed it off. At the end of the game he still wanted to fight me and I was like: 'Hang on, I'm from the Gorbals.' Then someone said to me: 'Calm down, Coyley, his handle is 'The Bad Boy.' Okay, maybe not! Anyway, the game raised good money and The Bad Boy, tweeting about it later, said he was pleased to have been involved. What was it he calls himself again? 'The globe-trotting square-goer from Holytown.' Then he signed off: 'And get it right up you, Owen Coyle'!"
I'd wanted to meet up with this unquenchable enthusiast for the game but Coyle is busy with potential transfer-window business and supervising finishing touches to the refurb of Lesser Hampden – Queen's Park hope to be able to end a nomadic existence involving ground-sharing with Stenhousemuir come the spring – so we're chatting over an early-evening videocall. Mind you, there are two stories about hospitality gaffes – unquenchable being the operative word both times – that make me think this is the safer option.
Coyle was still playing and still chasing those elusive three goals when in 2005 St Johnstone shortlisted him for the manager's job. He explains: "I was at our holiday lodge in Dunkeld with my wife and kids when [chairman] Geoff Brown phoned saying he wanted to meet. I sent the family out into lashing rain and remember Kerry saying to me: 'This better be worth it.' Geoff turned up and I said: 'Tea or coffee, Mr Chairman?' 'Coffee please.' I was hoping he wouldn't say that because Kerry and I are big tea drinkers and I wasn't sure we had any. But I found a jar. 'Milk and sugar, Mr Chairman?' 'Yes please.'
"The meeting went well. 'Thank goodness we had coffee,' I said to Kerry when she returned, rain running down her nose. 'Oweny, we don't.' I showed her the jar. 'That's Bisto, you clown!' I got on the phone: 'Mr Chairman, I'm so sorry.' Geoff said: 'Ah, I thought it had a funny tang. But glad you've called: we want to offer you the job.'"
Fast forward to 2009 and Coyle, who'd made a great success of reviving Burnley's fortunes, returning them to the top division after an absence of 33 years, takes a congratulatory call from Sir Alex Ferguson. "Fergie had been great all through the promotion season, tremendously encouraging. 'Well done, Oweny' he said, 'I knew you'd do it. Now, I'm going to send over my wine magazine with some of my favourite reds circled. Be sure to get some in for when I bring Manchester United to your place.' The fixtures were published soon after and wouldn't you know it, Man U were to be our first home game. The wine was something like 500 quid a bottle and I was just about to put a couple in the fridge. Being teetotal I'd no idea. Thankfully folk who did know about wine stopped me, otherwise that might have been the end of our beautiful relationship!"
Coyle grew up in the part of the Gorbals nicknamed "Little Donegal". He was one of nine so for the kids it was three to a bed. "Did we fight all the time? We still do now! But Mum and Dad did their very best for us and sometimes for them that meant going without." He was christened Owen Columba after his father who worked as a labourer, while his mother, Frances, was front-of-house at Glasgow's Citizens Theatre. "She was 50 years there, right up until she was 82. Then the place got a trendy frappuccino machine and I can hear her now, still sounding like she'd just got off the boat from Donegal, same as my dad: 'Jeezo, no more, that's it!'"
Coyle's values - hard work, the importance of family - come from those tough streets. Dad of three and grandfather to two, his clubs have been extended families, run on such lines. He insists: "The guy who plays two games is no less important than the one who plays 36." Coyle has never had to share a bed with Sandy Stewart but his No 2, a team-mate from Airdrie days, has been by his side every step of the way. "What a great guy. I remember when he became a grandpa, phoning to congratulate him, telling him how amazing it would be, then saying: 'How do you fancy India?' I had to twist his arm. Only supposed to be 11 weeks, turned into two years – mostly in a Covid bio-bubble. Another mad adventure!"
Coyle was a Dundee United prospect at 13 but a scrawny lad – "pencil-thin" – who Dumbarton manager Sean Fallon convinced would struggle in the Jim McLean hothouse while down at Boghead he could "potter about in the reserves" watching big brothers Joe and Tommy in the first team. "And I remember a night much later in Brazenhead pub in the Gorbals when there was a lively debate about the best footballer to come out of the area. My mates nominated me only to be silenced by this old boy leaning back in his chair. 'Owen Coyle? He wasn't even the best in his own house. Joe was far better.' And he was dead right!"
Appointing Coyle, it can't have gone unnoticed by the Queen's Park hierarchy that he's something of a promotion specialist. He scored for Bolton Wanderers in a Wembley playoff to take them into the Premier League but, as a manager, admits there are some aspects of the job which can't be found in a manual. In 2012, by then boss of Bolton, his midfielder Fabrice Muamba suffered a cardiac arrest on the pitch at Tottenham Hotspur, the player's heart stopping for 78 minutes.
"His recovery was nothing short of a miracle. The medics in the stadium did a fantastic job administering first aid and fortunately there was a cardiologist in the crowd. I was in the ambulance which took Fabrice to hospital. None of us knew what damage there might be to his brain due to the lack of oxygen. But he got better. I had to provide updates, four press conferences a day. We stayed an hour behind the reality in case there was a setback but this was a global story. Other clubs here, Real Madrid, basketball teams in the States, sportsmen everywhere were all wearing 'Pray for Fabrice' T-shirts.
"The doctors were such clever people. Short-term memory is usually the last thing to return in these situations. So as Fabrice wouldn't suddenly wake up and be frustrated at not knowing what had happened, they wrote a little biog on a board: 'My name is Fabrice Muamba. I play for Bolton. I had an accident at Spurs … ' On the fifth day his dad asked if I wanted to see him. I'd been wearing the same clothes all that time so the press officer had just given me a different club tie, one the directors wear. I'll never forget Fabrice's smile when he said: 'Hi gaffer, good to see you. New tie?'"
Coyle has his place in the Bumper Book of All-Time Greatest Football Quotes. When Burnley fans labelled him a Judas for leaving them for rivals Bolton, he bit back: "If you're going to quote from the Bible then maybe call me Moses for leading your club out of the wilderness." The promised land for this boyhood Celtic fan was always Parkhead. He was offered the job after Gordon Strachan quit but turned it down. "With a heavy heart – and there were tears. But my kids were young. We'd just found out one of our girls was dyslexic and, having found her a brilliant tutor, it just didn't seem the right time to be bringing everyone back to Glasgow and that environment. I put the family first."
With son Owen Jr now part of the Queen's Park family as a coach, Coyle returns to the job in hand, emphasising again that it's a long-term project, and conceding that in football right now this is a novelty scenario. He says: "I feel for coaches regarding the speed at which they can quickly find themselves out of a job. I feel for Jim Goodwin at Aberdeen and am glad he's been given this additional time. I've always believed that guys in charge at the start of a season should be given the whole campaign - but know that's never going to happen."
Now he's laughing, having remembered how Burnley's promotion bid began so abysmally with a run of results which almost certainly wouldn't have been tolerated now. "In the opening game of that season at Sheffield Wednesday we were two down after three minutes and lost 4-1. we lost our first home game to Ipswich Town, drew 0-0 with Paul Sturrock's Plymouth Argyle with Luggie telling me I was in for a right tough time of it and then at Crystal Palace, who'd had two men sent off, the ref awarded them a free-kick on the 18-yard line in the 92nd minute. Sandy had just seen a house he fancied. I said: 'Have you bought it yet?' 'Tomorrow,' he said. 'Well, if this goes in, maybe dinnae bother!'
"Do you know, that Ipswich game was completely comical. A sell-out crowd and the ball was to be delivered by parachute. But the poor sod crashed onto the roof of the main stand, breaking his legs. The match couldn't kick off until five o'clock. The score was 3-0 to them – all own goals."
Queen's Park, he admits, are slightly ahead of where they thought they'd be at this moment. But don't detect from that any Coyle coyness about accepting the title challenge. "No one wants promotion more than me and if we're fortunate enough and good enough then we'll grab it. But one thing's for sure: if we're in the Premiership next season then first home game, no parachuting. Although … if we were to invite Sir Alex then maybe he'd like some of his vintage wine arriving by air. Ach, what am I saying? That would freeze it!"