Oli Burke on stress of living up to hype, scary cloud of fog in head and 'loving every minute at Celtic'
As the whole of Scotland basks in the afterglow of a sensational triumph, and as the Tartan Army celebrate unlikely goal heroes, 50-cap stalwarts and newbies just in the door but already deemed undroppable, spare a thought for the guy who was the future once.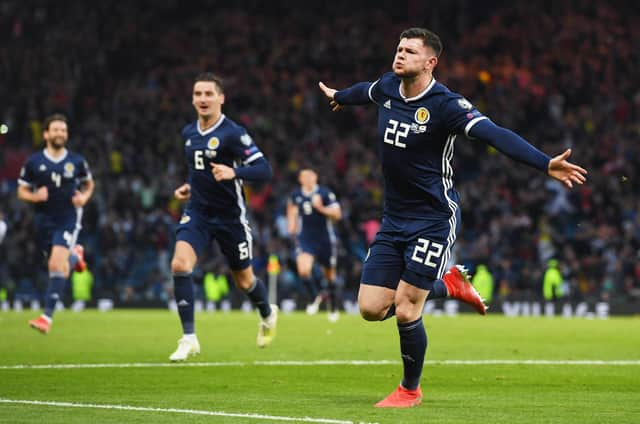 How do you mention this to Oliver Burke? How do you revive for the conversation even just some of the gush, hype and ravings sparked by his emergence as the player predicted to be – and I quote – our "undisputed footballing superstar"? Best, I think, to come right out with it.
Oli, mate, good to see you and you're looking good. That vest shows off the ripped torso much admired at Celtic and doubtless every place you've been. You're clearly not about to give up the title of – and I quote again – "the Kirkcaldy-born force-of-nature" any time soon. But it must have been poignant, stuck on the outside and peeking through the metaphorical fence, while Scotland took down Spain.
"Yes it was a bit," Burke says. "Obviously I would love to have been involved. These were two really nice victories, especially the one against Spain. It's amazing for the country and we really have a fantastic team right now. They're building great spirit and some real momentum.
"A lot of people probably think I'm an old git because I've been around for such a long while. Every footballer wants to represent their country but it must start with how you perform at your club. I've had a lot of them and unfortunately my career has been pretty stop-start. Scotland are doing magnificent right now and there's no real reason to alter the team."
We're talking on a video-call, Burke in his apartment in London's Canary Wharf, on a day off from Millwall, the striker's tenth club, who were also his eighth club, so he's starting to repeat himself.
Two of his moves – to RB Leipzig and then back to England – still mean he's Scotland's most expensive footballer. Aggregate cost: £28 million. Little wonder, then, that he was hailed as the future, especially in those years when he was a marauding man-child. A football nation which traditionally produces lots of wee guys simply gasped at the barging, bullocking runs which would bagatelle opposition defences.
Though the bushy beard he sports now makes him look less boyish, he's hardly ancient at 25. His peak years should still be ahead of him. And, despite his disappointments and occasionally disillusionment thus far, he's determined they will be.
Burke is on loan at Millwall from Werder Bremen, his second German outfit, having previously been loaned out to the Lions from Sheffield United. By 22 he was a seasoned traveller, Alaves in Spain making it six different clubs in four different countries. Early on he would talk in the carefree manner of a student on a near-permanent gap year about all the moving around. It was a big adventure. But not any more.
What I can see of his apartment it's bare-walled. Jokingly I wonder if he doesn't bother hanging pictures now, there being no real point. "It's a bit like that. I've had a lot of clubs and must admit I'm getting a bit sick of packing up my bags and moving every other year." But, he stresses, he's very happy at Millwall. "They're a great club, full of character. Everyone puts them down as a fighting team, and thinks from the movies [I.D., No One Likes Us] that The Den is wild. I mean, it is. The fans are right up for games. They're hard but they love their club. "I know the players well from having been there before and they're a great bunch with a great team spirit. They're really going for a [Championship] playoff place and I'm loving being part of that. Gary [Rowett] the manager gives me good opportunities and it's nice to have a boss who believes in what I can do."
Contrast this with his time at West Bromwich Albion, Millwall's opponents today. He was four years at The Hawthorns, his longest stint anywhere, but didn't manage a single goal. I calculate he had six different managers and he groans: "Every three months there seems to be a new one. New manager, new philosophy and often new position. It was tough. Everything that could go wrong there went wrong. I came for big money so there was expectation. But I got injured right away and during my time out the guy who signed me was sacked. After that there were a lot of issues which are maybe best left in my head." Better out than in, I suggest, playing the amateur psychologist – could he offer up maybe the least incriminating one? "I just don't think I had major opportunities there. I'd play a good game then the next week wouldn't be involved." Currently Millwall are in a playoff berth but West Brom, if they win this clash and a game in hand, would go above them. "It's a big match for us. They all are until the end now."
Burke left Kirkcaldy when he was a tot, moving to England where a few years later his parents divorced. He talks little about his young life or his family other than to say his father Jasen would always remind him he was Scottish while his mother Sally, whose English and a former gymnast, was a constant source of support during his intensely pressurised spell at Leipzig, moving out to Germany to be near him.
Growing up in Melton Mowbray in Leicestershire, he was talent-spotted by Nottingham Forest and made his first-team debut at 17. That was "amazing", an oft-used word today, and Burke can locate the positive in most chapters of his remarkable story, usually thanks to a good dressing-room and supportive team-mates.
Scots would get a proper, close-up look at the brawny prodigy when in 2016, after he'd captained our Under-20s to a first-ever dark blue victory over the buttercup yellow of Brazil at any level, Gordon Strachan handed him his first cap for the big team.
Strachan's assistant Mark McGhee might have been the first to compare Burke to one of the greats, suggesting he could have the career of Kenny Dalglish. Then someone evoked the legend of Denis Law. Then, when the move to Leipzig happened later that year, he was told he would become Scotland's Gareth Bale.
The switch to the Red Bull-backed arrivistes of the Bundesliga was a "life-changing moment, a dream move. I was 19. Would any other player that age have turned it down? Maybe some because it was abroad but I just thought: 'You only live once. Why not? This might not come round again.'"
His mentors were "the two Ralphs": recent Southampton boss Ralph Hasselhuttl and former Manchester United caretaker Ralf Rangnick. They did their best with him. "The plans they had for me were amazing but … it was crazy. Everything happened at 100 miles an hour. Each day it was training, German lesson, interviews. A whole new world and I was just a kid. And then I'd be sat in my apartment on my own.
"There was a lot thrown at me. It was demanding, bamboozling, overwhelming. I didn't have an actual breakdown but I was stressed all the time. I turned to my family a lot and Mum would try and settle me down. But everything was so intense and I couldn't find a way to switch off and relax. Yeah, I was super-stressed."
Although happy to return to the UK and West Brom, the pressure to perform didn't let up and if anything worsened. He'd respond to the comparisons with established superstars politely, insisting he didn't aspire to be the next Bale, rather to see how far being Oli Burke could take him. And also point out that he hadn't achieved anything yet.
Other, that is, than be bought and sold for pots of money. "There was a lot of hype around me because of the fees and that brought pressure. When I was trying to focus on my football there would be this cloud of fog in my head. It was scary.
"I understand that when a big signing arrives at a club there's this expectation but it seemed that people forgot about my age and never really thought that here was a young player who needed development and also time. There was a lot of weight on my shoulders and I felt that with Scotland as well: the expectation to be that player, to be that man, to be the best on the pitch every game."
There were, he's keen to stress, enjoyable interludes, including the loan spell at Alaves despite the Bale comparisons inevitably following him to Spain, and his half-season at Celtic under Brendan Rodgers. "I loved every minute of my time there. The fans, the atmosphere, the best." He left Glasgow with a tattoo obsession which continues to this day, and while his walls may be bare there's plenty of body art on his chest and all down his right arm.
By then he was beginning to cope better with pressure and the process has continued. "I've grown up, I've matured," he says. Downtime hasn't really got any busier for him. "What I do? Come home, have a coffee, sit on the sofa, watch TV … " But he's definitely a more chilled-out character and much of the credit for that must go to his partner, Meghan.
Of course, maybe the pressure is no longer there. In the build-up to Scotland's Euros qualifier against Cyprus there were references to "the almost forgotten Ollie Burke". His last-minute winner against the same opposition in the same competition four years ago was dug out of the archives mainly because that has been Steve Clarke's first game as head coach.
After the game in 2019, relieved to have got off to a winning start, Clarke said that his nomadic frontman just needed somewhere to call home and for a manager to "love" him. Burke is still searching and still believes he can find both.
"It would be great to be able to be settled someplace," he says. "I don't know where that might be but right now at Millwall I'm trying to enjoy my football as much as I can, put in the work that's needed and grasp every challenge.
"I'd love to get back with Scotland – that would be amazing. So I need to knuckle down and hopefully get myself a run of games and with that will hopefully come confidence, momentum, freedom.
"I've certainly never forgotten that goal. It's probably my favourite moment in football, something to treasure."
Comments
 0 comments
Want to join the conversation? Please or to comment on this article.