Michael O'Neill's great achievement was to change the way fans felt about Northern Ireland
Manager cuts ties but will remain a hero in land of his birth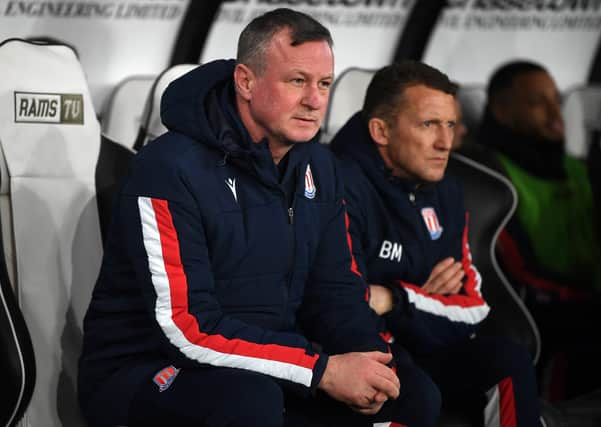 Often the test of whether someone has done a good job or not is to compare the state of things at the point of departure to what it was like when they came in.
It's slightly misleading in Michael O'Neill's case if you look solely at the results. News that he has cut ties with Northern Ireland in a professional sense – he will of course remain a hero in the land of his birth – means the record books will show that his last match in charge was a 6-1 loss to Germany (the first was a 3-0 defeat to Norway in 2012).
One does not have to look very deeply to discover the truth. In eight and half years at the helm it's no exaggeration to say O'Neill changed the way the fans felt about their team and altered the mindset of those tasked with the prospect of playing Northern Ireland, particularly at the redeveloped Windsor Park.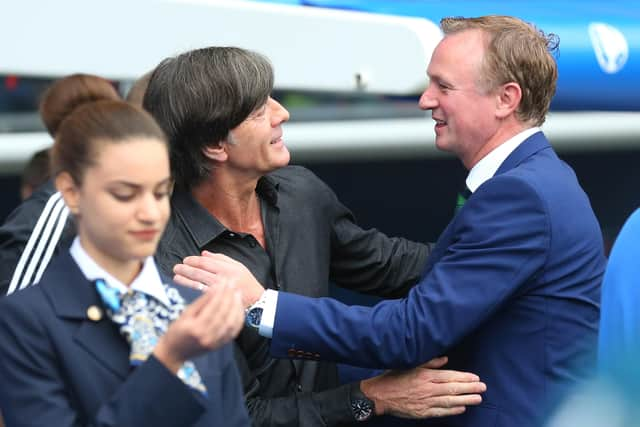 Not that the impact was immediate. Far from it. O'Neill acknowledges the team got worse before they got better, reaching as low as 123 in the Fifa rankings (they are currently 36 and were once as high as 20).
When O'Neill was given a new two-year contract in 2013, it was not considered a widely popular move by the Irish FA. His side had recorded just one victory in World Cup qualification as well as suffering a humiliating loss to Luxemburg. Even his own father, Des, warned him about the perils of a job that risked sinking a promising managerial career.
Only 42 years old when he was appointed, O'Neill was the third-youngest manager of a national team in Europe at the time. Few would have bet on him reaching the point where he steps down as one of the longest- serving managers in Europe. Germany's Joachim Low is one of only three who have been in charge longer – the others being at Andorra and Luxemburg.
A turning point was a tour to South America in 2014, when Northern Ireland lost narrowly to Uruguay and Chile and built spirit within the camp. O'Neill's coaching team was augmented by Austin MacPhee, who he had met while scouting at a match in Aberdeen.
Northern Ireland shouldn't have been in the mix for qualification for Euro 2016 but won their group with a game to spare. It was the first time a pot-five team had qualified for the European Championships. And what a trip that was.
Refreshingly down to earth, O'Neill was happy to talk about managing in an Angus derby in a press conference attended by reporters from around the world prior to Northern Ireland's own derby clash with Wales in the last 16 at Euro 2016. It isn't often that an Angus derby gets name-checked at a press conference at Parc des Princes so it's worth recalling. "When I was manager of Brechin, the Brechin-Montrose derby, the atmosphere was electric at times, so it was," noted O'Neill. "Those 500 people could really lose it."
The next day nearly 50,000 saw Northern Ireland lose out narrowly to Wales, who fell to eventual champions Portugal in the semi-finals.
Of course, this is all rather painful for Scots to digest, who may well ask: what's a major finals? The farewell tributes to O'Neill aren't because he's leaving Northern Ireland to take charge of the Scotland national team, as once seemed entirely likely. It's so he can concentrate on Stoke City, the team he joined in November and managed to steer away from the relegation area before the season was suspended in March.
With Northern Ireland's play-off semi-final against Bosnia and Herzegovina put back until the Autumn at least, it made little sense, financial or otherwise, for the Irish FA to keep him on. Although O'Neill was happy to stay on for the originally scheduled play-off dates and then, possibly, the finals if Northern Ireland qualified again, it's unrealistic to expect him to juggle two jobs in the long term. In any case, he feels an obligation to Stoke, who have been so understanding to date.
In the event, he only ever split his Stoke duties with those of Northern Ireland for two matches, one of which was a 0-0 draw with the Netherlands before the aforementioned heavy defeat to Germany, when Hearts' Michael Smith opened the scoring for Northern Ireland. They could well have won against Ronald Koeman's Netherlands side but rued Steven Davis' missed first-half penalty.
Northern Ireland still qualified for the play-offs – the third major finals in a row for which they have either qualified or been in contention to do so right until the end. A heavily disputed penalty decision saw them lose out to Switzerland in the play-offs for the last World Cup.
O'Neill has proved profoundly inspirational. He was Northern Ireland's first Ulster-born Roman Catholic manager since Pete Doherty, who led the team to the 1958 World Cup finals. He helped bring about a new sense of inclusiveness. Not that his religion ever seemed an issue to him – it wasn't when he played for the international side, why should it be one now? "I am not here to say mass, I am here to pick a football team," he once said.
There was barely a dry eye in the house when he was handed the coach of the year award by Gary Lineker at the BBC's Sports Personality of the Year night in Belfast in 2015.
After thanking wife Bronagh for looking after his two daughters at home in Edinburgh while he is watching football "in exotic places like Fleetwood," he said: "We may not have the greatest players in the world, but we have great players to work with – they represent Northern Ireland, they come from both sides of the community and they are proud to play for Northern 
Ireland."
Comments
 0 comments
Want to join the conversation? Please or to comment on this article.