Nick Montgomery admits to Hibs information overload as he assesses 'brave' performance in draw with Kilmarnock
Frustrated to pass up a 2-0 lead in his first game in charge, new Hibs boss Nick Montgomery said there were still plenty of positives to be taken from the "brave" performance against Kilmarnock.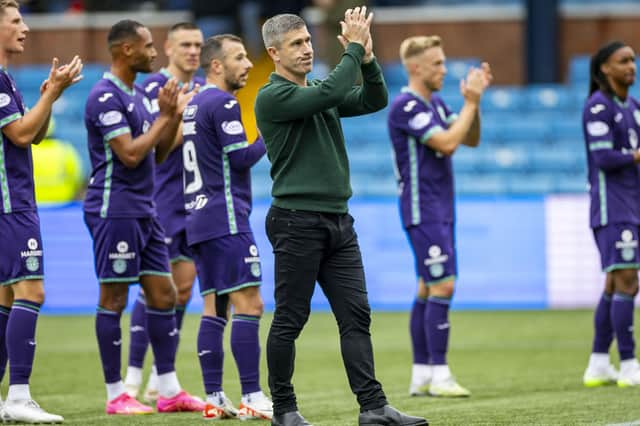 Forced to settle for a share of the spoils in a 2-2 draw, after Killie's Kyle Vassell and Joe Wright cancelled out Lewis Miller and Dylan Vente's goals, Montgomery revealed he had flooded his men with a lot of information in his first week at the helm as he switched up the formation – and he acknowledged that it may take time for them to absorb it all.
"It's not easy to cram everything into a week but the boys have been really receptive," said Montgomery. "What I've learned is that we have a great staff, the squad is very strong and we have plenty of competition for places. t's obviously frustrating, going 2-0 up and then not winning. I thought the boys played some really good stuff because this isn't an easy place to come to so, yes, I'm disappointed.
"I thought we could have killed the game off. We had some really good chances in the first half, their 'keeper pulled off some good saves and there was some desperate defending from them. But as soon as we conceded that first goal it gave them a little bit of momentum. They started to knock balls into the box and they're very good at that – they have some really physical players.
"Unfortunately, Adam Le Fondre had a good chance to finish them off but it was another good save from their goalkeeper. It's annoying to come away without all three points but all credit to them – they showed great fight and I'm really proud of the effort from our boys.
"They learned plenty this week. There was a lot of information going into them and I wanted to see how they took it on board. I wanted them to be brave and I thought they were very brave. We played some good stuff and caused a lot of problems. But you have to defend set pieces well, that's probably something that has let them down at the start of this season, so that's something to work on."
For Kilmarnock, snatching a draw from a 2-0 deficit may seem like something to celebrate but such are the standards they have set themselves, there was disappointment, according to Rugby Park boss Derek McInnes. "It's a quiet dressing room, it feels like an opportunity missed," he said. "At 2-0 down with so little time to go our response was everything you want as a manager. Team spirit is not Monday-Friday, or nights out. Team spirit is when you need to give a bit more and everybody gave that.
"I don't think we settled in the game early and they got a goal with a touch of fortune. But the second goal kills us. Le Fondre is experienced, Vente is talented and Youan and Boyle's movement can spook you. But we need to be so much better there. If we defend that it could be a winning performance. But we brought two boys back in today - Kyle Vassell and Joe Wright - and they both scored and stayed calm and we got the least we deserve from the game. Another five minutes we maybe we'd go and win it."