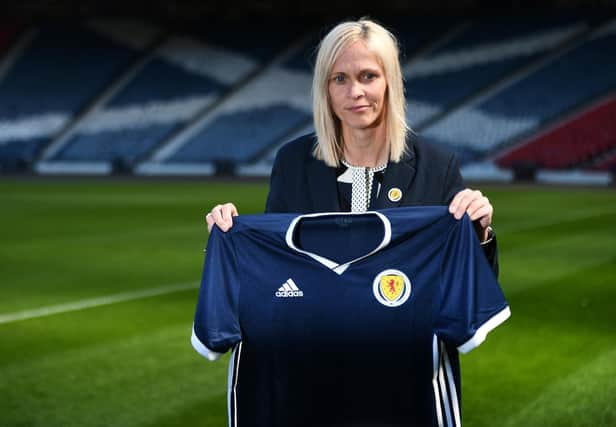 Steve Clarke will rightly be proud of what he has achieved with the squad - but despite his impressive results he won't be the first Scottish football coach to take a national squad to a major tournament this century.
That honour belongs to Shelley Kerr the former Scotland, Hibs and Arsenal legend who, in the giddy pre-covid days of 2019 took her squad of highly regarded players to France to compete in the Women's World Cup.
That their campaign ended in a fashion crushingly familiar to followers of the national team will not be the legacy however - instead it was a warm-up game held weeks before the tournament that will live long in the memory, and hopefully provide a lasting impact.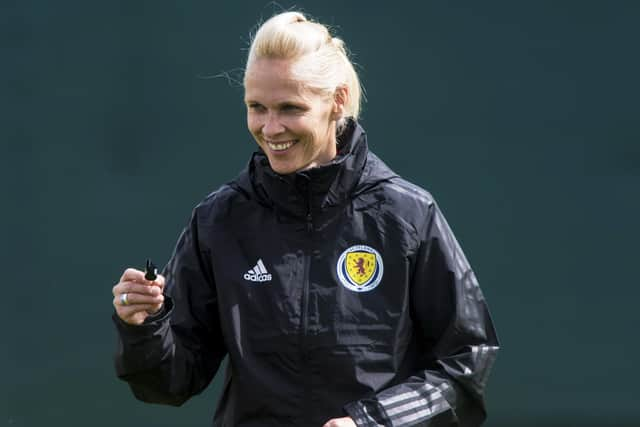 The 3-2 victory over Jamaica is certainly what Shelley remembers most - and the national stadium crowded with just over 18,500 spectators, including a huge number of families and young girls.
And for every young woman out there who dreamed of becoming a footballer it would have a lasting impression.
"That moment for me was something I never thought I would see and I'm thrilled to have been a part of that," says Shelley. "Getting more than 18,000 people at Hampden to watch the women's national team - for me that was the biggest watershed moment, as historically our biggest crowd up to that had been against Switzerland, and that was under 5000. So yeah, it was massive, and I hope it would have encouraged a lot of young girls out there."
That Shelley was the woman to take charge of the game at Hampden provides a good indicator of just how far things have shifted in terms of sporting equality over her career - while also highlighting how far they still have to go.
When Shelley was born in 1969, women's football was effectively banned in Scotland - a remarkable fact when you consider that the first recorded women's game had taken place in Lanarkshire in 1628, while the first recorded Scottish women's international match - against England, of course - was held in 1881. That was less than a decade after the first men's international between the two countries, now known as the oldest international fixture in the world.
The conception of football as a 'man's game' in Scotland however meant that in 1921 women's football was shut down at a professional level by the Scottish Football Association (SFA), with any club interested in using their grounds for women's football denied permission.
That ban was only overturned in 1970, although anyone who thought that marked a change in the national attitude should also know that in 1971, when UEFA instructed its members to take control of women's football within their territories, the motion was passed 31–1 - with Scotland the only member to vote against it.
Despite growing up at the tail-end of this almost aggressive policy of shutting down women's football however, for a young Shelley Kerr it was all she wanted to do.
"My passion was always football, even though I grew up in an era when it wasn't seen as a game for girls. I liked other sports, but football was always my thing. Back then there was a real stigma attached to girls in sport and we probably lost a lot of girls to that - if you wore a tracksuit back then you got the label of being a tomboy and it was quite off putting for a lot of girls."
Given all the obstacles it's hard to imagine how a young girl growing up in a former mining community in West Lothian would manage to not only persevere but maintain a passion for the game that would take her right to the top.
"I had a really supportive family," she admits. "I had a vision of what I wanted to do, and my whole family was just really supportive in helping me achieve that. It was tough though - I was getting criticised for playing football, and I think it was the same for most sports - sport was deemed to be very much for boys and men.
"It has changed a lot, thankfully, but there's still a lot of work needed to make sport a more welcoming environment for young girls in particular.
"I was able to train in the local community - community sport was huge in the area thankfully and I was allowed to play with the boys, as there were no girls teams. And for all the difficulties that raised, it helped me, playing boys football, and it's probably been a big factor as I was developing that resilience and determination."
It perhaps also goes a long way to explaining the mentality behind a Scottish central defender whose playing style has been described variously as "uncompromising" "tenacious", "really British" or just "tough".
That toughness on the pitch would be vital off-it as well, as she went on to manage the women's teams at Kilmarnock, Hibernian, Spartans and then Arsenal, where she guided her team to a cup double. She then hit the headlines by being appointed to manage Stirling University in the Lowland Football League - the first time at that level in the United Kingdom a woman had been named manager of a men's club.
With so much experience there can be few people as able to highlight the issues involved in encouraging young girls to get active in all sports - and to call out the barriers still faced.
"It has come on so much, no question, since I was a kid, the barriers have been lifted to some degree - you only need to look at the stats in terms of the numbers of women playing," she says.
"When I was growing up there were only a few hundred, now it's over 15000. But there is still so much work to do.
"The girls I managed at Arsenal were often from European or Scandinavian backgrounds and you learned that it was just much more accepted for girls to play football than it was in the UK. The women's game was more integrated in the club environment, so not as male dominated, and getting to that place is about changing perceptions.
"The lack of visibility is a big barrier. That is changing - once you see people in the public eye, you see more females get involved and that encourages more women. When I was growing up very rarely did you see women in a sporting perspective on TV.
"That is changing - it's about education and changing attitude, and the biggest challenge is keeping it going - you have to keep trying to break down these barriers, so after something like the game at Hampden, where you have this great exposure, you have to keep being creative."
Getting girls involved in sport has perhaps never been more important. Over the last twenty years analysis has found that Scottish children drop-out of sports and exercise at an alarming rate - and it is worse for girls.
Shelly believes some of the societal stigma that would have stopped many of her peers from pursuing sports still exists today, alongside a range of barriers that can affect all young children irrespective of gender.
"One thing I always remember was when I first joined a women's team at age 13 - I had to if I wanted to continue playing but in order to get to training I had to take a bus and a train and then a bus and train back, and that made it really really tough.
"That kind of barrier - the difficulty and expense of having to travel, can be easy to miss, but it affects everyone.
"For young girls, there is also the issue of perception. There is so much pressure on social media to look a certain way now, but body image has always been huge for females and it can be off putting for girls to get involved in sport to constantly be shown these elite performers who look a certain way and to think if they don't look like thatthey can't take part."
"Sport should be for everyone - there was a great campaign started a while ago called 'This Girl Can', which highlighted women taking part in all sorts of sports for enjoyment. That is needed and that pressure needs to be kept up."
Indeed, the 'This Girl Can' campaign was started by SportEngland in 2015 precisely because so many women said they wanted to participate in sport but feared being judged.
Going hand-in hand with body image, says Shelley, is the issue of suitable sporting kit for girls.
"It's surprising but there you are - a lot of girls will say they don't want to do sport because they feel uncomfortable in the kit, and that can be down to body shape, or just anxiety, but there is also a lack of range in women's sports clothing.
"Now that was very much the case when I was at school, but while there have been big changes since then it is still a problem.
"I took up golf a couple of years ago, and I soon realised that when you're looking for female golf clothing or even clubs, there is much more choice for men. And that is an issue."
As well as the issues within sport however, another barrier to youngsters are other distractions.
"There's so many distractions now in comparison to years ago," admits Shelley. "Kids have access to social media, there are video games although I don't want to blame them - there's just a huge range of other interests that will compete for their time.
"The drop-off at teenage years - that's a huge factor in both girls and boys not going on to pursue sport and there needs to be more work done to highlight the benefits of sport.
"It should almost start from pre-school years, with education for parents and grandparents and carers. We all need to be more aware of the benefits of what sport can bring, what it can do for us as a country.
"I've always felt this - when we started primary school we had compulsory PE, but I think that should be even pre-school, as it's importance is huge. Education is vital, but physical education has to be seen as just as important, as it has such an impact on the health and wellbeing of our country."
"I'm genuinely worried about the effects of the pandemic as you have a generation of young girls and boys who has not had any organised activity for almost a year - what kind of problems is that going to create?
"Dealing with the health challenge of people being inactive already puts a strain on our health service, and there's also the concerns about mental health. I know how I've felt - doing sport can make you feel good, help your mental health - so there are so many benefits."