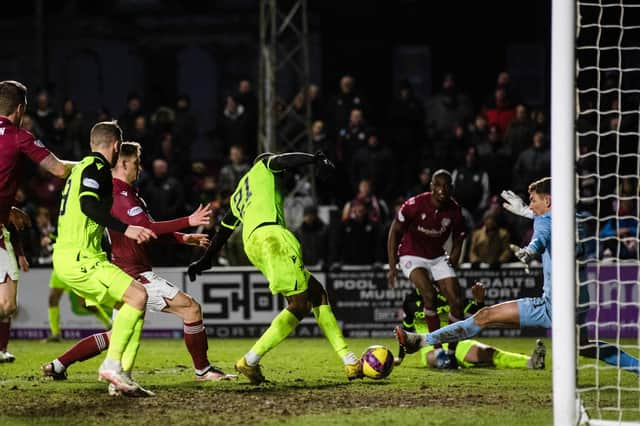 Arbroath were oddly insipid as Motherwell were allowed to casually ease their way into the fifth round of the tournament with no obvious sign of the psychological frailties that a winless run of eight games has had on the Lanarkshire club. They enjoyed the respite from the pressure of a Cinch Premiership that has a host of clubs jostling in the bottom half of the table with neither able to piece together a consistent run of form that would ease them into a more comfortable position.
Mandron netted in each half and might have had a third after lifting one effort over the bar that looked as though it would burst the net but how Hammell could do with a player able to chip in with the goals. There is an argument that the cheapness of how they have been conceded at the other end has been significant in compounding Motherwell's problems with a porous backline that has repeatedly been their undoing in the top flight this term.
Still, Mandron will be asked to perform at the other end of the pitch and the player who has had a fairly nomadic career in England's lower leagues is at ease with being asked to walk into a new club and solve some of its ills.
"I am very aware of the situation and I will do my best to help the team," he said. "Hopefully, I can use my experience, my energy and to give everything on the pitch to help the team. Two goals on Saturday is part of what I can bring to the team.
"I don't really get that feeling [that the club is struggling]. The lads are great and I get the impression that it is a really good football club that is well run. Everyone is together, getting on and we are going in the right direction. Sometimes you need new faces to bring a new energy and hopefully I can help do that.
"I am always confident I will score. It was a different style at Gillingham. Here we play in a totally different style and we create a load of chances. As long as we create chances then I am confident I will score."
The real test for Mandron and for Motherwell is not Arbroath, however, but what comes in the next few weeks. Paisley is the next stop for Hammell's side as they face up to a St Mirren side who have stuttered a bit in recent weeks but who remain seven points better off than them.
With so little between the teams and a real lack of consistency plaguing everyone outside of Celtic and Rangers, any kind of run of positive results could significantly alter league positions. Motherwell showed at the weekend that they remain a level above the Championship with the outcome of their Scottish Cup tie never in any doubt. The challenge going forward is to sustain that and avoid being dragged into what could be an ugly scrap at the bottom end of the table.