Meet Luton's Shinnie-esta: From Rangers 'best days of life', Hibs Nando's club, Livingston and time with newsworthy Hatters
For a certain generation of football fan, the name of this club makes them think of Eric Morecambe. It would be revealed when the comedian, kitted out ludicrously as a Roman centurion, would flip his "SPQR" banner, causing Glenda Jackson to swoon. Or, when that other Shakespearian actress Vanessa Redgrave was trying to seduce him, hoisting up her petticoats to reveal a rosette attached to her garter, emblazoned "Luton Town FC".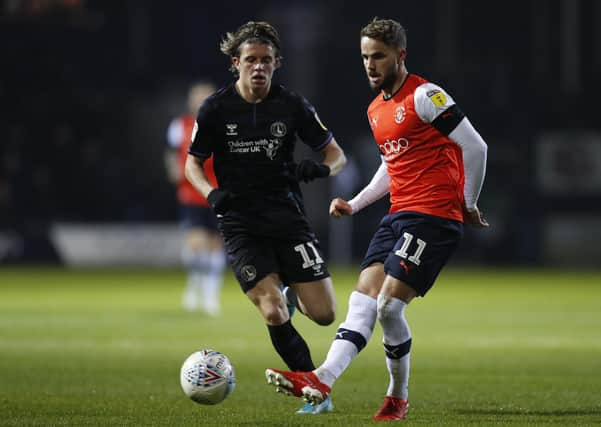 For another generation, slightly younger, the word association game would produce "riot". That cascade of ripped-up orange seats from English hooliganism's hall of infamy which had commentator John Motson spluttering: "Supporters, or so they would call themselves – they're not! … "
Or maybe the image springing to mind would be of beige loafers. The shoes which matched the suit worn by David Pleat when the manager celebrated avoiding relegation with a demented hop, skip and jump, another hoary Luton memory voiced by Motty: "What an amazing act of escapology!"
Andrew Shinnie, though, missed all of this – Pleat, seats and specs-waggling Eric – through not being born until 1989. In 2009 he was loaned by Rangers to Dundee and at almost the same moment as Luton tumbled into non-league football he was scoring an own goal at Clyde. He could not possibly have foreseen that his football journey would take him to Kenilworth Road and help the Hatters rise again.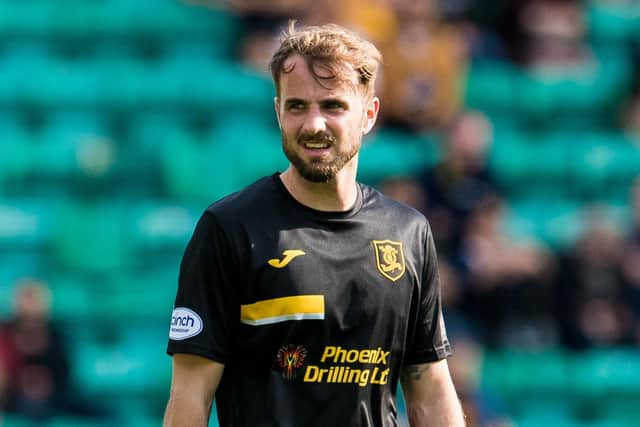 This week Luton battled through to the Premier League playoff final by beating Sunderland in front of an ecstatic crowd at the claustrophobic little stadium that Shinnie, 33, called home for four seasons. The roar at the final whistle raised the roof – metaphorically at least – and this time the seats stayed in place.
Luton's old boy was delighted. "I watched on TV and was so happy for the club," he says. "I still speak to a lot of the players and staff and messaged them right away. Sunderland have plenty of football in them but Luton are big, strong and physical and they just got bullied. Allied to that, the fans were amazing. You must have heard the noise they made. Other teams hate playing at Kenilworth Road because the supporters are so close to the pitch. [Sunderland manager] Tony Mowbray said the atmosphere intimidated his young players. They must have felt the crowd's breath on the back of their necks and these fans can also suck the ball into the opposition net."
Aberdeen-born Shinnie is one of those players – a ten, slight of frame, dances through games – who can sometimes get lost in the stramash. He's played for Rangers, Dundee, Inverness Caley Thistle, Birmingham City, Rotherham United, Hibernian, Luton, Charlton Athletic, currently Livingston and admits: "At every club, apart maybe from ICT, I've been left out in favour of more physical boys."
Vivid contrast can be made with brother Graeme, two years younger. "He's the feisty one, always has been, right from when we were young and getting into trouble with our mum. When we'd been fighting, at each other's throats as we were often, I'd have to stand and take the row because I was the oldest and Graeme would be snuck behind me, pulling faces."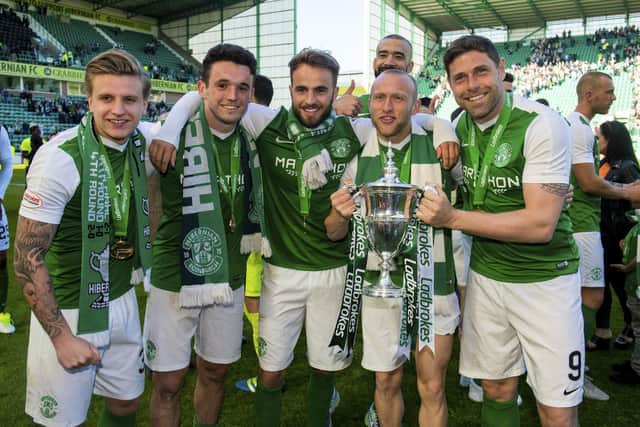 But Shinnie must be doing something right. He was the first player from Inverness to win a Scotland cap. At Luton he was nicknamed "Shinnie-esta", figuring in a roll-call of the club's all-time best Scots. And at Livi he's still getting a kick at the ball while contemporaries have fallen by the wayside.
"Rangers seem a long time ago for me now but I remember it fondly. Don't tell the wife but those were probably the best years of my life! It was easy as a youth player: football, social stuff, bed. Now there are kids and dogs and responsibilities. I made good friends at the club but just about no one from back then plays anymore. Guys like Rory Loy and Andy Little have retired so every now and again I give myself a pat on the back that I'm still doing it at a good level."
We're talking on Zoom, Shinnie on a day off at home in Rosewell, Midlothian. Married to Aimee, he'd been keen to move back to Scotland after a long spell down south and the impending arrival of daughter Sienna seemed like a good moment. He still loves his football. "I've dedicated myself to it. So much so that every time I wonder what I might do next, I can't think of anything." He loves David Martindale which, having worked for some of the toughest managers – Terry Butcher, Neil Lennon, Neil Warnock – is a bonus. And he's just signed for another year at the Tony Macaroni with the Livi boss handing him mentoring duties for next season to help bring on the next generation.
When Shinnie was a young buck and playing for his boys' club, Aberdeen watched him constantly. "But then – hard to credit this – Rangers opened a training academy in the city. I was picked up at 15, which is quite late, although Graeme was 17 before he got his chance. Our parents would bring him down to Ibrox and I think seeing the big stars would have made him determined not to give up." Shinnie's first-team debut came at 18, a substitute for Dado Prso, but there would be only one more appearance. "I think [manager] Walter Smith was a fan, he liked me, but the midfield of Rangers at that time was mental: Barry Ferguson, Kevn Thomson, Maurice Edu, Steven Davis, Pedro Mendez. How was he meant to find a place for Andy Shinnie among that lot? Those chances I got I probably didn't do myself justice. I was gutted not to make it there but accepted I had to move on."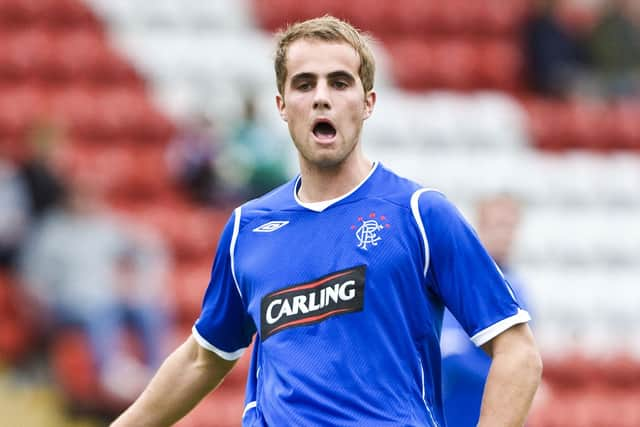 At Caley Thistle, he was reunited with little brother. "I left Graeme and the family behind when I went to Rangers and I missed him. Those two years at Inverness were great. We lived together, played together, did everything together. It seemed meant to be that we'd have that opportunity to get really close again."
ICT with the fabulous Shinne boys achieved a best-ever top-flight fourth-place finish. "We had a great little team. Like Livi now, we needed to be crafty in our recruitment. Boys came from down south who'd maybe lost their way and we uncovered a few hidden gems. We had attitude. Few sides liked coming to the Highlands; some were beaten before they'd even arrived." And Sgt Maj Butcher drilled his troops hard. "Terry would throw things. If we'd played badly someone would have the big water canister lobbed at them and the tea urn would go flying. Terry then wouldn't speak to us until the following Thursday. But when we'd played well then back at training he'd be all smiles and dishing up cakes."
Birmingham City was sweet and sour, up and down, with his managers blowing hot and cold on Shinnie's subtle talents. Under Lee Clark, another tough boss, he sometimes found himself in the youth team. "The fans were probably questioning me a bit," he admits. Then Clark was sacked and chief scout Malcolm Crosby became caretaker. "He'd brought me to St Andrews so the boys were going: 'He's your dad, isn't he? You'll be back in the first team come Saturday.' Well, it was good that I wasn't. We lost 8-0 to Bournemouth – they destroyed us. Supporters were ripping up their season tickets. Malcolm kept looking round at the bench and me and the others were diving for cover." Shinnie's fortunes improved under new manager Gary Rowett. "I was playing some of my best football but there came a moment when Gary said he needed more goals from me and I couldn't quite hit the numbers. It was time to look elsewhere."
Shinnie joined Hibs on loan, helped them get back to the Premiership, loved his time in Leith and wishes the switch could have been made permanent. "At first it was hard there. Aimee had a good job in Birmingham so I was on my own, flying backwards and forwards to see her, but we had a fantastic dressing-room which helped a lot. A group of us – Grant Holt who'd left his family behind, John McGinn, Jason Cummings, Dylan McGeouch and Fraser Fyvie – would get together every Thursday for Nando's and Starbucks. That turned into one of my favourite years in football and a highlight was beating Hearts in the Scottish Cup."
On the bench for the fourth-round Easter Road replay, Shinnie was required after just five minutes. Almost right away, he created the opener for Cummings and later crashed a shot past Jack Hamilton for Hibs' third. "I struck it well but Jack probably should have done better. He's at Livi now and have I wound him up about that goal? Maybe once or twice!
"John was immense that night. If ever we were in difficulty that season there was only one thing to do: give the ball to McGinn. I thought he'd have a great career, but, becoming Scotland's top goalscorer and captaining a great English club in the Premier League, he's exceeded all expectations. Hibs were in the Scottish Championship, don't forget. So that game will always be special to me. I wanted a big night under the lights, the noise of the crowd an absolute joke, 'Sunshine on Leith' being belted out, and I got it."
That season was also notable when Hibs, the Scottish Cup holders, were paired with Aberdeen in the semi-finals and for the first time one Shinnie was pitted against the other. "There were a couple of comings-together for Graeme and me but to be honest, I didn't even realise. I was zoned into the game which unfortunately we lost due to a freak goal."
What of Lennon and where does he figure in Shinnie's table of the most-demanding? "Near the top. It was obvious his background was Celtic where standards are so high. Lenny was a great motivator for sure but I remember how angry he got when we only drew our final league game having won the title a few weeks before. 'Go and get your bloody trophy,' he said and stayed behind in the dressing-room. But he calmed down and joined us on the podium.
"I really wanted to stay at Hibs. Great club, great stadium, fantastic fans. Lenny seemed interested in signing me but then it went quiet. I was on holiday when my agent texted: 'I've found something interesting.' Then he told me. Luton didn't sound all that interesting. They were fourth tier in England. I remember driving to ground, almost missing it, spotting the gate built into a row of terraced houses and nearly turning the car right round. After Easter Road it seemed too much of a comedown. Now I call Kenilworth Road one of my favourites.
"I remember folk saying to me: 'Ah Luton, they used to be a big club.' I was like: 'Really? When?' I have to admit I didn't know their story. I found out about Eric Morecambe – there's a lounge named after him – and also the riot. But David Pleat's dancing? I didn't know about that until you mentioned it."
The manager who enticed Shinnie to Kenilworth Road, Nathan Jones, thanks our man in a video tribute where he reveals that the player took a 50 percent wage cut to make the move. "He sold the club to me, promised they would be going for back-to-back promotions, which did sound ambitious, but that's what we achieved." To secure Luton's first win back in the Championship, Shinnie scored a goal against Huddersfield Town he rates almost as highly as the one against Hearts, the latter just edging it as his favourite because of "the magnitude of the Edinburgh derby". And before he left Luton he got to line up against bro again. "Graeme was signed for Derby County by Frank Lampard who then left and he wasn't being picked. Then he got his chance against us, played brilliantly, inspired his team to victory and was voted man of the match – unfortunately!"
Now, with his brother back at Aberdeen, there are more of these contests to treasure. "Livi played at Pittodrie recently and we were able to get the whole family including Mum, Dad, our sister and her kids together on the pitch for a photo. That was another of these special days for the pair of us and I'm sure we'll both enjoy reflecting on them when we retire. But we're not doing that yet. He's winning rather too many of these Shinnie vs Shinnie games and in that one he booted me up in the air. I didn't get a free-kick and was raging.
"Still, there's only one Shinnie-esta. I think Graeme might have been called that a few times but I was the first!"
Comments
 0 comments
Want to join the conversation? Please or to comment on this article.