Malky Mackay reveals his Elton John text, play-off WhatsApp group and life at Ross County ahead of Celtic opener
It was almost 2am and Malky Mackay was still trying to take in what had just happened. In a nightclub his son, a Ross County intern, was with the team. The TV commentator called it right - the players had "just dug themselves out of the biggest hole imaginable" - and they needed to let off steam.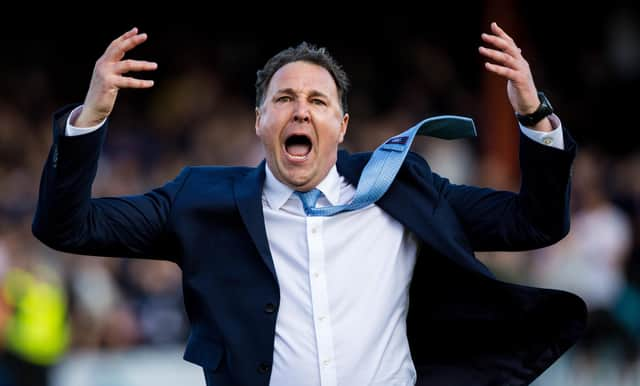 "When Callum got the call from the lads that they were going out in Inverness I said I'll drive him over," explains Mackay. The manager was not quite in the mood to join the gathering following the Staggies' great escape in the Premiership Playoffs. "But I waited up so I could bring my boy back and meanwhile answered a few messages."
Mackay's not boasting but there were more than a few. "Maybe 200. Sir Alex Ferguson, Brendan Rodgers, Craig Brown … old pals from Queen's Park where it all began for me including Bert Bradley who got in touch from Australia and Graeme Elder, a staunch amateur, captain the team and the guy who nursed this big, daft 18-year-old through the start of his career.
"Oh aye," he laughs, "and Sir Elton John." This friendship goes back to Watford where our man was first a stout centre-back then manager. Good for Elt, I say, adding that maybe the Hornets' life president could have dedicated a song to Mackay during his Glastonbury farewell - and given that at one stage against Partick Thistle all hope seemed lost, "Don't Let the Sun Go Down on Me" would have been fitting.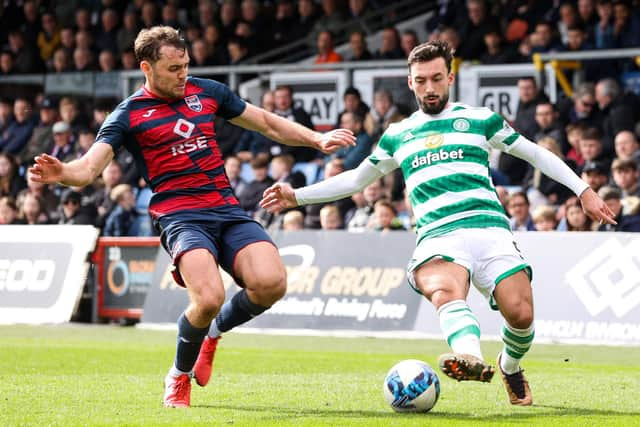 "Well, rather embarrassingly, he's done that before. Watford were in dire straits financially so he put on a concert at Vicarage Road. My home dressing-room was changed for the night into … something I've never seen in my life before." Remembering Tantrums and Tiaras, the hilarious documentary shadowing the troubadour, I can almost imagine: outre gear arranged by shade with whole rows of apricot and lime. "He's a true football fan," adds Mackay, 51, as if to draw a distinction between those fly-by-night club owners. "He said the [Thistle] result had him jumping up and down. It was lovely to hear from him again."
Cue Elt: Ross County are still standing. They're first up today to help launch the new SPFL season against champions Celtic. Mackay acknowledges they were not popular Playoff victors. Now the Highlanders could, if feeling sensitive, wonder in the manner of the pop veteran: "What have we gotta do to make you love us?" But they're reassured that in their favour few teams ever relish Dingwall, a place where, borrowing another line from the songbook, "your blood like winter freezes just like ice".
"It was certainly something I felt," says Mackay, remembering how almost all the love prior to the two-leg final had been for Partick. "There was a lot of positivity towards Thistle, and rightly so. I'm a Glaswegian so I know about the romance of the club, in the West End and the like, and how they're the rest of the city's second team - although I would argue that should really be Queen's Park. In the media there was plenty of talk about Kris [Doolan, the Firhill manager] and Thistle's story. A journalist friend of mine told me about a WhatsApp group where every single post was rooting for them because no one wanted to go back up the A9 again. So in the Central Belt and among neutrals probably there were loads against us. Did I use all that [to motivate himself and his team]? Yeah, I did.
"For I have a responsibility to Ross County. I'm proud to be the manager of a Premiership club, to be the manager of Roy MacGregor's club because the chairman has been a great supporter since the day I arrived, as has [chief executive] Steven Ferguson.
"This is a terrifically warm and welcoming club to everyone who visits - even on the days when Celtic and Rangers swamp the place. It's tiny - there are more seats in the stands than there are folk in the town. This is a Highland club, a community club and a stable club which doesn't lurch into administration. It's been top flight for 11 of the past 12 seasons which is brilliant because city clubs cannot say that and Dundee United, with respect, have gone out again. We have to be greater than the sum of all our parts to survive so when we came through the Playoffs it was bizarre with emotions so high and fans on the pitch - and even though all we'd done was remain exactly where we were it still felt like a magic moment in the history of Ross County."
We're chatting on Zoom so I feel the need to apologise for not schlepping up that A9 to meet in person. But my excuse - child-minding in the rain-lashed school hols - is immediately accepted by Mackay who has his own challenges maintaining the work-life balance.
The family home is in his wife Pamela's native Edinburgh and with a wry smile he says that "for a Glaswegian" he loves the capital. But his work is 170 miles northwards. Pamela, Callum, a chip-off-the-block centre-back who's just signed for Berwick Rangers, along with daughter Francesca were all at Victoria Park for that incredible season finale and then the family sat down to a late takeaway supper at Mackay's stopover. He says: "I had a responsibility right after that to be a parent to my kids and a husband to my wife and we all all went on holiday to Italy. But I have to admit that the stresses of the Playoffs were still there and it wasn't until the end of the first week that I felt at peace with myself."
Who'd be a football manager? It's a question I find myself asking the incumbents more and more and I'm keen to get Mackay's take on the pressures of a job which has become almost impossible.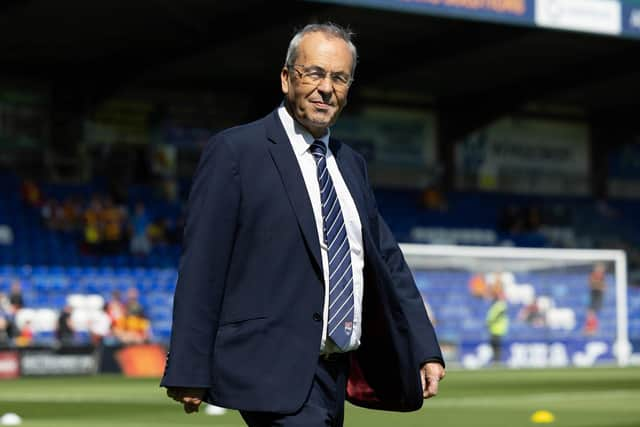 We discuss David Martindale's blackly humorous comments earlier in the week, the Livingston boss admitting he wasn't really looking forward to 2023-24, given that if he was sacked on a Saturday he'd have to be back working on a building site come the Monday.
"I know how he feels," says Mackay, "and yet there haven't been many efforts greater than keeping a club of Livi's size in the division. Davie says that only winning a third of his games means he's going to be unhappy 66 percent of the time. I'd add that on any given Saturday for the likes of Livi and ourselves, if we've won, then the players will be euphoric and making plans for a good night out, the coaches and staff will be happy and we'll have maybe ten minutes of relief before the physio appears and says there are three guys who're injured and won't be able to play on the Tuesday night."
Mackay continues: "Folk would look at Livi and Ross County and argue there are bigger clubs in the league below." But, although he doesn't finish his point, I will: these sleeping giants or whatever they are have still to dislodge this pair.
It was in 2009 that Mackay embarked on the highwire act of management, though at that moment it wasn't quite so precarious. "We used to watch Serie A where clubs could go through three managers a year and laugh. 'How crazy is that?' we'd say. But it's the norm just about everywhere now. Graham Taylor was my chairman at Watford, a fantastic man. He told me I'd been given a three-year deal and would only be judged, by him at least, at the end. He added: 'If you're sacked before that then I'll resign.'"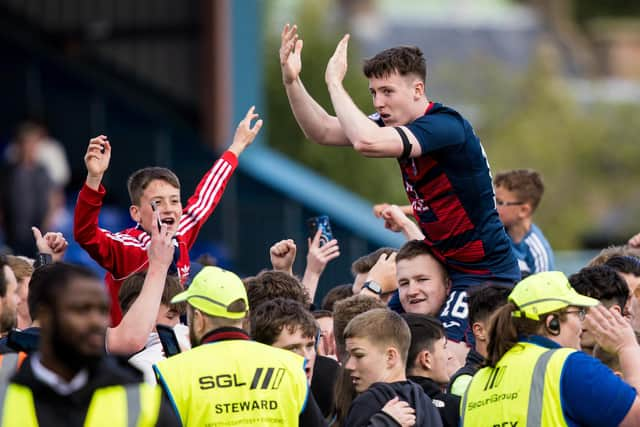 Mackay could say more but checks himself. After Watford came Cardiff City and then he was all set for Crystal Palace until the emergence of a dossier of derogatory text messages. Though out of the thousands he insisted he only sent three, he apologised for being "disrespectful of other cultures" and underwent equality and diversity training. Complaining about the manager's lot, he says today, will just invite scorn.
His rehabilitation was supported by the lobby group Kick It Out. Mackay worked his way back into the game at Wigan Athletic and then became the SFA's performance director, stepping in as caretaker boss of the national team, before the call from Ross County. Each step of the way he's had to answer questions about Cardiff but, ten years on, won't do it anymore. He says he dare not speak about that time in case it provokes retaliation. Off the record, he tells me what this could be and it's grim.
But that's enough gloom and despair. He can find plenty of positives about the upcoming campaign, even with the prospect of starting away to Celtic. Brendan Rogers, he admits, could have sacked him. Instead the second-time-around Parkhead boss kept him on at Watford and they became firm friends. Mackay says: "Celtic Park and Ibrox can be scary places for opposition managers - and dangerous - if the Old Firm are on their game and you're not. Last season Celtic hit six a few times. They got to nine against Dundee United and that was at Tannadice. But we were within 15 minutes of beating them on their own ground. You could have heard a pin drop."
Mackay was heartened by all of those messages which pinged on his phone back in June and obviously the one from Craig Brown now takes on a special poignancy. "We never worked together but he knew my father [also Malky, Queen's Park stalwart] well from playing against him. When I was 18 Dad would pick me up from training at Hampden and he'd sometimes go: 'Clyde are playing tonight, let's nip into Shawfield and see the last ten minutes.' Craig was the manager and if they lost he'd get a few pelters. Dad just shook his head. Getting on in the game, whenever I bumped into Craig, he'd go: 'You're doin' alright but you're no' as good as your faither.' And he'd add: 'In football or in life!' But what a lovely man. When I took the national team [2017, friendly vs Netherlands] he said how proud he was of me, which was lovely for my family to hear. And what a great manager, getting us to all those finals so we thought it would always be like that.
"But there's plenty of positivity about the national team now and I think the game here is in a very good place. There are a lot of people coming to football. Clubs are being bold and ambitious - look at what Queen's Park almost achieved last season, and Arbroath the one before. Look at Spartans, on the pitch and off it with their fantastic work in the community."
Mackay won't mention it but look at Ross County as well. Just over 12 months ago they were top six for the first time. At the end of each campaign they lose an entire XI or more and must regenerate. Recruitment has to be smart to lure players all the way up country. "It's beautiful up here; we tell them that and hopefully they come and see for themselves. I've worked in parts of England which are not nice. Down south at some clubs maybe the local paper would talk to them but that's all. Our match with Celtic will be the eighth time we've been UK-wide on TV in the past six months. For that's something which maybe gets forgotten: here in Scotland, fans, TV, radio, newspapers, all of us - we're properly obsessed with football."
So let the obsession resume. And even though Malky Mackay won't say this either: just a change, why not cut the managers a bit of slack?
Comments
 0 comments
Want to join the conversation? Please or to comment on this article.