Lewis Ferguson: Aberdeen exit discussed - 'I still feel the same way'
If it was a summer of discontent for Lewis Ferguson last season as Aberdeen blocked a move away from Pittodrie, the 22-year-old midfielder is anticipating a less stressful time as the curtain comes down on the campaign. The suspicion is, though, that the break from Aberdeen remains high on the agenda.
The club knocked back bids from Watford last year, with Ferguson so irked at the situation that he handed in a written transfer request which was denied. He remains contracted to the club until 2024 but new horizons would appear increasingly inevitable, particularly since his main ambition is to further his international career.
Asked about whether there was a decision on his long-term future, Ferguson said: "No. Not at the moment. I'm hoping to get into the Scotland squad, that's my aim. In terms of my future I don't know, we'll just have to wait and see. I have had a few chats with the manager in the past couple of weeks. I don't know anything yet.
"I've got to wait and see what happens in the summer and see where it takes me. I still feel the same way [as last summer]. It's difficult to go through when that is all surrounding you and you can't really think straight. It was honestly so hard for about a month or two and my head wasn't in the right place. It was so difficult and hard to put into words. It's a difficult one to go through and I really don't want to go through that sort of situation again. Here's hoping everything goes smoothly this summer."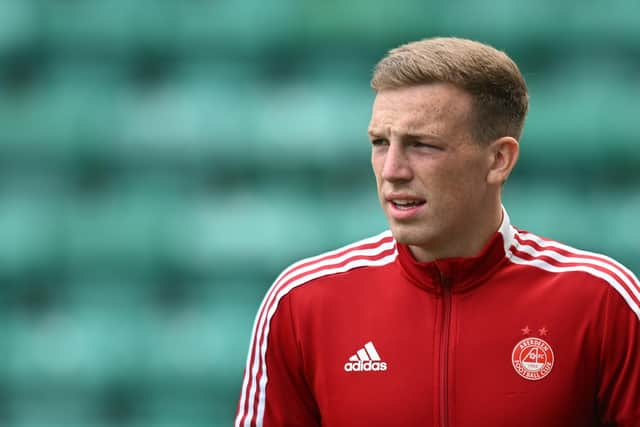 The wretchedness of Aberdeen's season will not have encouraged a rethink. With Ferguson keen on adding to three Scotland caps he has always won, a move away from Pittodrie may be significant in furthering those aims.
"I want to push to try to get into the squad for the Ukraine play-off," he said. "There are loads of massive games coming up and the chance to get to the World Cup. It doesn't get much bigger than that. I want to be part of it. I've had a wee taste of it over the past year."Hopefully I get in the squad and we can win it. If not I will just rest and look towards the next season. To start for your country is one of the best feelings in the world. There's not a lot of guys that can say that."