"I was disappointed in them last week," he smiled. "They booed us off!" He was referring to the reaction of some home fans after Dundee had again stumbled in their pursuit of the title by failing to break the deadlock against Cove Rangers.
On reflection, the result proved hugely helpful for Dundee in terms of creating memorable moments. Queen's Park dropping points the following day meant that, had Dundee won against Cove Rangers, confirmation of their league title success would have emerged while supporters were out doing their shopping or else performing some other menial weekend task. Pleasing news, undoubtedly, but hardly the stuff of legends.
Most regrettably of all, it would have robbed Dundee fans, and those of Queen's Park, as well as captivated neutrals watching at home, of a title shootout that will live long in the memory. No Dundee supporter was complaining about a 0-0 draw seven days earlier as they swarmed onto the Ochilview pitch at the final whistle.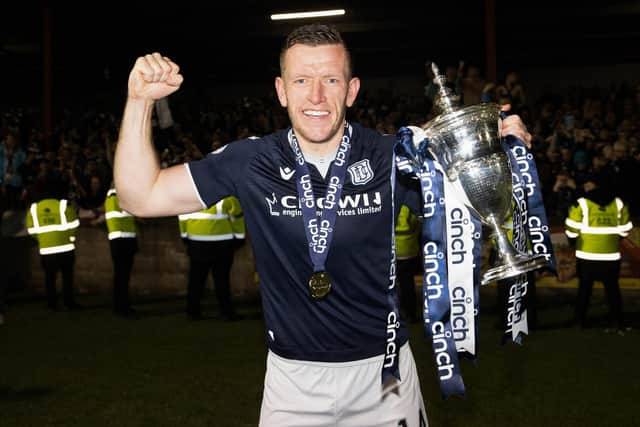 All has been forgiven. A civic reception will be held today in Dundee where the players will be invited to hold the Championship trophy aloft from the balcony of the City Chambers. And then there is a well-timed player of the year event at night.
The partying will continue for some time to come and rightly so. It was a year ago today that Dundee's relegation fate was all but sealed after losing 2-0 to St Mirren. Only two matches remained and Mark McGhee's side were six points adrift of St Johnstone with a far inferior goal difference. All felt cheerless, dark and deadly.
A 3-2 opening day home defeat to Partick Thistle did little to lift the gloom although what slipped under the radar was the average age of the Dundee side that ended the game that July afternoon - and so nearly pulled off a stirring comeback from 3-0 down: 22.8.
Although additional experience has been added during the course of this season, the Dundee side that started a fixture fraught with tension on Friday included three 20-year-olds. Two of them - Lyall Cameron and Zach Robinson - scored.
Another scorer was the comparatively ancient Lee Ashcroft. At 29, the defender is relishing the prospect of a return to the top flight.
He missed a large portion of last season due to two serious hamstring injuries. Out of contract this summer, he is one of several significant Dundee figures – including the manager – whose future is shrouded in doubt.
"The last time we went up we started the league pretty decently and then went on a run of bad form which you can't afford to do in that league," Ashcroft recalled. "Every game in the Premiership is hard so we are going to need to get all the experience we can get.
"Hopefully we keep the majority of our squad together and replicate what other teams who have managed to stay in the league have done."
Ashcroft's preferred option is staying at Dens Park. "If the club want to keep me, I'll hopefully do better this time round," he said, with reference to his injury ravaged recent Premiership experience.